---
Crypto asset manager says that his valuation model tells him that Bitcoin is 71% overvalued. However, his fund still remains invested 80% in Bitcoin given the "hype cycle" and the fact that historically Q4 is where it makes its best gains.
Some salient points in this article were taken from a report on Business Insider earlier today.
Charlie Morris is the co-founder of crypto data provider ByteTree and is also the CIO of asset management at the company. He had 17 years previously at HSBC, where he ran a multi-asset portfolio.
ByteTree is invested in two cryptocurrency funds, which are Bitcoin (80%) and Ethereum (20%). However, Morris has concerns following the recently approved Bitcoin Futures ETF. His worry is based on historical performance of these types of funds.
"Over time, they just massively underperformed the underlying and you're going to see the same thing here," Morris said. "Now unfortunately, for bitcoin futures, the more demand there is for bitcoin, the worse the roll yield gets. At the top of hype cycles, you get the most underperformance."
Morris said that he was bearish about Bitcoin's performance, even before the launch of the ETF, saying in early October that according to ByteTree's fair value model, it was then worth around $28,000.
The model calculates its 'fair value' by comparing network value to transaction ratio, and then compares this to traditional price to sales ratio.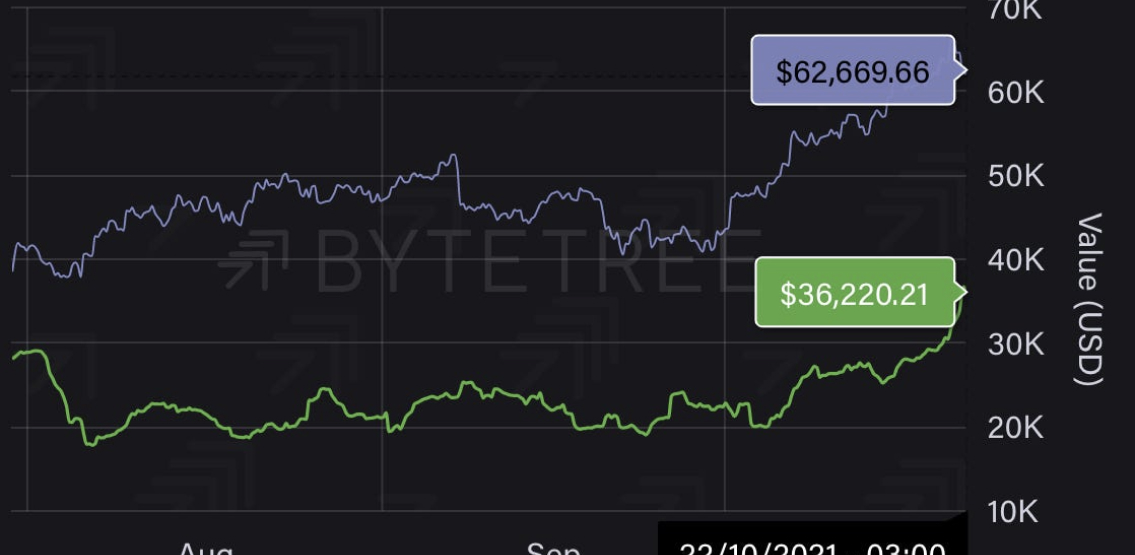 Source: ByteTree (Taken from Business Insider)
Morris states that around $50 billion in bitcoin value is being traded each week, but for the present price of bitcoin, there should really be from $70 to $80 billion being traded.
Despite all this, Morris continues to be bullish on bitcoin into the long-term. With the king of the cryptocurrencies recently breaking out to an all-time-high, he believes that more money will be attracted into the space, and that there is the potential for bitcoin to go a lot higher, driven by the hype.
Disclaimer: This article is provided for informational purposes only. It is not offered or intended to be used as legal, tax, investment, financial, or other advice.
---