---
The Bitcoin (BTC/USD) price jumped sharply in the overnight session even as global tensions rose. The coin is trading at $41,485, which is substantially higher than this week's low of $37,170. It is substantially lower than the all-time high of about $67,000.
Cautious recovery
The Bitcoin price rebounded even as global risks rose. On Tuesday, the United States and the UK announced that they will stop importing Russian oil and gas as a way of punishing Putin for his invasion of Ukraine. As a result, crude oil prices soared to the highest level in more than 14 years while stocks dropped initially.
There are several possible reasons why the Bitcoin price bounced back. First, there is a possibility that the Federal Reserve will go slow on rate hikes if the risks of a recession rise. Still, the bank is between a rock and a hard place considering that inflation is so high while the labor market is tightening. 
Still, analysts expect that the Fed will deliver its first interest rate hike since the pandemic started next week. The degree of expectations is varying, with some analysts expecting a 0.25% increase while others see a 50 basis point increase.
Second, the BTC price rose as the Ukrainian crisis appeared to ease. On Tuesday, the Ukrainian president said that he was ready to compromise on the two breakaway regions. He also said that the country could compromise on its NATO membership deal. And a ceasefire between the two sides appeared to ease. 
Meanwhile, the performance also mirrors that of American stocks as futures like Dow Jones and Nasdaq 100 have all risen.
At the same time, analysts believe that we are now entering a new financial world order with the cancellation of Russia. 
Bitcoin price prediction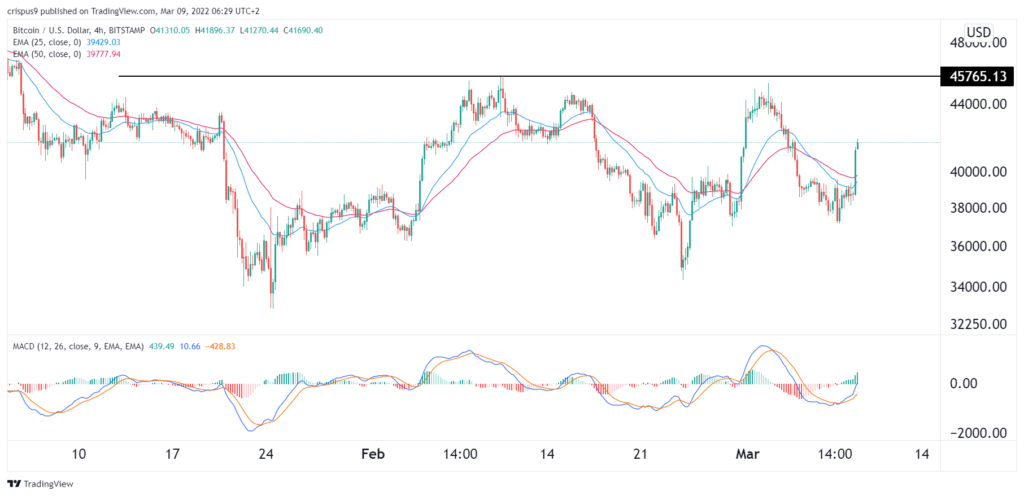 The BTC price jumped sharply on Wednesday morning. This performance then led to a sharp rally of other altcoins like Monero and LUNA. On the four-hour chart, the coin has managed to move slightly above the 25-day and 50-day moving averages while the MACD has moved above the neutral level.
Therefore, there is a likelihood that the Bitcoin price will hold steady in the next few days. If this happens, the next key level to watch will be at $45,000.
---