---
Bitcoin is recovering from a weekend dip as traders anticipate the third U.S. futures-focused bitcoin exchange-traded fund (ETF) listing. The VanEck Bitcoin Futures ETF is expected to launch on Tuesday and will trade under the ticker symbol XBTF. Analysts continue to expect further upside in bitcoin's price given strong investor sentiment on ETF approvals.
Last week, crypto investment funds saw a record $1.47 billion in inflows as investors positioned themselves ahead of the first U.S. bitcoin-linked ETF launch, by ProShares. Alternative cryptocurrency-focused funds also saw inflows, which coincided with a near 30% rise in Solana's SOL token over the past week.
Analysts are also monitoring the recent rotation to alternative coins (altcoins), which are starting to outperform bitcoin. "The crypto market is turning from being dominated by short-term traders who want to ride the speculative trends to longer-term investors who value the technical capabilities of the different blockchains, challenging bitcoin's market dominance," Anders Nysteen, quantitative analyst at Saxo Bank, wrote in a research report.
Bitcoin (BTC): $62,813.67, +3.3%

Ether (ETH): $4,191.45, +3.53%

S&P 500: $4,566.48, +0.47%

10-year Treasury yield closed at 1.64%
Record $1.5 billion crypto fund inflows
Investors pumped a record $1.47 billion in new money into digital asset investment products last week, fueled by a rally in cryptocurrencies and the launch of the ProShares bitcoin futures exchange-traded fund, according to a CoinShares report Monday.
Bitcoin-focused funds dominated last week's inflows, at 99%. During the prior week, inflows into bitcoin-focused funds were at $70 million, CoinDesk's Lyllah Ledesma reported.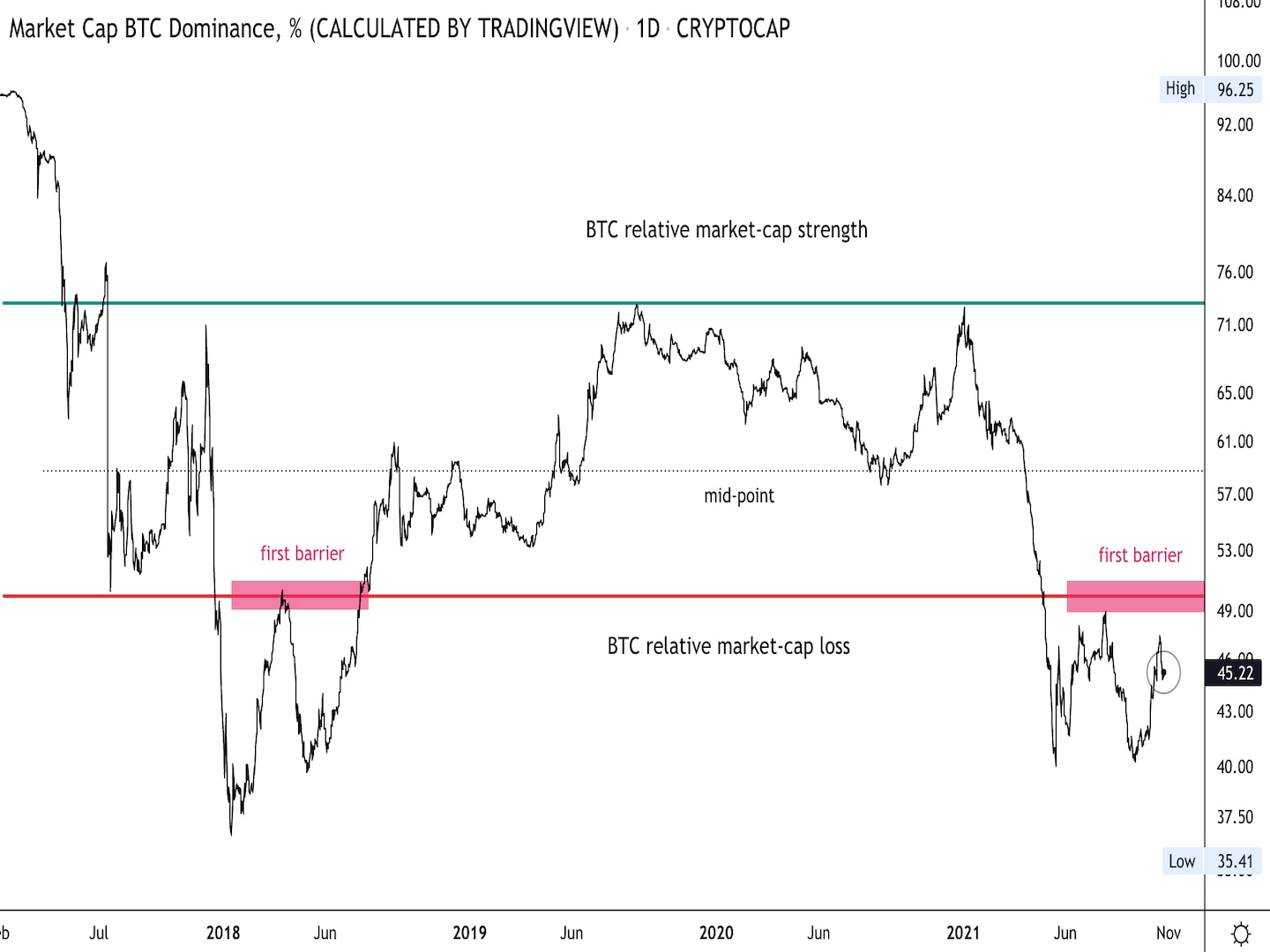 Shiba Inu hits record high: Shiba Inu (SHIB) tapped lifetime highs on Sunday, trading at $0.0000455 at 11:20 UTC, topping the previous record reached on May 10, CoinDesk's Omkar Godbole reported. Prices for the meme token have risen by nearly 50% in the past 24 hours, with a month-to-date gain of almost 500%. SHIB's latest rise comes amid rumors that Robinhood may soon list the cryptocurrency on its platform.

Solana also hit a new record high: Prices for Solana's SOL tokens hit a record high on early Monday as a majority of tokens representing layer 1 blockchains followed bitcoin, CoinDesk's Muyao Shen reported. The token, which is backed by FTX crypto exchange founder Sam Bankman-Fried, traded at $218.9 on Monday. According to decentralized finance data provider Defi Llama, the total value locked in Solana reached an all-time high of approximately $13.91 billion.

Ether hit all-time high last week while seeing continued outflows: Ether (ETH), the native cryptocurrency of the Ethereum blockchain, hit a record high on Oct. 21 at $4,361, CoinDesk's Lyllah Ledesma reported. However, despite the price increase, funds focused on the world's second-largest cryptocurrency by market capitalization saw outflows for a third consecutive week, totaling $1.4 million last week. Other altcoins, including SOL, Cardano's ADA currency and Binance coin (BNB), all saw inflows.
ProShares Seeks Waiver From CME for Position Limits on New Bitcoin Futures ETF

BlockFi to Develop Crypto Asset Management Products With Neuberger Berman

Mastercard Is Integrating Crypto Payments Through a New Partnership With Bakkt

FTX Crypto Exchange Finalizes LedgerX Acquisition
Most digital assets in the CoinDesk 20 ended the day higher.
Notable winners as of 21:00 UTC (4:00 p.m. ET):
Chainlink (LINK): +10.86%
---