---
Turn-based role-playing game Axie Infinity (AXS) is the most popular, and best known Play-to-Earn (P2E) blockchain gaming project in the world. A report by data provider Covalent estimated that Axie surpassed 1 million active daily players and 5 million active monthly players in November 2021. The same report estimated that as of December 1st, 2021, there have been ~8.3 million one-time active players.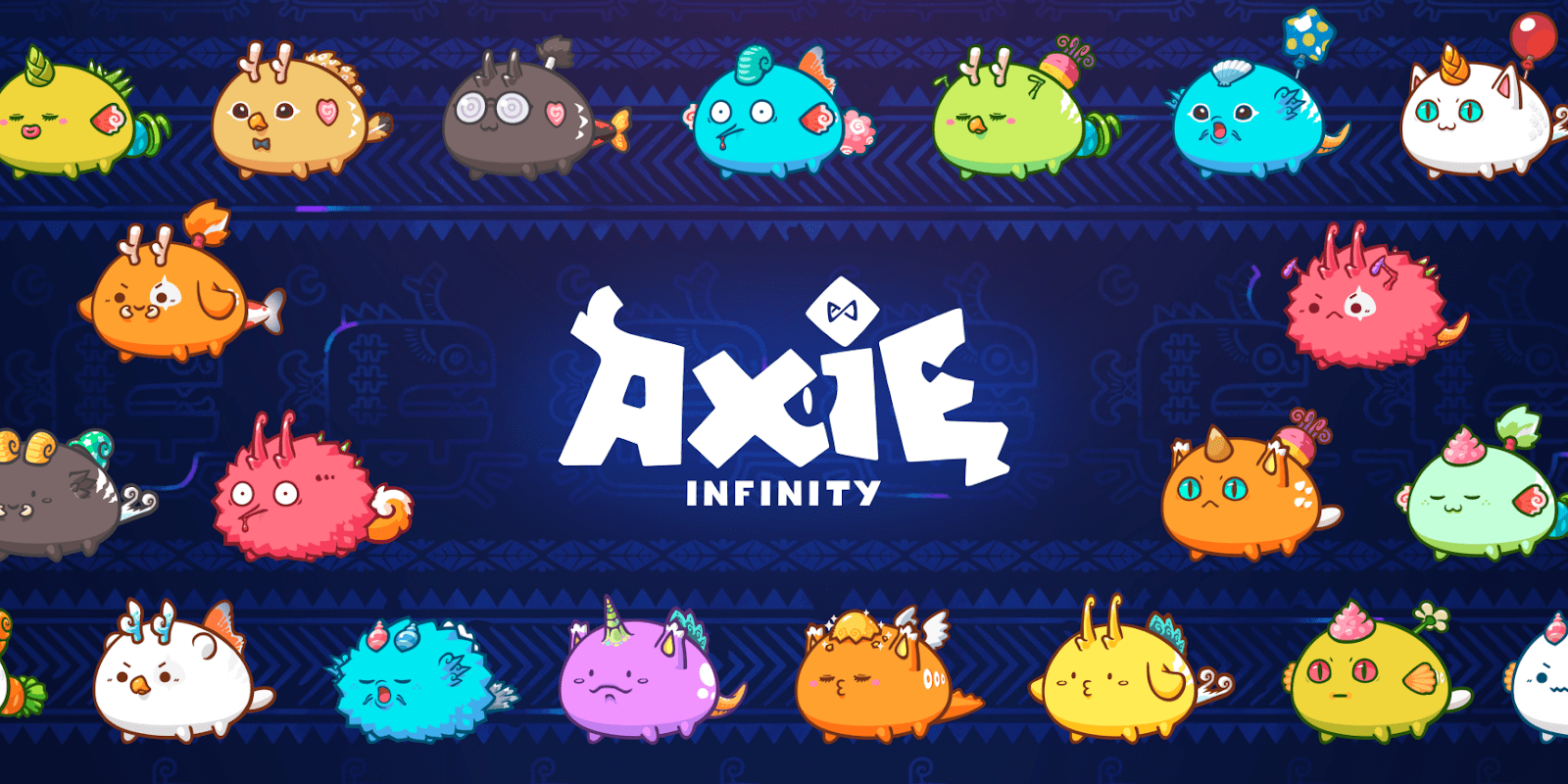 These staggering numbers put Axie Infinity at a similar scale to triple-A mainstream gaming titles such as Fifa 2022, Forza Horizon 5, and State of Decay 2.
Axie Infinity is a Pokemon-inspired game. The Axie Infinity whitepaper explains that "Axie Infinity is a game universe filled with fascinating creatures, Axies, that players can collect as pets. Players aim to battle, breed, collect, raise, and build kingdoms for their Axies. Axies exist on the Ethereum blockchain as Non-Fungible Token (NFTs) and smart-contract technology allows them to be easily traded between players. Axie Infinity can be played on both mobile and PC."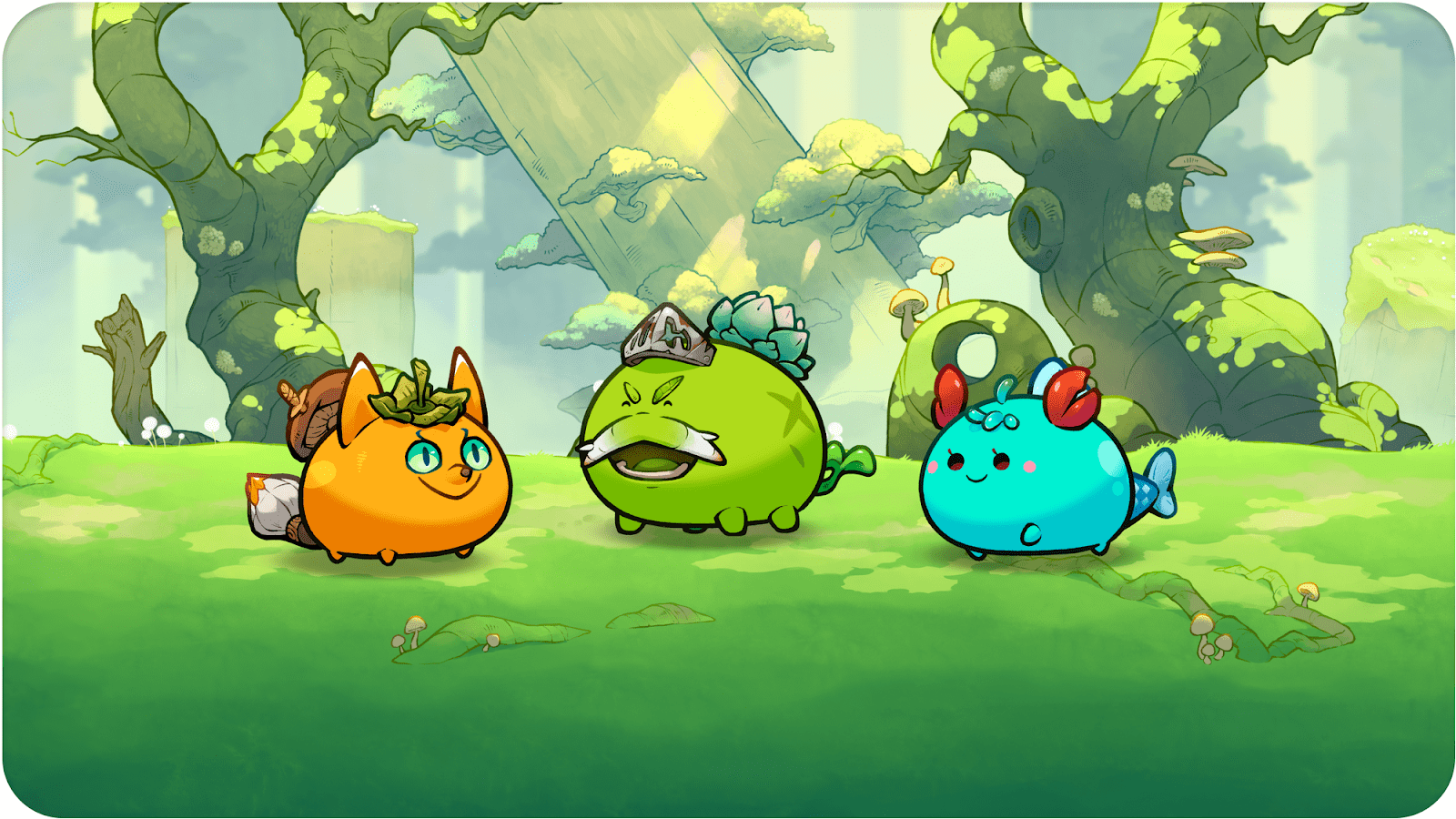 By performing various actions with Axie pets users earn rewards in the form of an in-game currency called Smooth Love Potion (SLP) which is an ERC20 token built on Ethereum. This gives it functions similar to any other digital asset and it can be used as digital money. It can be traded for other cryptos, stablecoins, and fiat currency on centralized and decentralized exchanges.
The Axie Infinity model of monetarily rewarding game players directly with a 'currency' is called Play-to-Earn (P2E) and it has become one of the fastest growing sectors within the crypto space.
Axie Infinity was originally built on the Ethereum platform but in 2021 transitioned to its own purpose-built application-specific Ethereum layer 2 side chain called Ronin. This switch allowed Axie to offer users faster and cheaper transactions, however, it added a layer of centralization because Ronin uses a modified version of Proof-of-Stake called Proof-of-Authority.
# Axie Infinity: Impressive metrics
Axie is the flag bearer of the P2E sector and this position is backed by some impressive metrics and growth. Data from Similarweb reports that Axieinfinity.com is the 1,072nd most popular website in the world and the 18th most popular finance website in the world. In November, the website had 26.6 million visitors. In the Philippines, Axie Infinity is the 38th most visited website, finance or otherwise.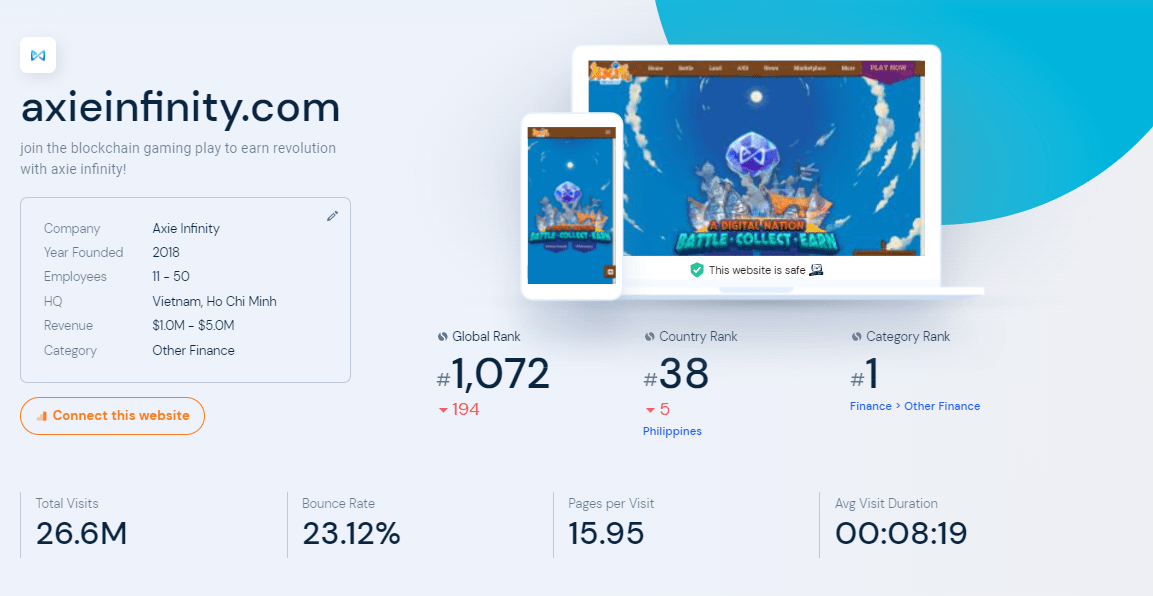 Activplayer.io estimates that 40% of Axie Infinity players are from the Philippines. It estimates the next five most popular countries for the game are Venezuela, USA, Indonesia, Thailand, and Malaysia.
A measure of how popular Axie Infinity is in the Philippines comes from search interest. Google Trends data indicates that in the last year the term 'Axie Infinity' was more popular than the terms 'Crypto' and 'Bitcoin' in the Philippines. This trend does not hold when you zoom out and look at worldwide search interest for the three terms.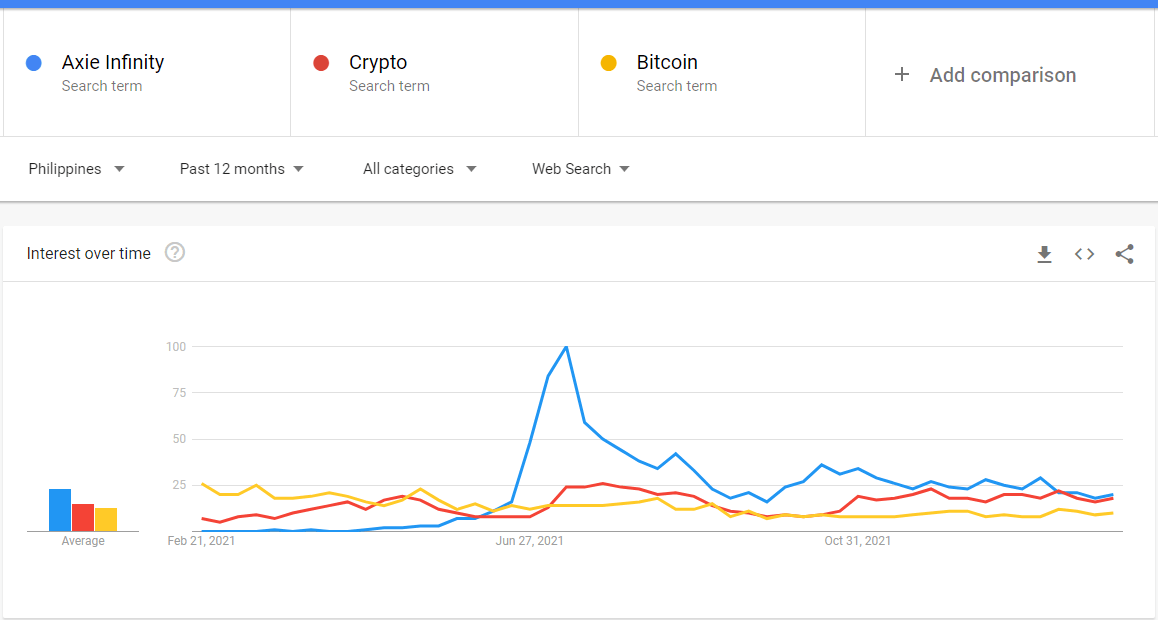 Source: Google Trends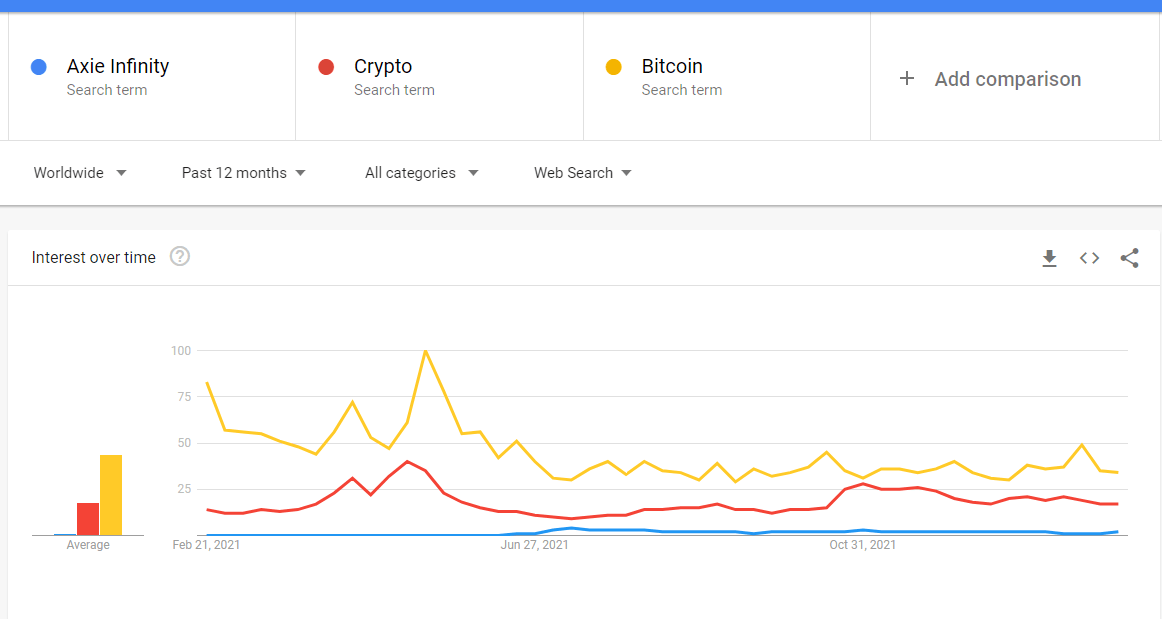 Source: Google Trends
While Axie Infinity has been around since 2018, it has only really exploded in popularity in 2021.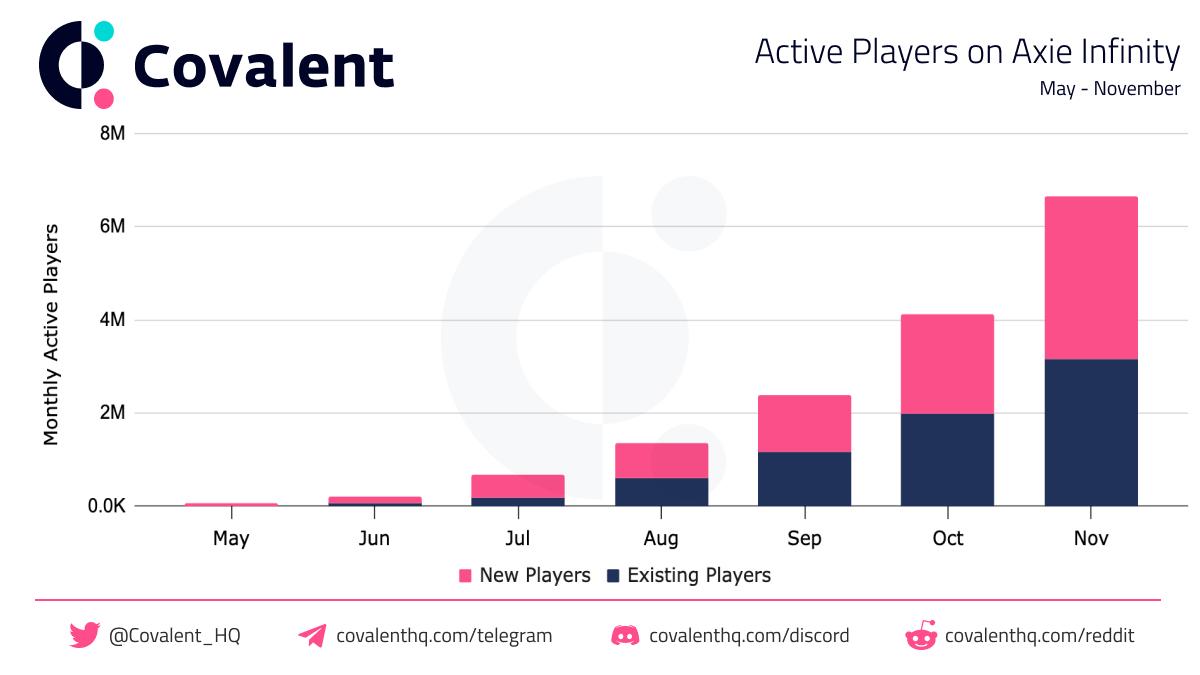 Between May and November 2021, the growth of users on the Axie platform has been near exponential, with active players nearly doubling every month.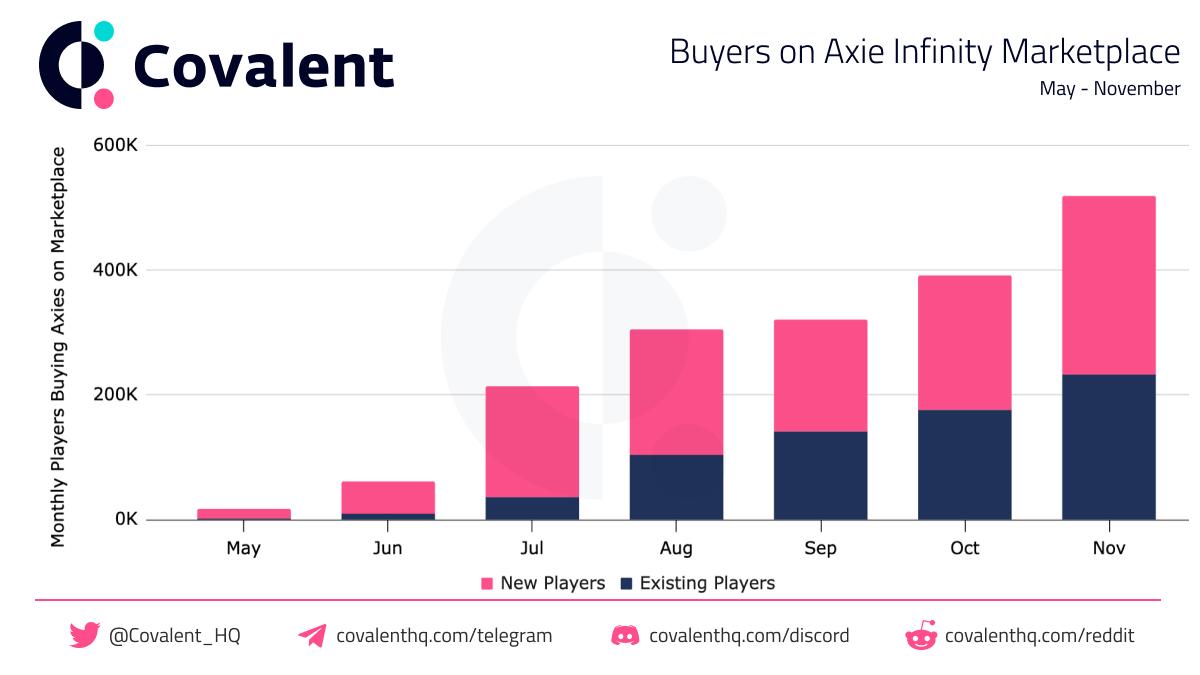 There is also impressive growth in the number of participants in the Axie Infinity Marketplace where users can buy and sell Axies and in-game items.
The Axie Infinity ecosystem is supported by two tokens – the previously mentioned SLP and a governance token called Axie Infinity Shards (AXS). AXS is the 39th largest asset in crypto with a market capitalization of US$4.2 billion. In the last year, the price of the asset is up ~2694% and it currently trades for ~US$59.74.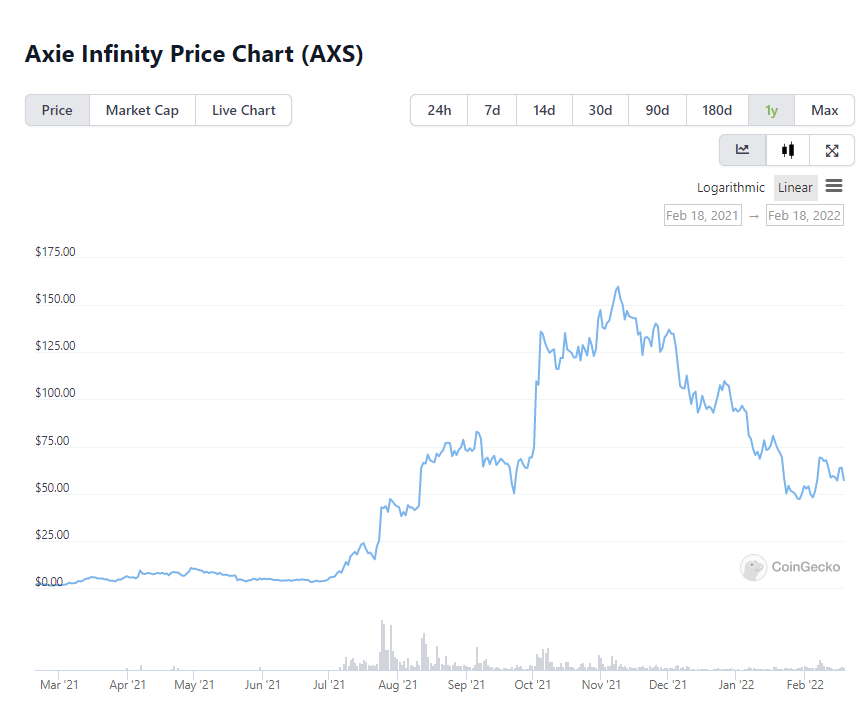 Source: Coingecko
Converse to AXS, the price of SLP is down ~31% in the last year. The token, however, is staging something of a comeback and is up ~159% in the last 14 days.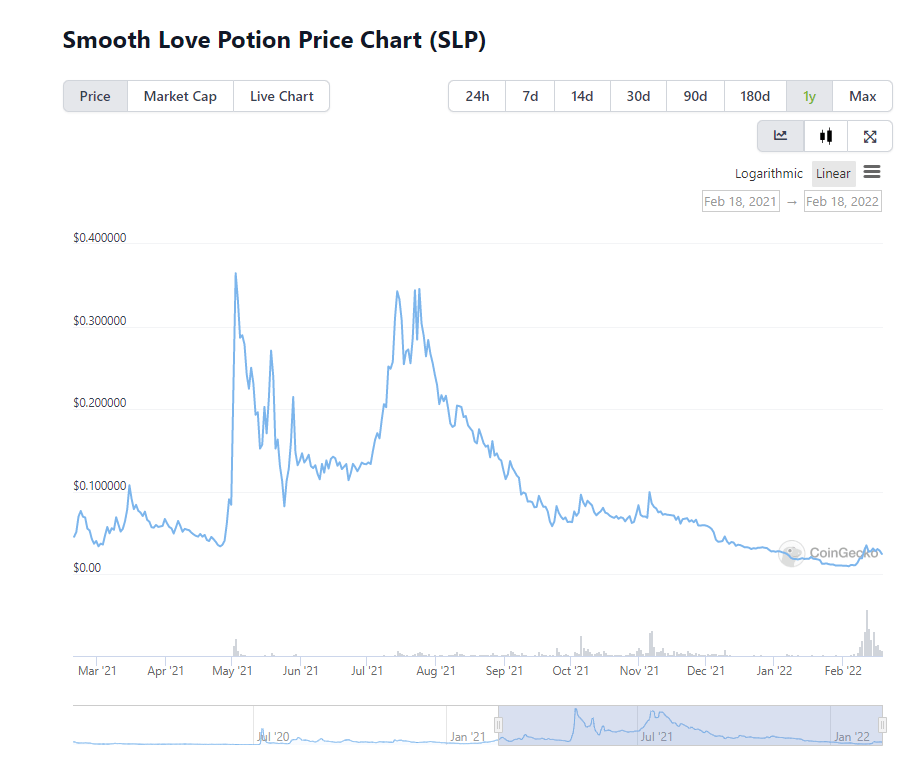 Source: Coingecko
# The price of SLP surges as oversupply is addressed
The major catalyst for these gains is a change in gameplay that will drastically reduce the amount of daily SLP emissions. There have historically been inflation concerns surrounding SLP and the team behind Axie Infinity has continually tweaked how much SLP players earn each day. The concerns stem from views that too much SLP is created each day and it is too easy to earn.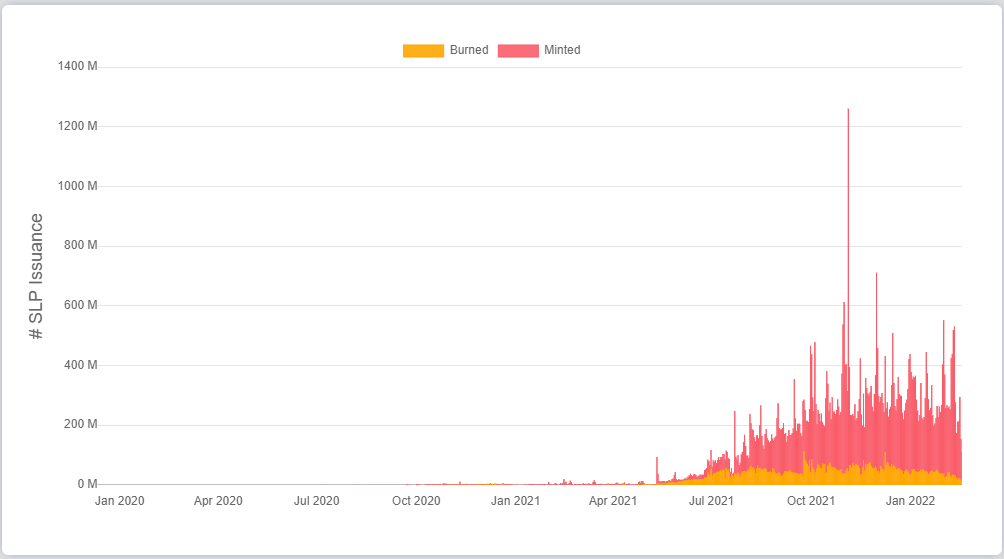 Source: Axie World
Recent data points to a large SLP balance where the amount of new SLP minted each day far exceeds the amount burnt. This has caused the supply to grow rapidly and this has put a dampener on price. The supply of SLP started to skyrocket as the game became more popular, this is natural because more players means that more SLP is rewarded each day.
The Axie Infinity team is now trying to put a check on the bloated supply issue. It is a good sign for the future of the project that active changes are being made to control supply.
The gameplay changes arrived as part of the Season 20 update. The first major update was the removal of the 50 SLP that players earn from the "Adventure mode" of the game. The Adventure mode of the game is played alone, as opposed to against other players. Axie estimates that ~40% of the daily SLP emission rate is created by Adventure mode, Axie developers say the fix will reduce the amount of SLP created each day by 120 million tokens.
The other key change is removing any earnings generated by users who complete the game's daily quests. The quests are tasks like completing levels in Adventure mode and having a certain number of 1-on-1 battles each day. Axie developers say this change will reduce the amount of SLP created by ~45 million tokens.
# Axie Infinity Origins
Axie Infinity is developed by Sky Mavis, a game studio headquartered in Ho Chi Minh, Vietnam. The studio was built out in 2018 when the founders came together to create a game that improved on existing blockchain games such as CryptoKitties. Sky Mavis owns 21% of the fully diluted AXS token supply.
In the same year, the team conducted its first sale of Axies called "Origin Axies". The game began with simple features like breeding and idle battle game modes. The first versions of battles in Axie had no visuals and there was an entirely text-based UI.
In 2019, Sky Mavis raised funds to continue the development of the project through a pair of seed rounds. The team raised US$1.5 million from big-name investors like Delphi Digital, Consensys, and Animoca brands. In 2019, Axie also began LAND sales.
Within the Axie gaming verse, players function within a gaming world called Lunacia. Lunacia is divided into tokenized plots of land which act as homes and bases for Axie operations. Within the plots of LAND, players can craft, build and make a variety of upgrades. Additionally, AXS tokens can randomly appear within plots of LAND.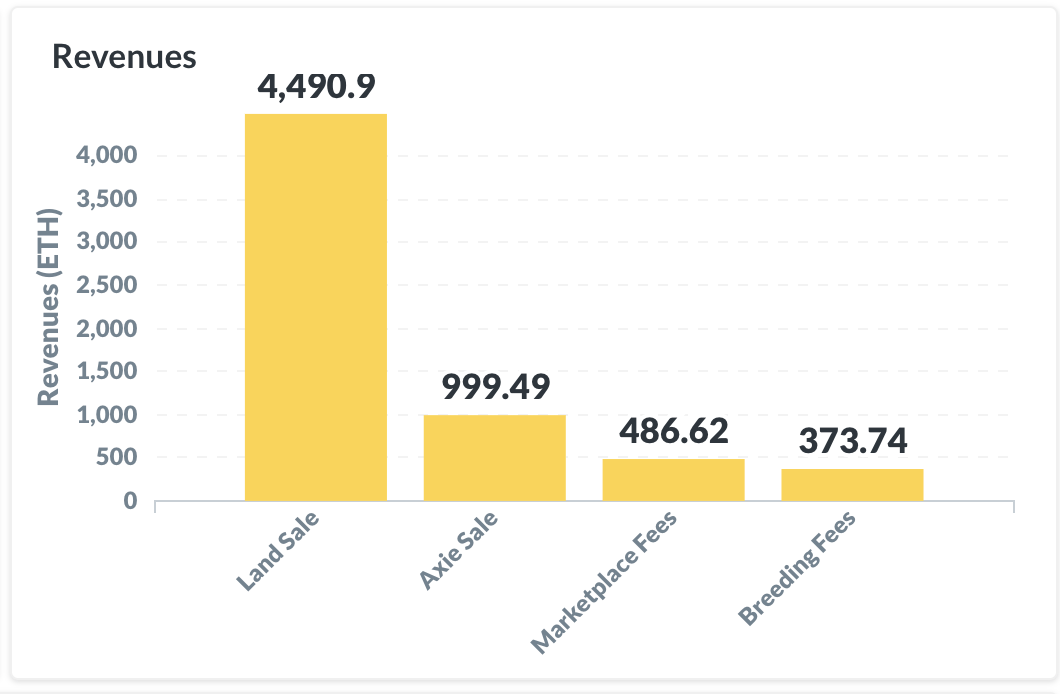 Source: Axie Infinity Whitepaper
Also in 2019, Axie experimented with shifting operations to the Loom network, an Ethereum layer 2, and they released an Alpha version of a trading card game.
In 2020, Axie Infinity released its two tokens: Smooth Love Potion tokens were awarded primarily for players winning battles within the game and to breed new Axie pets, and Axie Infinity AXS is the ecosystem's governance token. Players who hold AXS can vote on the direction of the game's development by supporting updates of their choosing or participating in the decision-making process on how to use treasury funds.
In the same year, the Ronin testnest was launched. It gives a glimpse of what faster transactions and lower fees within the game could look like. Additionally, the Mavis hub was released. This is a PC launcher that served as a hub for a new Axie Infinity and allowed users to easily access new Axie related games released by Sky Mavis.
2021 was the project's breakout year. With infrastructural foundations laid out in preceding years, only a few pieces needed to fall into place for the Axie Infinity ecosystem to hit escape velocity. On April 28th, after Axie Infinity migrated to Ronin, metrics such as the price of AXS, the number of daily active users, and protocol revenue began to surge.
Moving to Ronin made it faster and cheaper for new and existing players to buy and sell Axies. The other key factor in the expansion of Axie Infinity has been the growing popularity of its scholarship.
A scholarship is when a manager, a player with Axies but limited time, employs a scholar who can't afford their own Axies, to play the game on their behalf. The SLP earned by the playing scholar can then be split between the two based on a predetermined agreement. Scholarships tend to range between 70 scholar/30 manager to 50/50.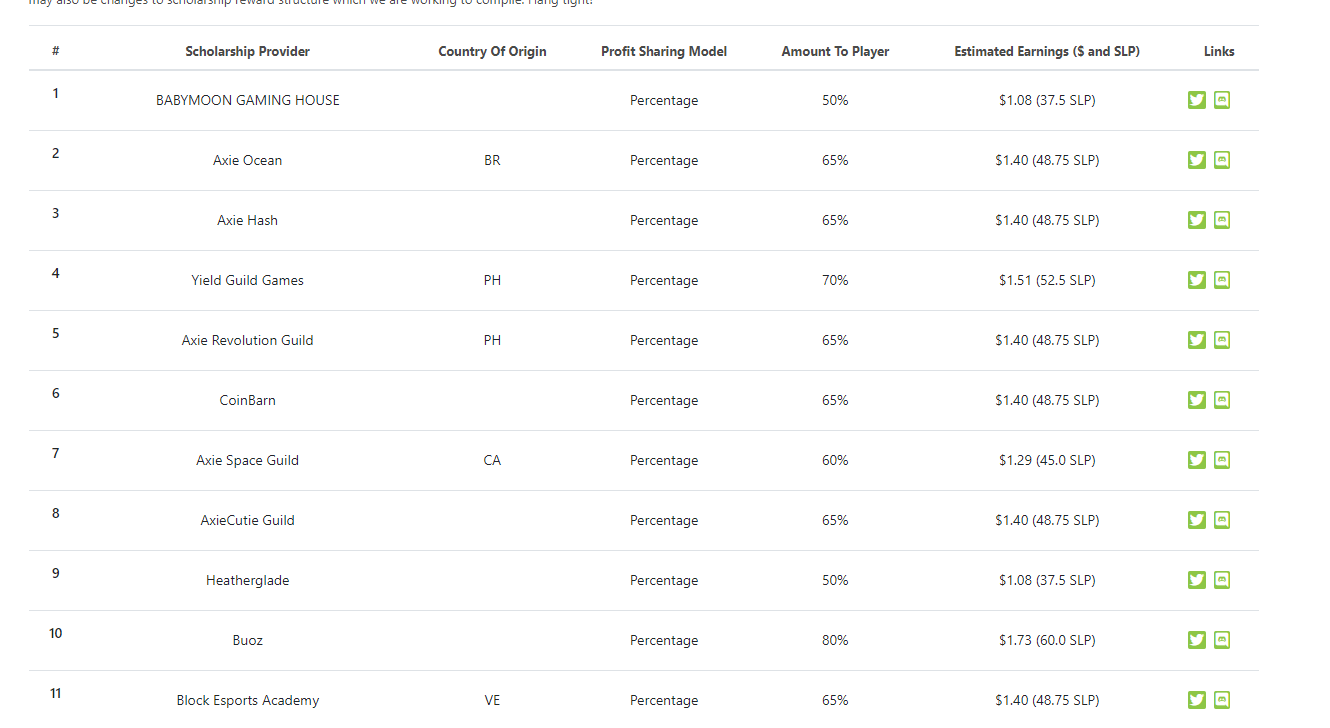 Source: Coingecko
Scholars do not have access to the SLP that they earn in-game. It is the manager that will be required to process receiving the SLP and then sends the scholar payments in an asset of their choosing. This can be a fiat currency or a cryptocurrency like AXS or ETH.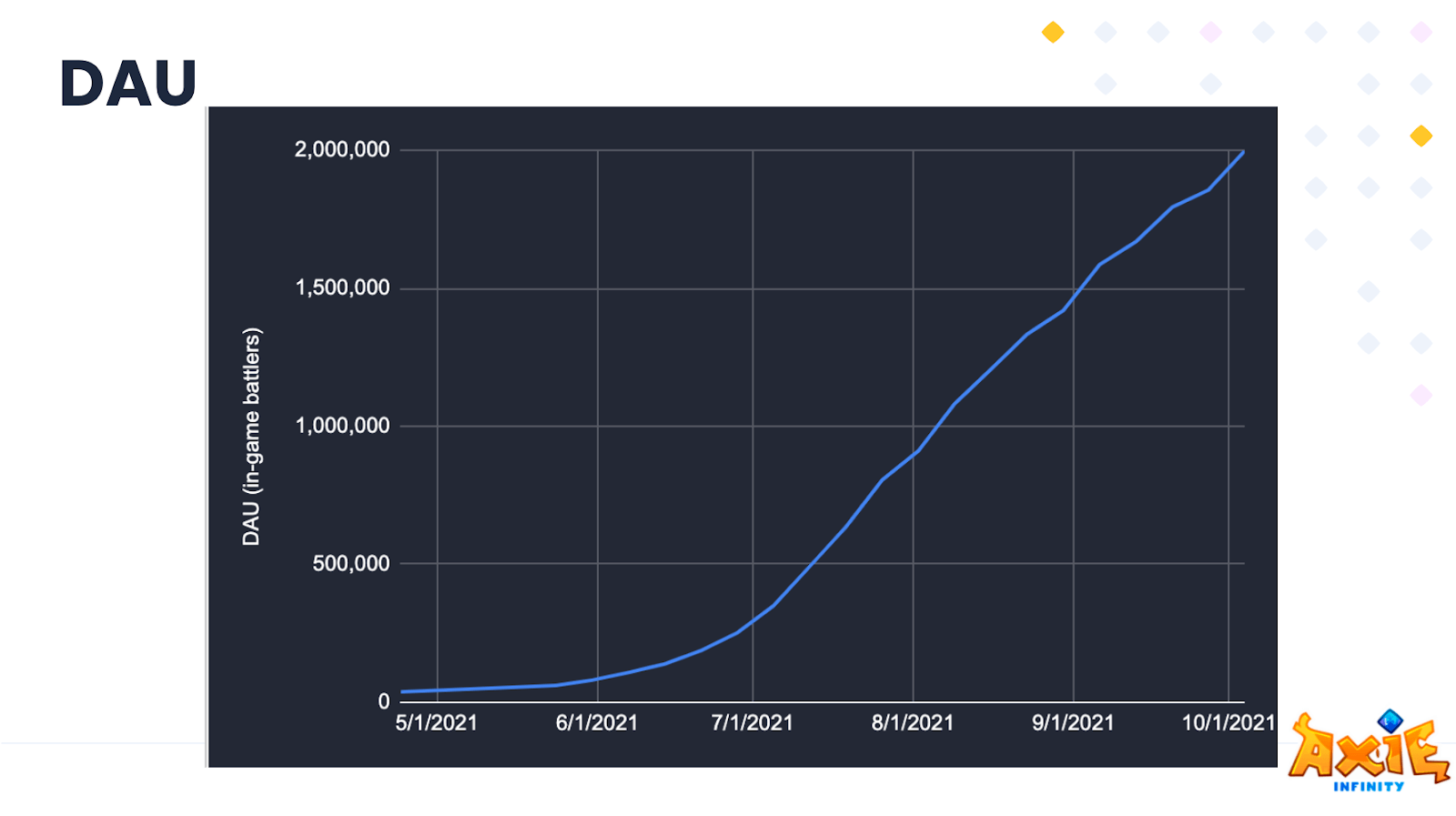 Source: Axie Substack
In May 2021, Sky Mavis raised US$7.5 million led by Libertus Capital. This was followed by a mega US$152 million series B, this round was led by Andreesen Horowitz and included participation from Accel, Mark Cuban, Paradigm, and Konvoy. This gives Sky Mavis a US$3 billion valuation.
# Starting off with Axie Infinity
To begin playing Axie Infinity, a player needs to own at least three Axie pets. The cheapest Axies cost about ~US$35, so the minimum cost to begin playing Axie is currently around US$105. Super rare mystic Axies can sell for up to 300ETH or ~US$950,000.
When playing in the Arena mode players earn SLP tokens if they win battles based on their MMR or Matchmaker rating. Players with higher MMRs earn more per Arena battle win and higher MMR matches require more skill and stronger Axies to win. Players with higher rankings are also offered AXS rewards.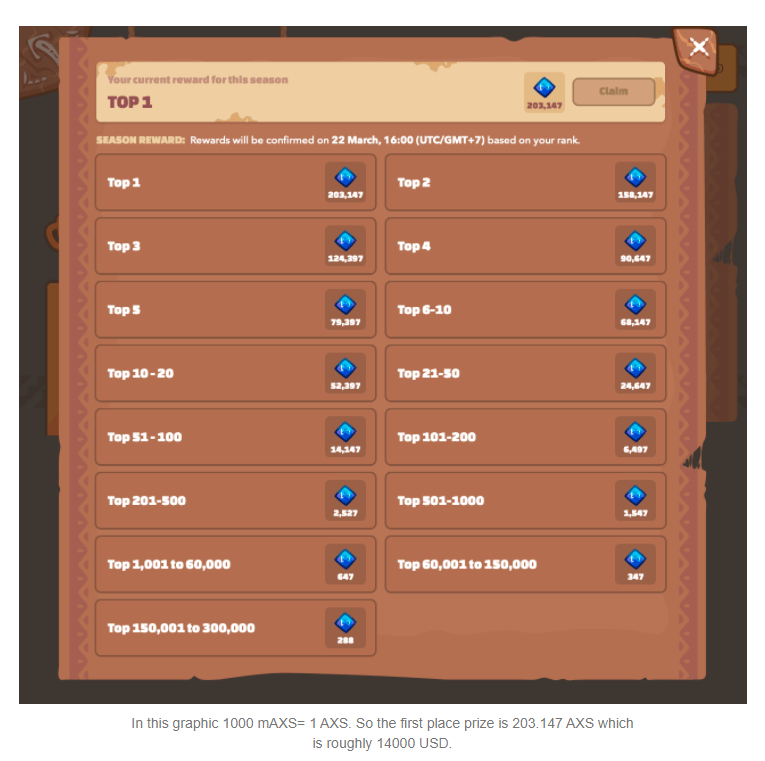 Source: Axie Substack
AXS rewards have been boosted for the recently released Season 20. There are now more leaderboard stats and the amount of AXS that will be given out over the course of the season has increased to 117,676. In US dollar terms this is more than US$7.5 million. Season 20 will last for 6 weeks from February 9, 2022 to Mar 22, 2022.
As mentioned earlier in the article, the amount of SLP rewards released each day has shrunk considerably following the release of Season 20. Players are no longer rewarded for single-player adventure mode and for completing daily quests. The main logic behind this decision was to prevent the farming of SLP tokens by bots.
Sky Mavis, however, has adjusted the amount of SLP awarded per win at various brackets. They have reinstated a 1 SLP reward for players with an MMR under 800. This will create some utility for weaker Axies and encourage new players with a small reward to keep playing the game when they first join. Sky Mavis says, "Advancements with our bot detection system as well as reduced earnings for bots have made reintroduction of these rewards possible."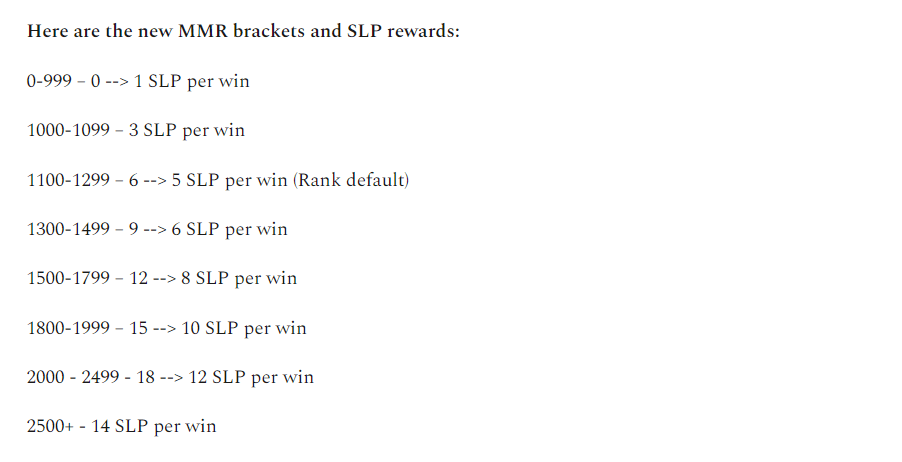 Source: Axie Substack
# How the Axie Infinity game works
Axie Infinity is a Pokemon-style turn-based Role-Playing game (RPG) with elements of card battler games like Heartstone. The core gameplay loop of Axie Infinity is:
* Battle with your Axies
* Upgrade them so that they can compete at a higher level and beat stronger players
* The final element of the loop trifecta is utilizing an upgraded Axie and some battle skills to earn SLP cryptocurrency tokens that have money elements
The more you battle, the more you can earn and upgrade. The more you upgrade, the more battles you can win and the more tokens you earn. The more you earn, the more you are encouraged to battle and earn.
Turn-based games have a very simple non-dynamic play-style where players take turns to perform pre-restricted actions that are executed automatically. Complicated button combinations don't need to be remembered and skills like aiming are not required to be successful within these games.
This simple play style means it is ideal for an auto-play-focused game (Just tap a button many times on repeat). There are many popular free-to-play RPG games that utilize this simple gameplay element and instead focus on directing players towards secondary in-game goals like social goals, upgrading characters, or earning items.
Often these games have a freemium element where players can sell some of the upgrades or items they accumulate on secondary marketplaces (selling gold in World of Warcraft Classic). This, however, generally involves exiting the core gameplay loop.
In Axie Infinity, there is a similar focus on autoplay and not worrying too much about the gameplay, but now players can earn money directly through play. Axie Infinity's money-making meta is clearly the focus or 'entertainment' of the game.
Simple gameplay turn-based RPGs in the past have focused on stories or items to keep players hooked. In Axie Infinity the core reason to keep coming back is to make money. Earning money is a key part of Axie and the vision outlined within the Axie Infinity whitepaper is "A digital nation where people globally come together with their Axies to play, earn, and live."
To the credit of Axie Infinity, however, the addition of a card battler mechanic as a key aspect of gameplay that adds a layer of complexity to what would otherwise be a very simple, copy-cat RPG game. At higher levels of the game, the card-battler element becomes more relevant and key to winning battles.
The card element makes battles longer and adds an element of uniqueness that keeps gameplay fresh. It means that winning a player vs player battle requires an extra level of skill and strategy. Additionally, it reduces the risk of bots popping up on the platform as there are some complex reactionary decisions involved with winning battles.
With the addition of the Heartstone style card battler mechanic, Axie Infinity is a game that is easy to learn or pick up and play, but difficult to master.
In order to engage in battles in Axie Infinity, players need 'Energy'. Every Axie PvP battle or Adventure costs 1 energy. If a player has 3-9 Axies they receive 20 energy a day or 0.8 energy an hour. If they own 10-19 Axies they receive 40 energy a day or 1.7 energy per hour. If they own 20+ Axies they receive 60 energy a day. The energy system is designed to put a check on SLP inflation, excessive grinding and act as a control for bot activity.
Another key aspect of Axie is breeding. Within Axie Infinity, players can 'breed' any two existing Axie and mint a 3rd new Axie. Each Axie has a variety of unique features. Axie belongs to 9 classes (6 public + 3 secret classes). They also have 6 body parts and a body shape. The newly bred Axies acquire a combination of features from their parents based on a dominant and recessive gene system.
Breeding costs some AXS and SLP. The number of tokens required to breed depends on how many times the Axie has been bred. Axies can be bred a maximum of seven times. Axie Infinity breeding also plays a key role in the tokenomics of SLP and AXS because the coins spent on breeding new Axies are burnt.
# The future of Axie Infinity
While Axie is the biggest P2E game in the world, with well over a million daily active users, the high upfront costs of building a group of Axies turn many potential players away from the game. This barrier is set to be removed in the near future with Axie Infinity announcing the launch of free starter versions of monsters to allow players users to enter the game without spending any money.
The new 3 free Axie Starter version of the game will launch as part of the major Axie Infinity: Origin update that is set to launch at the end of Q1 2022. The new version of Axie Infinity will have brand new interfaces, game mechanics, art, special effects, storylines, and a new onboarding experience.
The gameplay is set to be modified with new battle cards, power-ups, and a new sequential turns model. Axie Infinity: Origin will initially launch Alpha, which will be followed by Season 0.
# Conclusion
Axie Infinity is one of those rare projects that feels like it has moved on from being just a "crypto" project to its own cultural phenomenon. How to play Axie tutorials on Youtube have over a million hits and there is a documentary about Axie Infinity playing culture in the Philippines that has close to ~500,000 views.
Digging deeper into the project it becomes clear that Axie has built a deep, unique gaming ecosystem. While the gameplay may appear simple at first glance, there are layers of complexity to Axie Infinity built upon its LAND system, creature breeding, card battler system, and other features.
Axie Infinity is not simply a keep tapping a button and watch the money flow into my wallet game, there has been depth and thought put into how to prevent bots from gaming the system and adding a layer of skill to proceedings.
The new tokenomics changes surrounding SLP emissions that were released as part of February 2022's season 20 update should hopefully help to prevent oversupply issues pushing the price of the token downwards.
With a new major update set to arrive in Q1 2022, adding a free Axies feature for the first time, the future looks bright for Axie Infinity.
---