---
Closely followed crypto analyst Nicholas Merten says that market conditions have reached a point that an unexpected relief bounce that liquidates Bitcoin bears is becoming more likely.
In a new market update, the host of DataDash tells his 515,000 YouTube subscribers that just like in July of 2021, BTC could pull off a bounce that catches most bears off guard.
He says that Bitcoin's major moving averages are pointing towards a relief rally to about the $30,000 range.
"We rallied all the way from $29,000 to $53,000 [in July 2021]. To put that into perspective, in a matter of just a few weeks, or simply put, less than months, we saw an 80% move in Bitcoin's price. Am I calling for that exactly? No, what I am calling for is for us to come up and to retest this previous consolidative range [$30,000].
There is no significant points of resistance here, and the moving averages are coming straight down into this point where it gives us a perfect setup for Bitcoin to come up and retest this range here, and see if it can interact with these moving averages…
A lot of people won't think it can happen. You'd be surprised how relief rallies can get to an exacerbated level, especially in a market where there [are] excessive amounts of derivatives."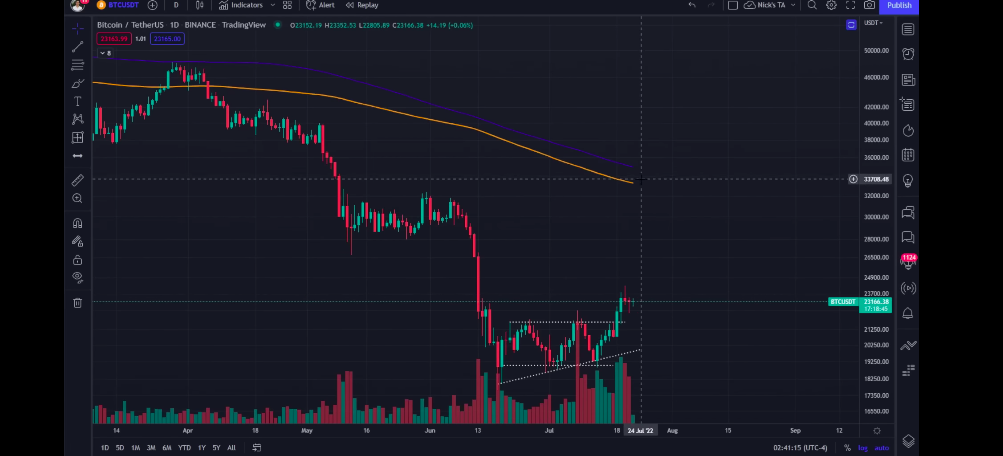 Source: DataDash/YouTube
While Merten expects a relief rally from BTC in the short term, the analyst is still remaining cautious of the possibility that the top crypto asset by market cap hasn't reached its absolute bottom yet.
According to the strategist, macro conditions are still weighing down on the digital assets market.
"A lot of people think that this is the absolute bottom here in June 18th. And to be honest, I understand where many of them are coming from. We clearly have had a very dramatic sell-off here, and a nice rebound at that, plus we've really flushed out a lot of the leverage and a lot of the excessive credit that people had utilized in order to borrow cryptocurrencies to speculate…
I get why people could think this is the absolute bottom, but you can't discount the reality that the macro environment is still in effect. It is still going to suppress long-term capital allocation for cryptocurrencies if we get up back in this range."
---