www.cryptopolitan.com

5 h

Reading time: ~3 m
---
Rise in price detected up to $0.105.
Tron price analysis shows uptrend.
Support is still strong at $0.096.
The one-day and four hours Tron price analysis is confirming an upward trend for the day as the bullish momentum is returning back. The one-day candlestick chart is showing green signals as more buyer response has been recorded in the past few days. Although the cryptocurrency faced substantial loss in the previous weeks, today's trend has been relatively profitable as the price has increased up to $0.105.
TRX/USD 1-day price chart: Reversal in trends expected as buying rate increases
The one-day Tron price analysis is giving support for the buyers as an increasing trend has been going on for the past few days. This is encouraging news for the buyers as the cryptocurrency value is going to increase even further in the next few days. The bulls have escaped the bearish pressure by rescuing the price above $0.105 today. The moving average (MA) value is still at a relatively higher position i.e. $0.110 if we compare it to the current price.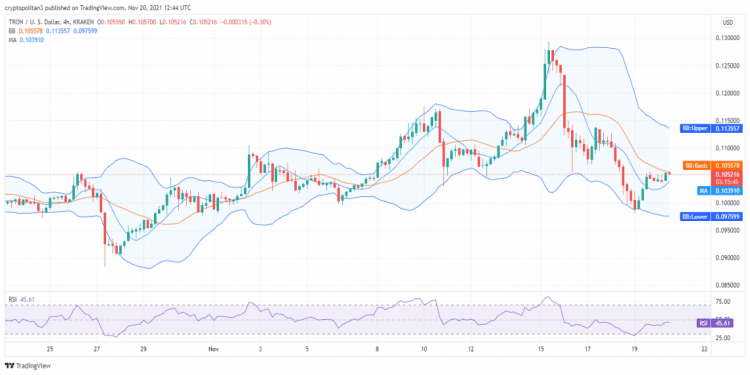 The Bollinger bands average has declined up to $0.1055 as well. Whereas now the upper Bollinger band is at the $0.113 position while the lower Bollinger band is at the $0.097 position because of the decrease in volatility. The RSI score has decreased to 45.61 because of the sudden fall in TRX/USD value.

The technical indicators chart for TRX/USD is giving out a bullish indication as more bullish trends have been observed during the span of the past few weeks. A total of 10 indicators are settled on the buying position, nine indicators are there on the neutral position while only seven indicators are on the selling position.
The Moving Averages Indicator is also favoring the bulls by giving out a positive hint towards the buyers. We can see that eight indicators are currently on the buying side, six indicators are on the selling side and one indicator is on the neutral side. The Oscillators are following a neutral trend as eight oscillators are on the neutral position, two oscillators are on the buying position and one oscillator is on the selling position.
Tron price analysis conclusion
The price has undergone improvement in the last 24-hours as the buying momentum is intensifying. The buyers have successfully taken the price above the $0.105 mark after recovering from a significant loss. The hourly prediction is displaying not so promising results, as the price took a downturn in the last four hours.
Disclaimer. The information provided is not trading advice. Cryptopolitan.com holds no liability for any investments made based on the information provided on this page. We strongly recommend independent research and/or consultation with a qualified professional before making any investment decisions.
---