---
HBAR buyers struggle to capitalize on the increased buying pressure and are at the verge of losing the $0.10 mark. Should you keep holding? Key technical points:
HBAR prices struggle to sustain above $0.10.

The MACD indicator shows a bullish crossover.

The 24-hour trading volume of Hedera is $41.34 Million, indicating a 26% increase. 
Past Performance of HBAR
As mentioned in our previous analysis, HBAR prices break under the crucial support zone at $0.20, resulting in a fall to $0.085 under the mental barrier of $0.10. However, the price returned from $0.10  to retest the broken barrier upon which the post-retest reversal chances increase.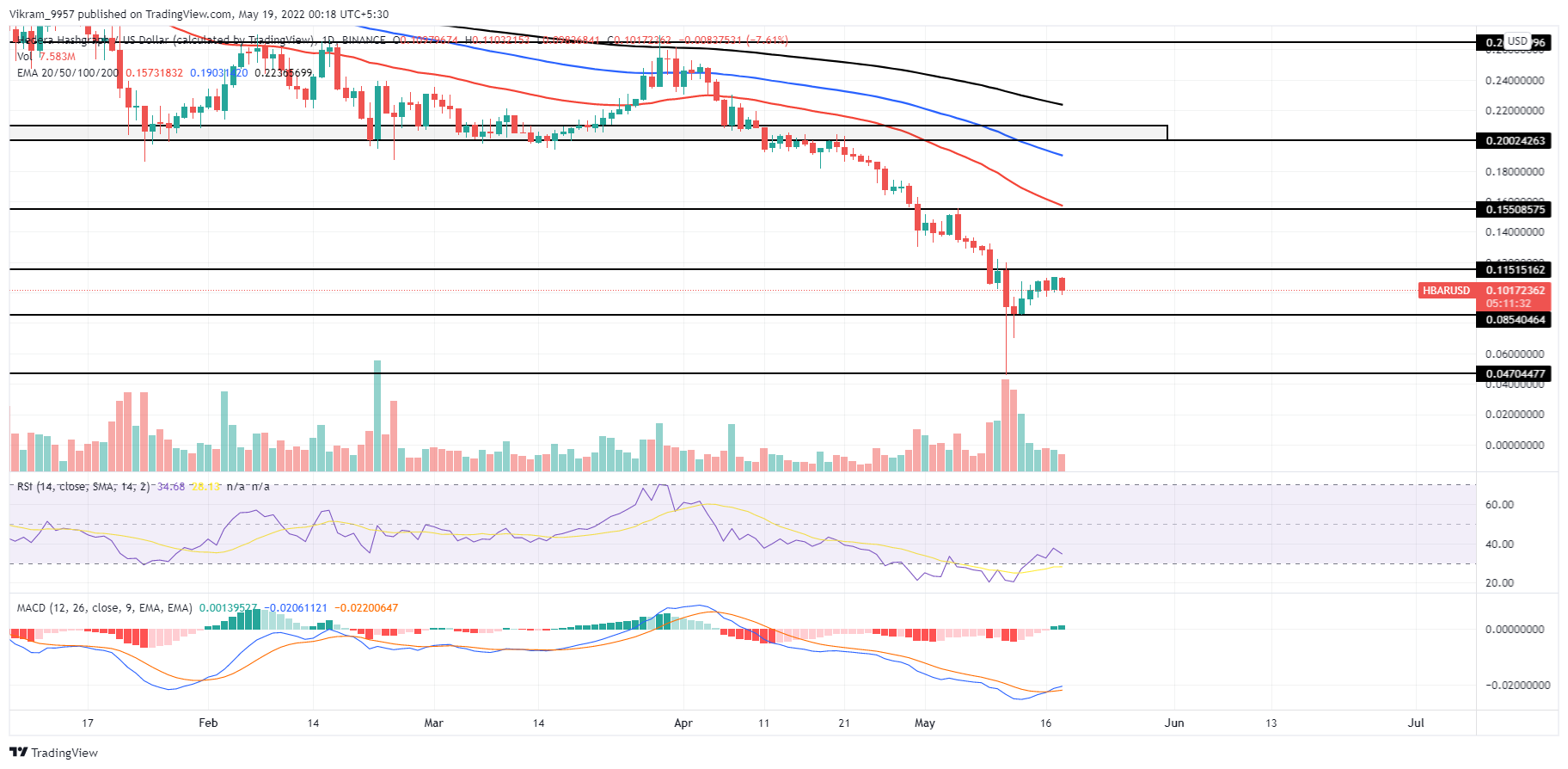 Source-Tradingview
HBAR Technical Analysis 
The reversal in HBAR prices from $0.085 to $0.10 will be meaningless if the buyers fail to capitalize on the increased trend momentum. However, the present circumstances of lowered trading volume project a high probability of bullish failure.  The 58% downfall after the support zone fallout further increased the bearish spread among the crucial EMAs.   The sudden reversal in RSI values from the oversold territory surpasses the 14-day SM(yellow) and approaches the halfway line. Moreover, the bullish divergence led to uptrend discharges as the RSI values took a setback. The MACD and signal lines take a bullish turnaround resulting in a positive crossover below the zero line. As the lines take a positive approach and attempt to reach the zero line, we can surely see a resurgence in the bullish histogram if the uptrend sustains. In short, the HBAR technical analysis depicts a bullish reversal possibility waiting for a push in trading volume.
Upcoming Trend
Currently, the HBAR prices form a 7% bearish candle and hint at a retracement to $0.085, but the reversal rally above $0.10 clings to its nails and hope for a surge in buying pressure. However, to avoid the FOMO, traders must wait for the $0.115 breakout before taking a bullish position. Support Levels: $0.080 and $0.047 Resistance Levels: $0.115 and $0.15
---