---
Salvadoran President Nayib Bukele explained to famous gold bug and cryptocurrency skeptic Peter Schiff yesterday (December 4) why it didn't make any sense to criticize his country for continuing to take advantage of dips in the Bitcoin price.
Peter Schiff is the CEO of Euro Pacific Capital, a full-service, registered broker/dealer specializing in foreign markets and securities, and founder and Chairman of SchiffGold, a full-service, discount precious metals dealer. 
As you may remember, the bill to make Bitcoin legal tender in El Salvador got passed by the Legislative Assembly on June 9 and the Bitcoin Law became effective on September 7.
En la #SesionPlenaria7✍🏻, con 62 votos, #LaNuevaAsamblea aprobó la #LeyBitcoin con la que El Salvador adopta el #Bitcoin como moneda de circulación legal. pic.twitter.com/7IToTmnCwv

— Asamblea Legislativa 🇸🇻 (@AsambleaSV) June 9, 2021
On Saturday (December 4), President Bukele, who is clearly betting the future of his country on Bitcoin, took to Twitter to announce that his country had bought 150 more bitcoin (at an average price of $48,670) shortly after the Bitcoin price dipped below $50,000. He also admitted that they had failed to buy $BTC at its intraday low (which was $42,431 on Bitstamp). This brought the number of bitcoins El Salvador has purchased so far to 1,270, which is worth around $62 million at the time of writing.
Missed the f***ing bottom by 7 minutes 😂

— Nayib Bukele 🇸🇻 (@nayibbukele) December 4, 2021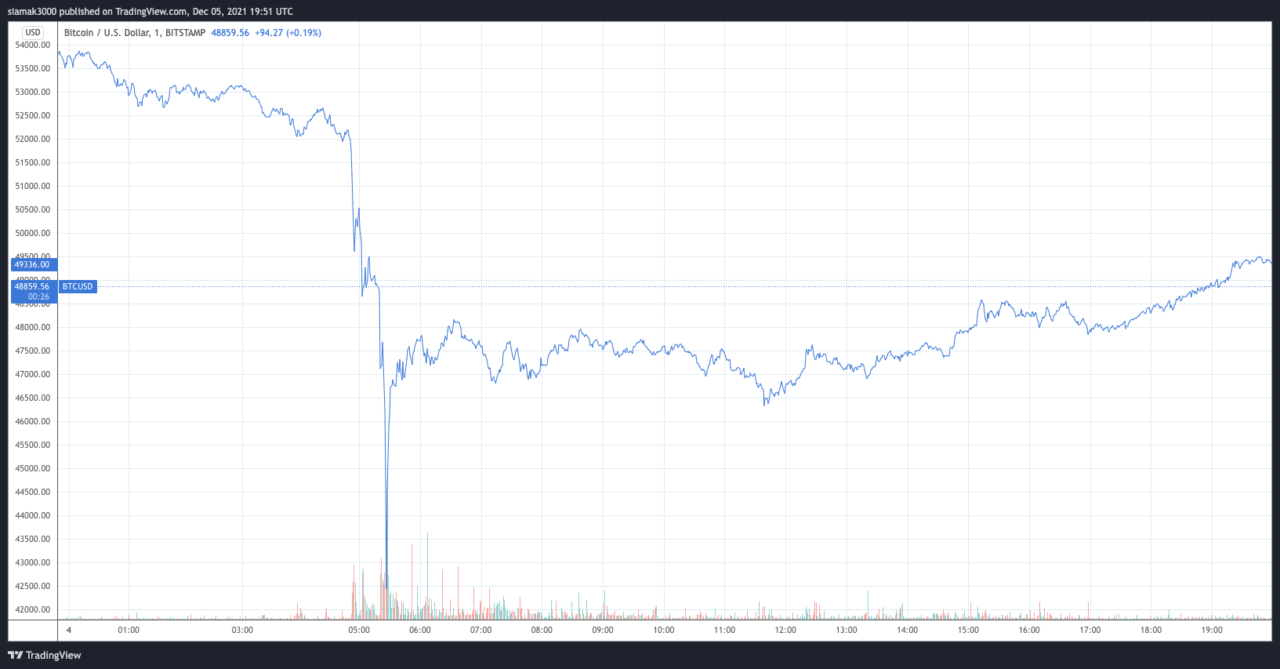 Source: TradingView
Naturally, Schiff had to voice his opinion on what he consider reckless behavior by the Salvadoran president.
@nayibbukele, my dad's reply is your signal to buy more.

— Spencer Schiff (@SpencerKSchiff) December 4, 2021
At this point, it is worth noting that previous to this latest purchase, the last time El Salvador bought the Bitcoin dip was on October 27/28.
It was a long wait, but worth it.

We just bought the dip!

420 new #Bitcoin🇸🇻

— Nayib Bukele 🇸🇻 (@nayibbukele) October 27, 2021
Anyway, President Bukele decided to respond to Schiff's attack by pointing out that in the past one year period the value of his nation's gold reserves — which is currently around $79 million — has gone down by 0.37%, but if they had sold their gold back then and bought Bitcoin with the proceeds of the sale, the value of those bitcoins would now be around $204 million.
You're in the green for now. Let's see how long it lasts. Plus you're still in the red on the #Bitcoin you bought on last weeks's dip. You are making a huge bet using other people's money. It's not likely to end well for them or you!

— Peter Schiff (@PeterSchiff) December 4, 2021
Of course, there are some people, such as Natalie Brunell, the host of the Coin Stories podcast, who (possibly jokingly) say that Schiff secretly loves Bitcoin (despite his non-stop attacks on Bitcoin).
He wanted to pose in front of the #Bitcoin art piece 🧡 @PeterSchiff secretly loves BTC… pic.twitter.com/Kz2lfU8Ppu

— Natalie ₿runell (@natbrunell) December 4, 2021
DISCLAIMER
The views and opinions expressed by the author, or any people mentioned in this article, are for informational purposes only, and they do not constitute financial, investment, or other advice. Investing in or trading cryptoassets comes with a risk of financial loss.
IMAGE CREDIT
Photo by "WorldSpectrum" via Pixabay
---