www.cryptopolitan.com

19 m

---
EOS, a crypto token formed by the company to promote their decentralized app creation, ranks #47, a little lower on the charts, thanks to its slightly lower market cap of $3,365,472,360. Lately, it has resumed its upward projectile with renewed activities and is viewed by some analysts as a "ticking time bomb". Comparing the XRP fractal from 2015 to 2017 and EOS's current chart, the similarities are mind-blowing. 

$EOS has launched on @cronos_chain via IBC Solo Machine, allowing $EOS to be sent across the entire Cosmos interchain ecosystem! 🚀$EOS has been listed on VVS with initial liquidity added to the $CRO– $EOS pool! 💎⛏ pic.twitter.com/cqHIJYetkv

— VVS Finance (@VVS_finance) March 11, 2022
Source: Twitter
Let's find out more about EOS, its offering, explore EOS developments, EOS price predictions, EOS price analysis and determine whether it deserves a place in your investment portfolio.
Table of Contents HIDE
1. What is EOS?
2. EOS Overview
3. How Does EOS Work?
4. Existing EOS partners
5. Projects Built on EOS
6. What Affects EOS Price?
7. EOS Technical Analysis
8. EOS Price Predictions 2022 – 2030
9. EOS Price Prediction by Industry Experts
10. Final verdict
11. FAQs on EOS
What is EOS?
EOS is one of the best-known cryptocurrencies today that allows building decentralized apps (DApps) simple and scalable. EOS cryptocurrency was developed by a company called Block.one.
Founded by software programmer Daniel Larimer and entrepreneur Brendan Blumer, who still hold the roles of CTO and CEO, the company began to work on the project in 2017.
In June 2018, the EOS officially went live after a year-long Initial Coin Offering (ICO). The ICO raised more than $4 billion, despite the prohibition to participate from U.S. investors.To this day, the ICO is one of the largest token sales, while the EOS blockchain continues to be one of the largest cryptocurrencies by market capitalization and trading volume.
EOS Overview
EOS Overview
Eos Overview
Coin
Symbol
Price
Marketcap
Change
Last 24h
Supply
Volume (24h)

EOS
$

1.94

$

1.92 B

2.80%

987.40 M
$

208.28 M
EOS Network & Signals
GALAXY SCORE
The Galaxy Score indicates how healthy a coin is by looking at combined performance indicators across markets and social engagement. Display the real-time Galaxy Score of any coin.
How Does EOS Work?
EOS uses its own proof of stake EOSIO blockchain that processes transactions quickly, scalable, and secure way. The EOSIO 2.2.0-rc1 includes three new features: Read-only Queries, Private Chain Access, and Resource Payer.
Initially, EOS used ERC-20 tokens to distribute the coins raised in the ICO, which helped ease the ICO process as the ERC-20 token was frequently used to raise an ICO.
Later, all of the ERC-20 tokens were converted to native EOISO blockchain tokens, allowing token holders to finally transact and operate on the network.
Block producers on the EOS network are chosen in a delegated-proof-of-stake mechanism (DPoS), which requires EOS token holders to lock in their coins for more than three days.
The DPoS mechanism allows for a lower entry threshold, which results in more decentralization, less power used, and more scalability for the network.
Existing EOS partners
Recently, Google announced that it has partnered with Block.one, to become a block producer for the network. It is one of the largest partnerships in the cryptocurrency ecosystem to date and will likely further increase EOS's popularity.
Another great partnership for EOS and its developer, Block, was recently made with investor LACChain, an Inter-American Development Bank initiative to promote blockchain use and crypto market development across Latin America and the Caribbean.
A similar partnership was made in Asia in 2018, as a $200 million joint venture fund – EOS Global was created together with local blockchain technology entrepreneurs Michael Cao and Winnie Liu.
Recently, Wyoming became the first country in the entire world to give official status to an EOS-based DAO or decentralized autonomous organization. The DAO named American CryptoFED features two tokens, Ducat, and Locke, with a cap of 10 trillion tokens.
Projects Built on EOS
Eosfinex is a non-custodial trading platform that allows to trade using the security of an EOS non-custodial wallet.
EOSDT is a decentralized stablecoin, just like the well-known USDT. It is available on several large exchanges such as HitBTC, Bancor, and Changelly.
Defibox combines the blockchain with DeFi protocols allowing to Swap and Lend by using their native stablecoin – BOX
Upland is a virtual property trading game that runs on the EOS blockchain. It currently has more than 35 thousand users with more than $500 thousand worth of transaction volume.
American CryptoFed DAO is the world's first payment structure that will be issuing a digital asset whose value is noninflationary.
What Affects EOS Price?
EOS value is affected by the same principles that determine the price of every cryptocurrency. It is the total circulating supply and the market demand.
EOS Technical Analysis
An alternative analysis is potential Cup and Handle Formation. It gives very similar targets to previous similar analyses using the fractal overlay. Both analyses result in EOS between $150-$200 during this year. It could be a very good time to buy to EOS now if you believe EOS will do a similar thing to what Ethereum did in 2016-2017.

EOS Price Predictions 2022 – 2030
Digital Coin
According to Digital Coin, EOS could hit an average of $2.7 in 2022, $3.1 in 2023, $4.2 in 2025, and $8.2 in 2029.
Price Prediction
Similarly, Price Prediction believed the average price of EOS could hit $2.67 in 2022, $8.2 in 2025, and as high as $56.2 in 2030.
Cryptopolitan
Applying price action, trendlines, and technical indicators, we came up with the following graph.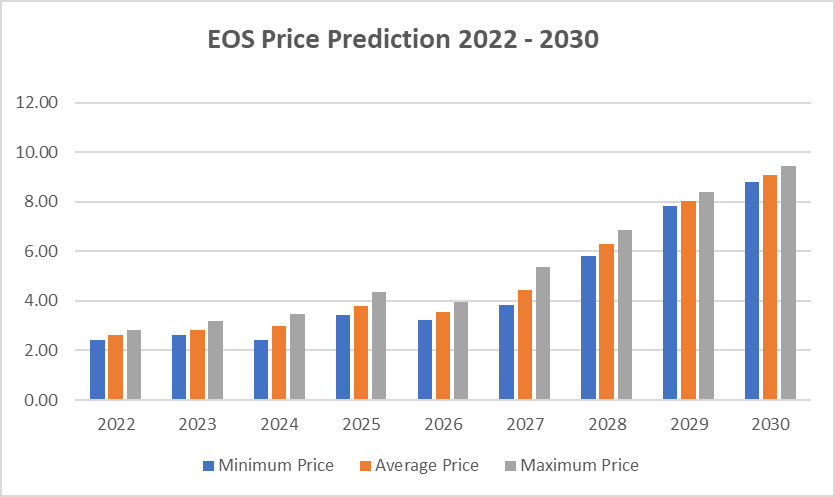 | | | | |
| --- | --- | --- | --- |
| Year | Minimum Price | Average Price | Maximum Price |
| 2022 | 2.43 | 2.63 | 2.81 |
| 2023 | 2.63 | 2.84 | 3.17 |
| 2024 | 2.44 | 2.99 | 3.47 |
| 2025 | 3.44 | 3.80 | 4.35 |
| 2026 | 3.23 | 3.56 | 3.97 |
| 2027 | 3.83 | 4.44 | 5.37 |
| 2028 | 5.80 | 6.29 | 6.88 |
| 2029 | 7.82 | 8.03 | 8.40 |
| 2030 | 8.80 | 9.07 | 9.46 |
EOS Price Prediction 2022
EOS started in 2022 at just over 3$, but at the moment, it has lost over 32% of its value. The value of the coin could continue to dip, given the current bearish market trend. However, if the bulls turn to EOS, a trend reversal could be imminent. Our EOS price prediction for 2022 is conservative, and we expect the coin to reach a maximum price of $2.81 by the end of the year. Its predicted average market price is $2.63.
EOS Price Prediction 2023
EOS is functional crypto that provides developers with a sustainable framework to develop scalable DApps. This feature could help EOS attain $3.17 per unit in 2023. Early bird investors can now add EOS to their coin portfolio and expect over 56% returns in the future. The minimum predicted price of EOS in 2023 is $2.63, and its average market price will be $2.84.
EOS Price Prediction 2024
With further improvement in security architecture, wallet optimization, and overall scalability expected in the future, the value of EOS could see positive price movements too. EOS is expected to attain a peak price of 3.47 USD. Also, its projected minimum price and average price for 2024 are $2.44 and $2.99.
EOS Price Prediction 2025
With the potential rollout of several EOS blockchain-based projects, we expect 2025 to remain bullish for EOS as its adoption increases. Its maximum price is projected to reach $4.35. If market sentiments are bullish for EOS, the coin could easily surpass its predicted price point.
EOS Price Prediction 2026 and beyond
EOS is one of the many adventurous projects in the crypto space with rapidly growing use cases. However, price corrections are expected in 2026, according to our predictions. Its expected maximum price for 2026 is $3.97, which is an 8.7% price dip from its peak value in 2025.
Going forward, EOS will recover in 2027 to attain a minimum price of $3.87 and a maximum price of $5.37. Its average price for 2027 is $4.44. By 2030, EOS could be trading around the $10 mark. According to the EOS/USD forecast from Price Prediction (as of 24 February 2022), it could hit $85 by 2031.
EOS Price Prediction by Industry Experts
#EOS #4BillionDAO https://t.co/COHPU1sfgf pic.twitter.com/e9RvtMwvrZ

— Yves La Rose (@BigBeardSamurai) February 17, 2022
The announcement was made by Yves La Rose, the CEO of the foundation "to let the EOS community know we are aware of their concerns".
The price of the EOS coin did drop on the announcement but that loss of value has since been overshadowed by the losses following the Russian invasion of Ukraine which has caused widespread disquiet in the market. EOS price is down 12% at $1.94. 
According to the State of theDApps, a curated directory of decentralized apps, there are 3,957 dApps currently operational of which Ethereum hosts 2,929 and EOS has 331, with 128,230 daily active users as of 24 February 2022. dApps have gained popularity because of their increased privacy and autonomy.
Edgar Fernández, the co-founder of EOS Costa Rica, said he saw massive potential in Latin America, where the market was ripe for a practical technological breakthrough.
EOS has the potential to create millions of verified human EOSIO based accounts if there's a use case behind it, whether that's regulatory, in the private industry, or public sector. It could be anything from decentralised ID to efficiency in customs agencies, to issuing bonds on a blockchain, to tokenized fiat money, or the traceability of vaccines.

Edgar Fernandez, EOS Costa Rica Co-Founder
The split of the EOS community away from Block.One, the organization that developed the project, over the community vote decision to stop payments, has allegedly little effect on the EOS coin price. The development was keenly watched by the crypto community as it showed the first real test of what a decentralized community could do when it flexes its muscles.
Several algorithm-based forecasting services shared moderately bullish long-term EOS crypto predictions
Final verdict
EOS is one of the best-known cryptocurrencies for the past years. The year-long Initial Coin Offering attracted $4 billion of capital by the middle of 2018, making it one of the largest and best-known ICOs to date. Since then, Block.one and the surrounding community continues to develop EOS as one of the best-Delegated proof of stake blockchains, with fast speeds and good scalability.
Considering EOS's price performance over the past years and the somewhat bearish price movement in recent weeks and days, we expect EOS to climb steadily with little volatility. Currently, EOS trades around $1.9 – $2, and its future prices will depend on how the overall cryptocurrency market performs. However, EOS could be a good choice for long-term investors.
FAQs on EOS
Will EOS reach $100?
EOS currently trades above $1.9, with an all-time high of $22.89. Therefore, to reach $100, the EOS price would have to increase by more than 52 times. This would mean that the total market cap of EOS has to reach over $101 billion.
During the previous bull run in 2018, the EOS price moved from $0.5 to about $23, which is a price increase multiple of 46. Therefore, EOS future price would likely attain $100, and we expect this to happen in a few years, depending on how investors perceive the coin. You must know that this is not investment advice. Conduct your own research before any investment.
What will EOS be worth in 2025?
According to various estimates, EOS could be worth more than $4.3 by 2025. However, much depends on what the overall altcoin market momentum will look like.
What is Block.one?
Block.one is a private company registered in the Cayman Islands that develops the EOSIO platform that runs EOS tokens. Established in 2017 by Brendan Blumer, the CEO, and Daniel Larimer (CTO), it will be one of the largest companies in the cryptocurrency ecosystem. Trouble started when the EOS Network Foundation (ENF), the 'rebels', claimed Block.one was no longer acting in the network's best interests. Then, the top 25 EOS block producers elected to stop issuing 67 million (around $214m [£157m]) EOS vesting tokens scheduled to be unlocked and distributed to Block.one over the next seven or so years.
Where can you buy EOS?
Since EOS is one of the best-known cryptocurrencies today, trading of the coin is available on most of the largest crypto exchanges such as Coinbase, Binance, and Huobi. EOS might not be available on smaller exchanges or ones that are more strictly regulated.
How to Store EOS?
As with popular cryptocurrencies, EOS can be stored on popular hardware wallets such as Ledger Nano S and Trezor. Several options are also available for software/desktop wallets, such as Jaxx, Exodus, Atomic wallet, and Infinito.
How to mine EOS?
EOS uses Delegated Proof of Stake (DPoS) consensus mechanism, which requires no mining. Therefore, if you want to help maintain the blockchain, you have to stake your EOS tokens. From there, you select the network validators by using your staked coin votes and get rewarded in proportion to your staked coins.
Disclaimer. The information provided is not trading advice. Cryptopolitan.com holds no liability for any investments made based on the information provided on this page. We strongly recommend independent research and/or consultation with a qualified professional before making any investment decisions.
---