•ETC/USD is currently priced at $32.10 and has decreased by 12% over the past day
•The Trading Volume has dipped by 34.29% over the past 24 hours
•The technical indicators present a bearish outlook for ETC
Short Term View: Ethereum Classic Price taking a beating from the bears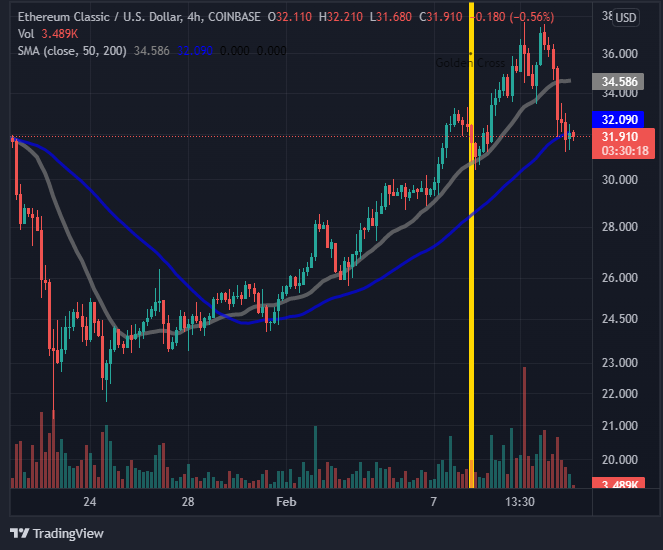 Tradingview
The Ethereum Classic price today is $32.10 USD with a 24-hour trading volume of $867,947,213 USD. The past 24 hours haven't been so favorable to the cryptocurrency market, in general. Ethereum Classic token is down 12% in the last 24 hours. The Trading Volume has declined over the past day while the Volume to Market Cap Ratio stands at 0.2034. An increasingly bearish sentiment prevails in the market with regards to the Ethereum Classic token.
May 6, 2021 marked the all time high for the altcoin as it reached to $176.16 and ETC has been trying to reclaim those levels ever since. The altcoin had shown some signs of recovery after it's recent plunge but all the bullish momentum has been eradicated as the bears have gained ascendancy. Ethereum Classic token is trading below the 20 and 50 SMA on the daily chart which shows the bearish momentum that is prevailing in the market. ETC needs to hang onto the support level at $29 for dear life,failing which the coin could drop to even lower price levels. The coin will find resistance at $42 ,after which the next resistance level is found at $48.
Long Term View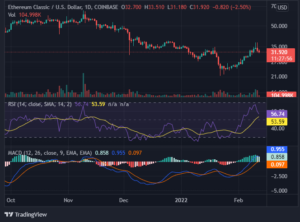 Tradingview
The RSI for Ethereum Classic token stands at 56.70 which suggests the coin is neither in the oversold nor overbought region . The MACD indicator, although positive,is showing bearish momentum as the gap between the MACD and signal line keeps decreasing. The histograms have peaked and are declining rapidly that reinforces the bearish trend ETC is going through. 
ALSO READ: UK May Boot Almost 100 Crypto Firms as Anti-Money Laundering Deadline Approaches
Conclusion
ETC has seen a downtrend that has seen a fair share of it's value being wiped out. The strong bearish market sentiment suggests further downwards movement for the asset across the short term. However, the $28 mark provides key support to the price action which ETC needs to hold onto for dear life. We can expect the price to consolidate here for a larger period from what was first anticipated before we see a possible uptrend.
Support:$28,next level at $27
Resistance: $42, next level at $48
Disclaimer
The views and opinions stated by the author, or any people named in this article, are for informational ideas only, and they do not establish the financial, investment, or other advice. Investing in or trading crypto assets comes with a risk of financial loss.