---
After a pretty muted start to the year, the global crypto market has enjoyed a modest recovery over the past week. While both Bitcoin and Ethereum have enjoyed an 11-15% surge, Terra (LUNA), one of Ethereum's main rivals, has them beat in spades.
Over the past week, LUNA has consistently been accumulating double-digit gains, reaching $102.95 AUD at the end of February, and progressing even further throughout the start of March. However, will this continue? Some factors signal that it's poised for a huge rejection back towards $80 or lower. Let's discuss.
Ethereum Killer surges 84%
LUNA has continued its parabolic ascent, increasing by nearly 30% in the first two days of March, reaching an impressive $129.02 as of the time of writing. Over the entire bullish period, this works out to be a cumulative 84% price surge. Suffice to say, its moniker as the 'Ethereum Killer' seems to be gaining credence.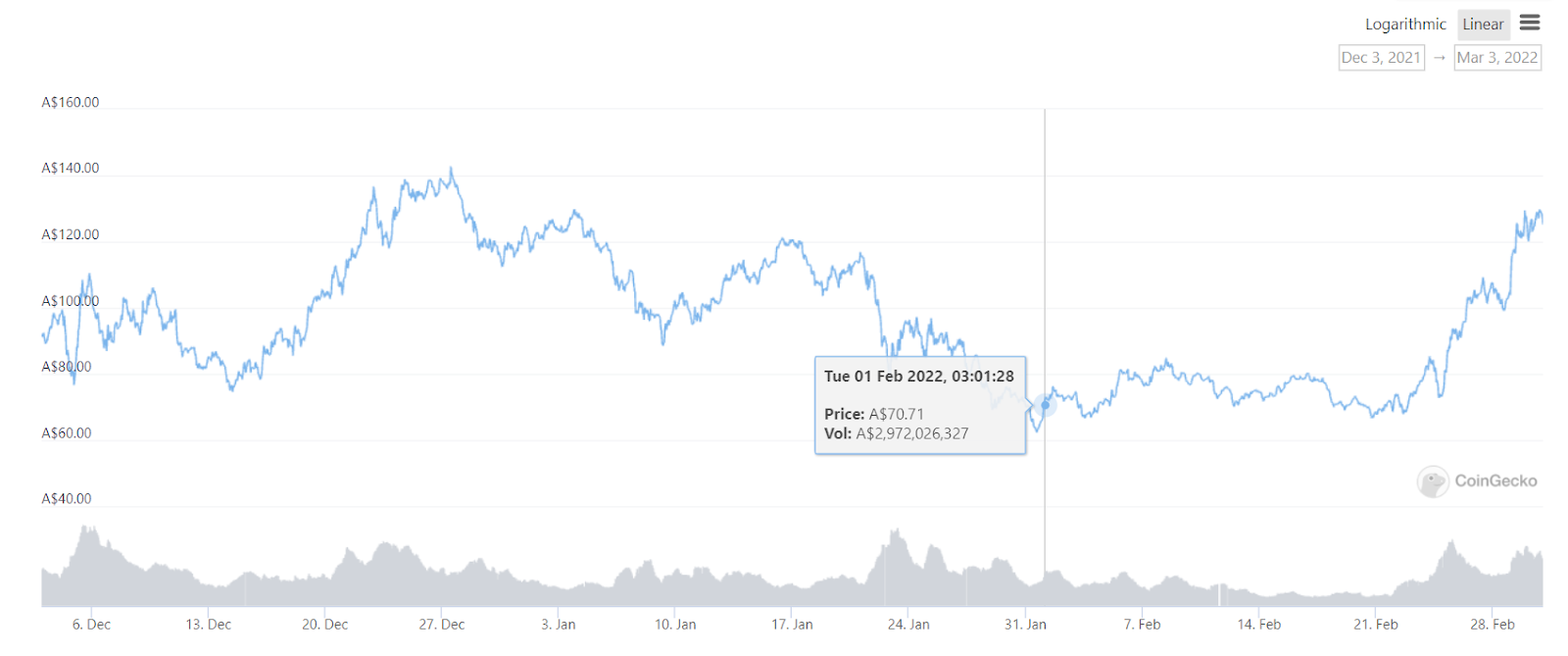 Source: CoinGecko
Altcoin Sherpa (a crypto analyst and retail trader) applauds LUNA on its bullish momentum, saying:
"LUNA: remains one of the strongest altcoins out there right now. The way the dip got bought the f*** up yesterday was impressive. EMAs (exponential moving averages) bullish on the 4-hour [chart]. BTC pair is gunning for the highs. Get ready to take some profit, in my opinion."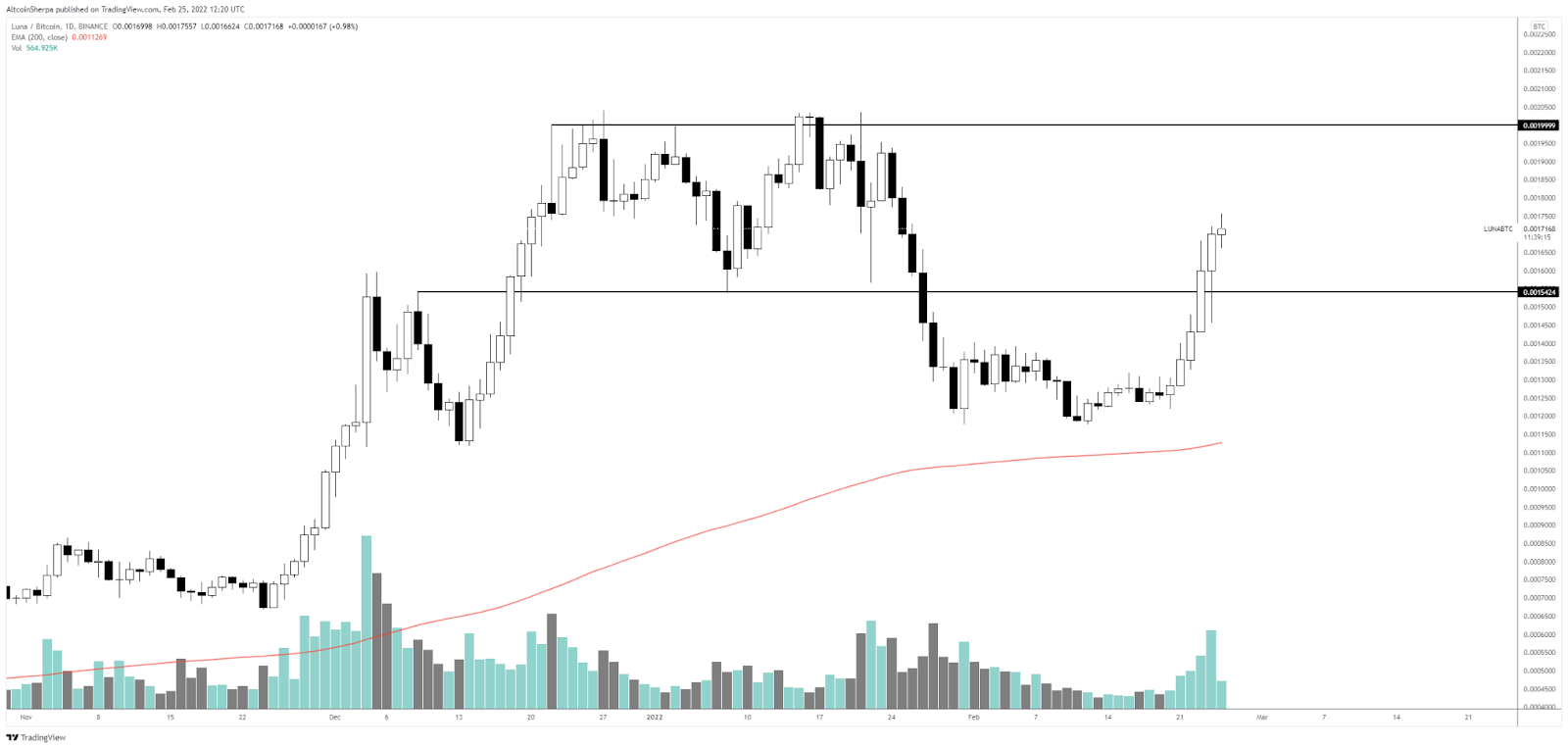 Source: Twitter @AltcoinSherpa
Unlike Terra, it isn't all good news for the more-known rival coin Ethereum. News of the positive recovery was mixed with headlines of Ethereum being overthrown by Uniswap as the most traded token among BSC whales.
What's behind Terra's performance?
Back to Terra – what was behind the astounding 84% growth? Data from DeFiLlama (DeFi tracker) points towards Terra's total value locked (TVL). In a nutshell, the TVL is the total value of crypto assets held within a given protocol. In Terra's case, its TVL reached a record $23.6 billion, which was an increase of approx. 50% over the recent bullish period (beginning 22 Feb)
That figure isn't just large, but actually the second-largest TVL out of any blockchain protocol – outmatched only by Ethereum's $115.16 billion. However, on that note, while Terra's TVL has only grown; Ethereum's has been on a downward trajectory, dropping steeply from the $153b figure it boasted back in January.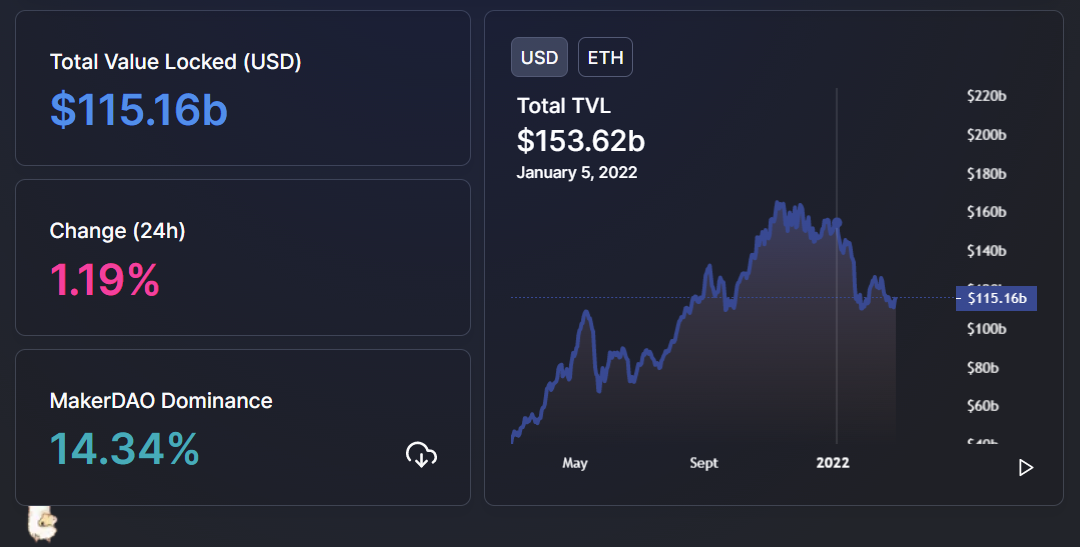 Source: DefiLlama
Terra's stellar performance also follows the announcement that its stablecoin (TerraUSD/UST) will be backed by the Bitcoin reserve, which has undoubtedly changed many's perception of LUNA's investment potential.
A cautious approach is still advised
There's no doubt that Terra supporters are hyped, with LUNA's value being as high as it's been in months. Its position as one of the largest ecosystems in the crypto market provides it with a solid footing that's only cemented by the bullish trajectory, and skyrocketing TVL. Analysts like Digital Coin Price and Wallet Investor are incredibly confident, setting five-year projections at $240-$650 AUD.
However, caution is still advised when it comes to jumping in. While recent developments have been fantastic, there is a looming possibility of a price correction. LUNA's daily relative strength indicator (RSI) indicates that it is currently hovering near 'overbought' levels, meaning a strong likelihood of a price drop in the coming sessions. As such, remember to do your own research before jumping in.

Source: CryptoPurview
---