Monero is a cryptocurrency that builds upon the anonymity features of Bitcoin, but it is more anonymous as compared to Bitcoin. It was founded in 2014 by a group of 7 people. Monero was initially launched as a fork for the Bytecoin. Let us look at the technical analysis of XMR.
Past Performance of Monero
It opened on 01 October 2021, at $251.10. There was an overall increase of 10.65% and the week ended with a close at $277.86 on October 7, 2021.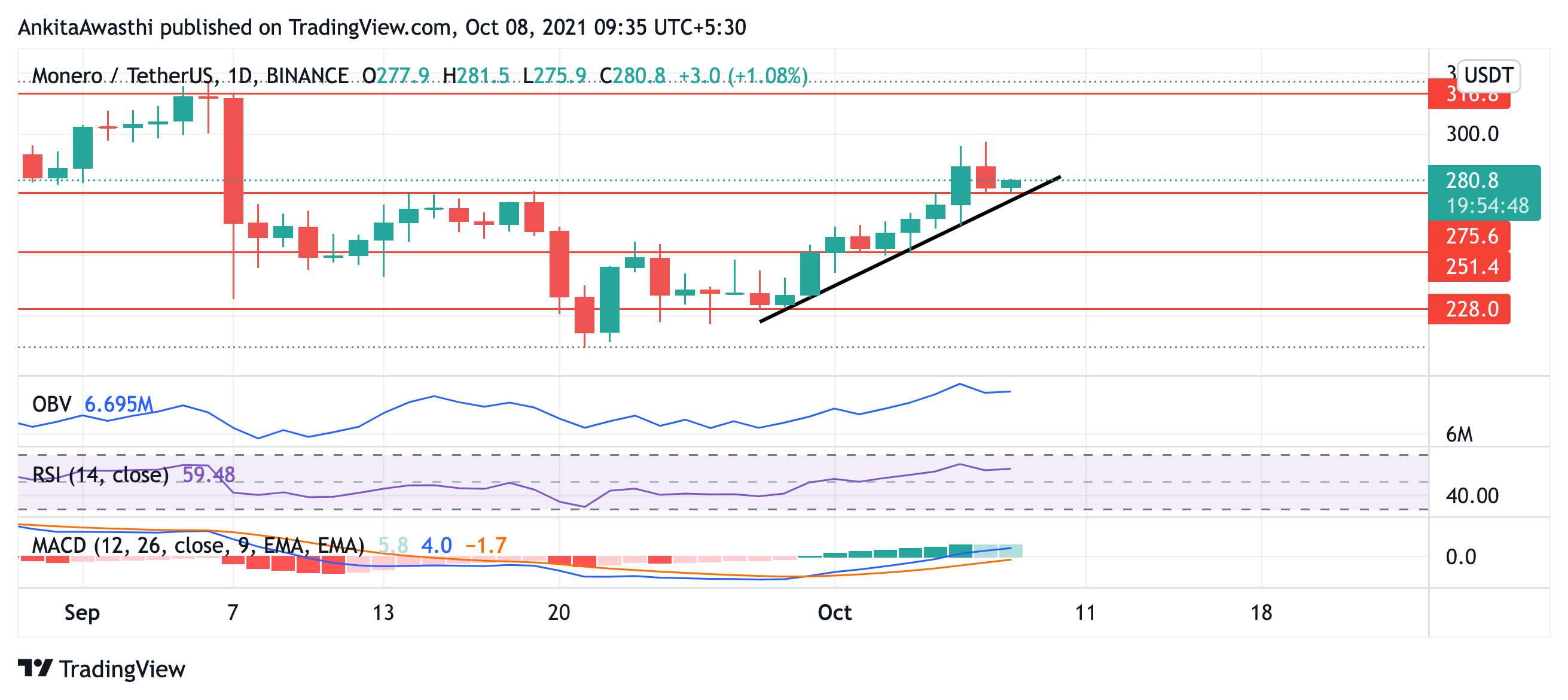 Source: https://www.tradingview.com/x/2lVbsHWd/
XMR Technical Analysis
The trend reversed itself when XMR took support at $228.0. Then it took slight support at $251.4 to continue its bullish trend. Currently, it is taking support at $275.6. Looking at the previous support levels, this bullish trend is expected to continue.
XMR is trading currently at $281.2, a 1.22% gain on the daily basis. The price continues to show bullish signals.
OBV is showing that the buying pressure is still dominating the selling pressure. This means that the bullish trend is likely to continue. Traders may consider taking a long position.
RSI is at 59.48%, which is again a bullish signal. There can be seen an uptrend in the RSI as well. Traders may consider taking a long position. However, they may look for a trend reversal as RSI can enter the overbought region soon.
MACD is confirming the last week's uptrend. The fast line's cross-over the slow line shows this. The signal is heading towards the positive region, which is again a bullish signal. MACD is showing no divergence from the price chart.
Day-Ahead and Tomorrow
Fib Retracement shows that the XMR broke resistance at $260.72. The fib target is at $312.39, which is expected to reach soon.
Thus, all the indicators are showing a bullish signal. However, RSI is also heading towards the overbought region, so there may be a trend reversal. Traders may take a long position with a target at $316.8 and place the stop-loss at $275.6.