www.cryptopolitan.com

44 m

Reading time: ~6 m
---
Gala is a blockchain-based gaming platform co-founded by Eric Schiermeyer, who was also the co-founder of Zynga, a popular social and mobile games firm. Gala Games seeks to change the way players perceive the blockchain-based gaming industry.
The altcoin surge came after it was listed on Binance, but the more compelling argument would be that play-to-earn gaming is one of the hottest trends in the crypto sector now. The games' unique characters allow participants to generate wealth instead of spending money to become a part of the community.
#Binance Will List @GoGalaGames $GALA https://t.co/4mjhBcCzi6

— Binance (@binance) September 13, 2021
265% surge after Binance tweet: Cryptopolitan
Gala games enable blockchain-gaming-focused projects, which allows users able to utilize their NFT characters in gameplay. These features made it easy for GALA to make significant gains after being listed on Binance exchange.
How does Gala work?
Gala is similar to a Steam store or GOG and involves a variety of games that users can play on the platform. Unlike other stores, which involve players paying to play the games, the games here are free-to-play, and users can own all the items in the game. GOG.com is a digital distribution platform with a curated selection of games, a "you buy it, you own it" philosophy.
Gala's approach to blockchain-based gaming is unique compared to the new trend of 'buying' in-game items. There are a total of 5 games on the platform:
Mirandus
Spider Tank
Town Star
Fortified
Echoes of Empire
Most of these games are NFT and metaverse themed, where users will have to create something or use NFT to complete the game. Players will also find an NFT store that consists of several in-game assets distributed in these categories: six rarity classes: Common, Uncommon, Rare, Epic, Legendary, and Ancient.
What is GALA?
GALA is the utility token of Gala Games and is the main asset used in the Gala Ecosystem for gaming and buying the in-game assets. The token is an integral part of Gala Games, which users can use in the Gala Games ecosystem by running a Gala Node.
However, to run a node, Gala players will need a license that will allow them to earn rewards and NFT from their home computer. But the catch is that this license costs $13,000 in ETH, BAT, or GALA. Furthermore, the number of nodes that can take part in the process has a limit of 50,000.
What makes Gala unique?
Gala has several unique qualities that make it stand apart from other blockchain-based play-to-earn gaming platforms.
Gala has an integrated store which makes it way easier for players to play and earn or buy and sell in-game items over its built-in marketplace.
It is built on the Binance Smart Chain and is a BEP-20 asset. This brings down the transaction fees while spending GALA tokens.
Gala has a massive community that decides which games to list and govern the performance of the platform. It has a whopping 1.3 million plus monthly users.
GALA price analysis
GALA price prediction is based on the performance of the token and the tokenomics of the platform. It was listed on Binance on Sept 13 and has followed an uptrend since in inception.
The current market capitalization of the token is $4.3 billion as per data from CoinMarketCap. The GALA token has a supply cap of 35,240,112,493 GALA and a circulating supply of 6,977,205,436 GALA.
GALA technical analysis
The technical analysis of the GALA token shows that the GALA price is still bullish in the long term. The price rise of the token in recent days was quite amazing as the token reached a maximum price of 0.8367 USD since inception. The current price of the token is above $0.6.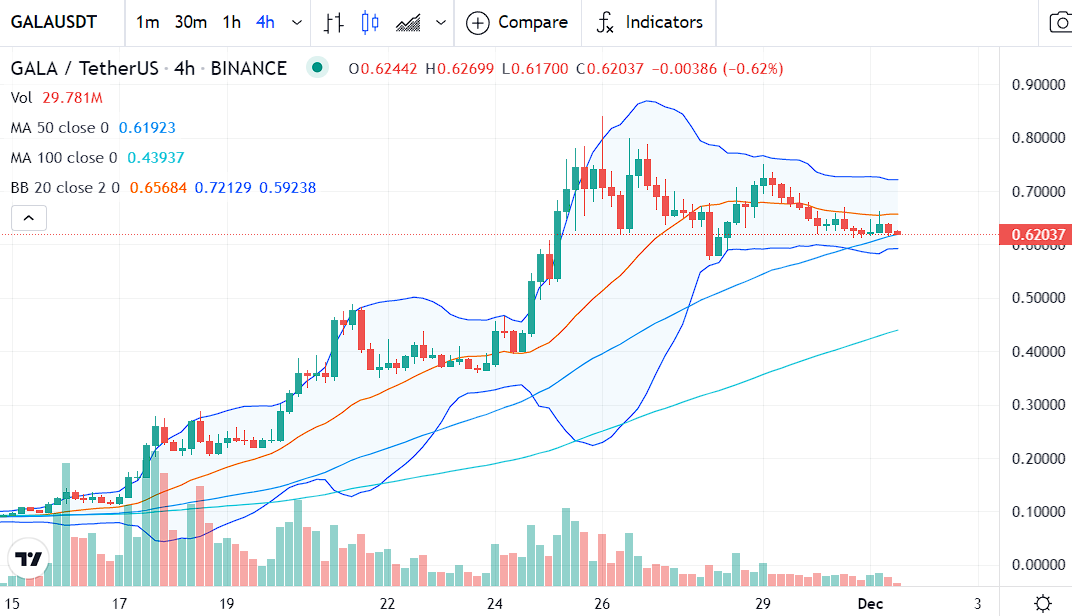 GALA's price continues above the 50-day and 100-day price action and is currently in the upper end of the Bollinger Bands. However, the trading volume for the token has decreased, and we can expect lower prices in the short term.
GALA price history
GALA's price has been bullish for the long term as the token rose to an all-time high above $0.8. Since its inception in 2019, the token achieved a value of $0.0015 in Sept 2020. Following this price level, the token fell as low as $0.0002 and rebounded to reach a price of $0.003.
Following the start of 2021, the token reached a price of $0.03 by March, following down to $0.0078. However, the token once again turned bullish and reclaimed $0.04 by Sept 2021.
The GALA price forecast presented by several websites is mainly bullish, and it seems that soon, we will see the average price of the GALA token above $1.
WalletInvestor GALA coin price prediction
According to WalletInvestor, the future price of the GALA token is extremely bullish.
2021
The GALA average value by the end of 2021 is expected to be above $1. However, the maximum price is expected at $1.119, while the minimum price is forecasted as 0.922 USD as per GALA price prediction by WalletInvestor.
In a year from now, it might reach as high as $0.987.
GALA price prediction 2021 and beyond by WalletInvestor
2025
The long-term price analysis of the blockchain-based game network is put above $2. The year 2025 is expected to end at an average price of 1.8 USD, followed by a maximum of 2.194 USD and a minimum of 1.526 USD. This makes GALA a very good investment, and a huge surge in the market cap can be expected as the cryptocurrency market takes a bullish turn.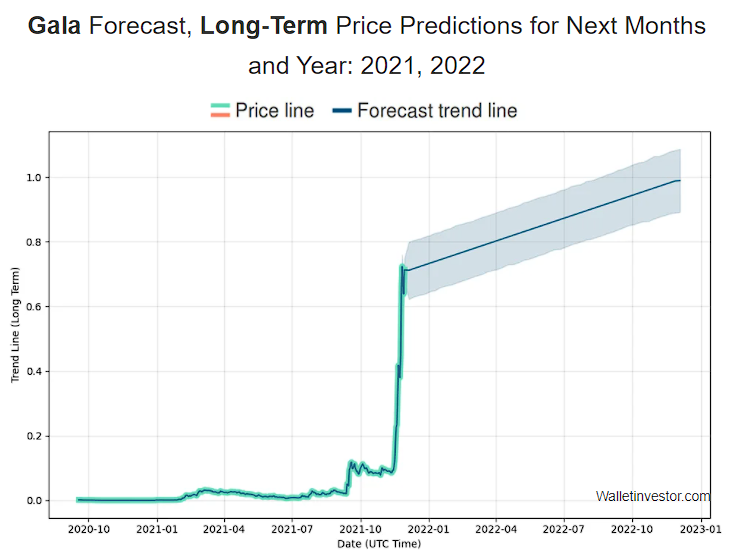 DigitalCoinPrice GALA price prediction
DigitalCoinPrice also predicts a bullish future for GALA. According to its GALA coin price prediction, the token will end in 2021 at 0.9526899916 USD, followed by 1.09 USD by 2022.
On the other hand, GALA's price is expected to reach 1.28 USD by 2023, followed by 1.6 USD by 2024. As institutional investors buy GALA and nonfungible tokens increase in popularity, a price of 2.23 USD is expected for 2026, followed by $2.86 by 2028.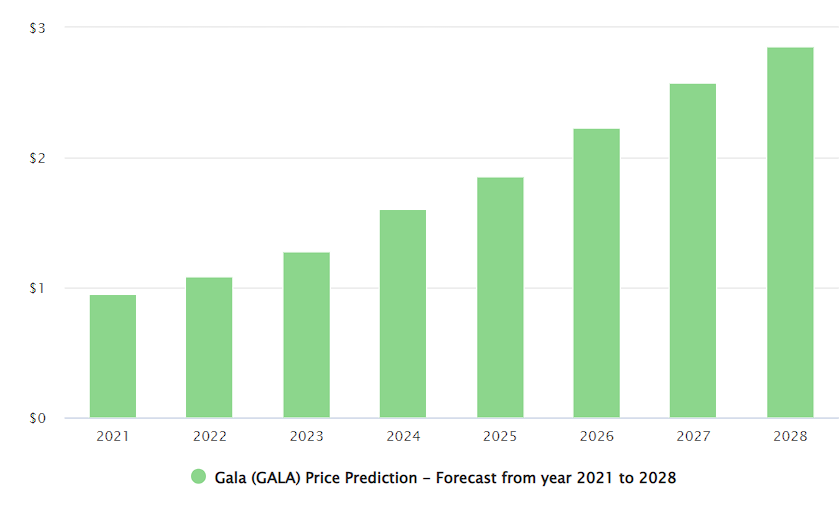 DigitalCoinPrice prediction
Conclusion
GALA is a good opportunity as an investment with a good return percentage. In the last 24 hours, the investors have predicted a bullish trajectory for the token in the long term. Investing your hard-earned dollars in the token in November might've made you a millionaire.
GALA is an interesting integration of gaming into blockchain technology and allows players and many traders true ownership of their assets.
FAQs
Will GALA hit 1 USD in a year?
According to our price analysis of the GALA token, the yearly high for the coin rests at $0.8, and it is expected that soon, we will see that level get breached and the formation of a new all-time high, above $1.
What will GALA be worth in five years?
GALA will be worth as much as $2 by 2026, as predicted by DigitalCoinPrice.
Will GALA replace Bitcoin?
GALA cannot be compared with BTC, which is a Store of Value. GALA is a blockchain-based gaming platform and represents a completely different aspect of the DeFi industry. The token can't replace Bitcoin because Bitcoin is compared with gold and has a market cap above $1 trillion.
This year, the king of cryptocurrencies has seen a great adoption rate, with countries like El Salvador accepting as legal tender.
Is GALA price going to fall?
According to our analysis, GALA will continue to engage in volatility, but it will benefit long-term holders of the coin by breaching $1.
---