For more than a month, HBAR has been undergoing a meticulous consolidation, on which the near future of the market will depend. An unsuccessful attempt to break the range of $0.336-$0.37 in March 2021 sent the price of HBAR for a long and deep correction. Now buyers' troops have stopped again at the last walls of sellers and have practically taken control of them. If in the previous case in March buyers arranged consolidation under the liquidity range of $0.336-$0.37, now on the weekly chart we see that the price is fixed above the liquidity price zone. This fact allows us to predict the HBAR price growth by at least 80%, probably in November.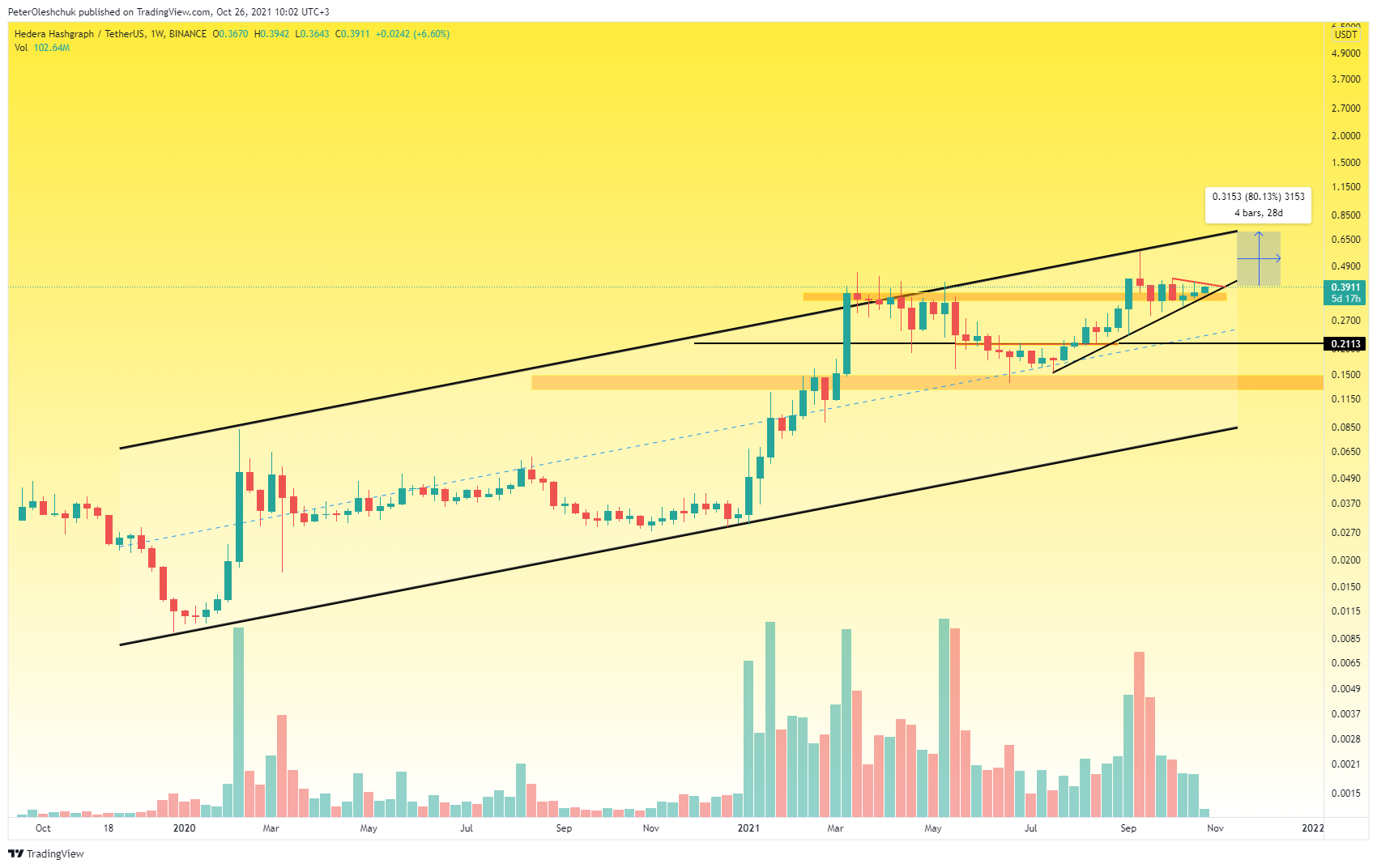 https://www.tradingview.com/x/DjZRLvwI/
In addition, while buyers are confidently keeping the trend line of the growth channel from July 2021, the probability of continued upward price movement is quite high. However, investing in HBAR should now be understood that below the mark of $0.336 buyers will not be so strong and secure to keep the price. When the range of $0.336 is broken down, the initiative will go to sellers and the first target of the local fall wave will be around $0.212. At the same time, it is necessary to consider that the given fall wave will be sharp to ensure the long positions against such an unpleasant situation.
Technical Analysis of HBAR on the Daily Timeframe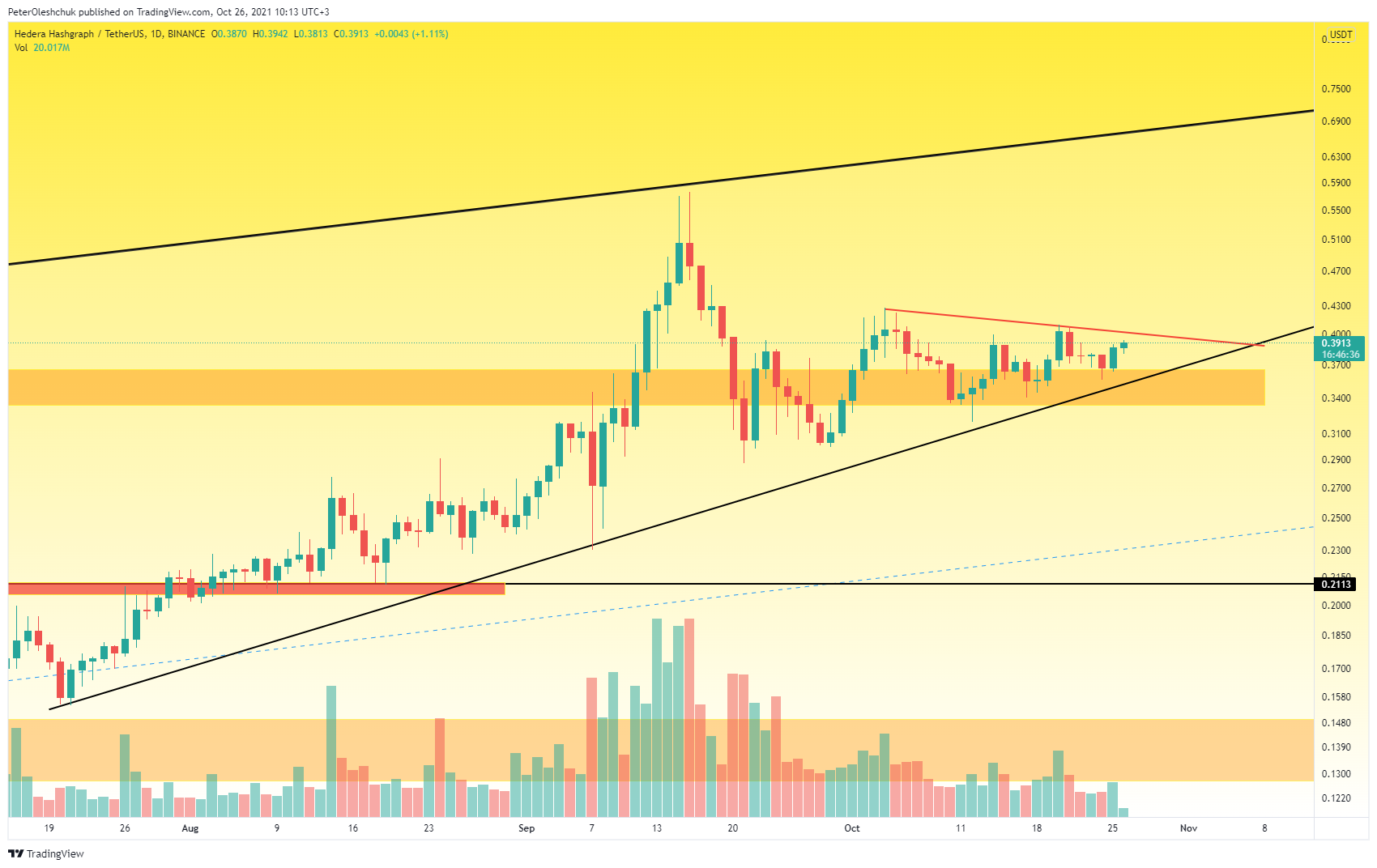 https://www.tradingview.com/x/paOOeV7q/
A high intrigue level can be seen in the daily timeframe of the HBAR chart. In addition to global consolidation, we see that the HBAR price began trading in the local triangle from 4 October, in which it can spend time until 2 November. Analyzing the triangle, it is likely to see one local fall wave to $0.336. But, this attempt to fall should take place at low volumes and without aggressive falling candles. In this case, we will receive the final signal to buy HBAR with the first target of $0.7.
HBARBTC Price Is in the Purchase Range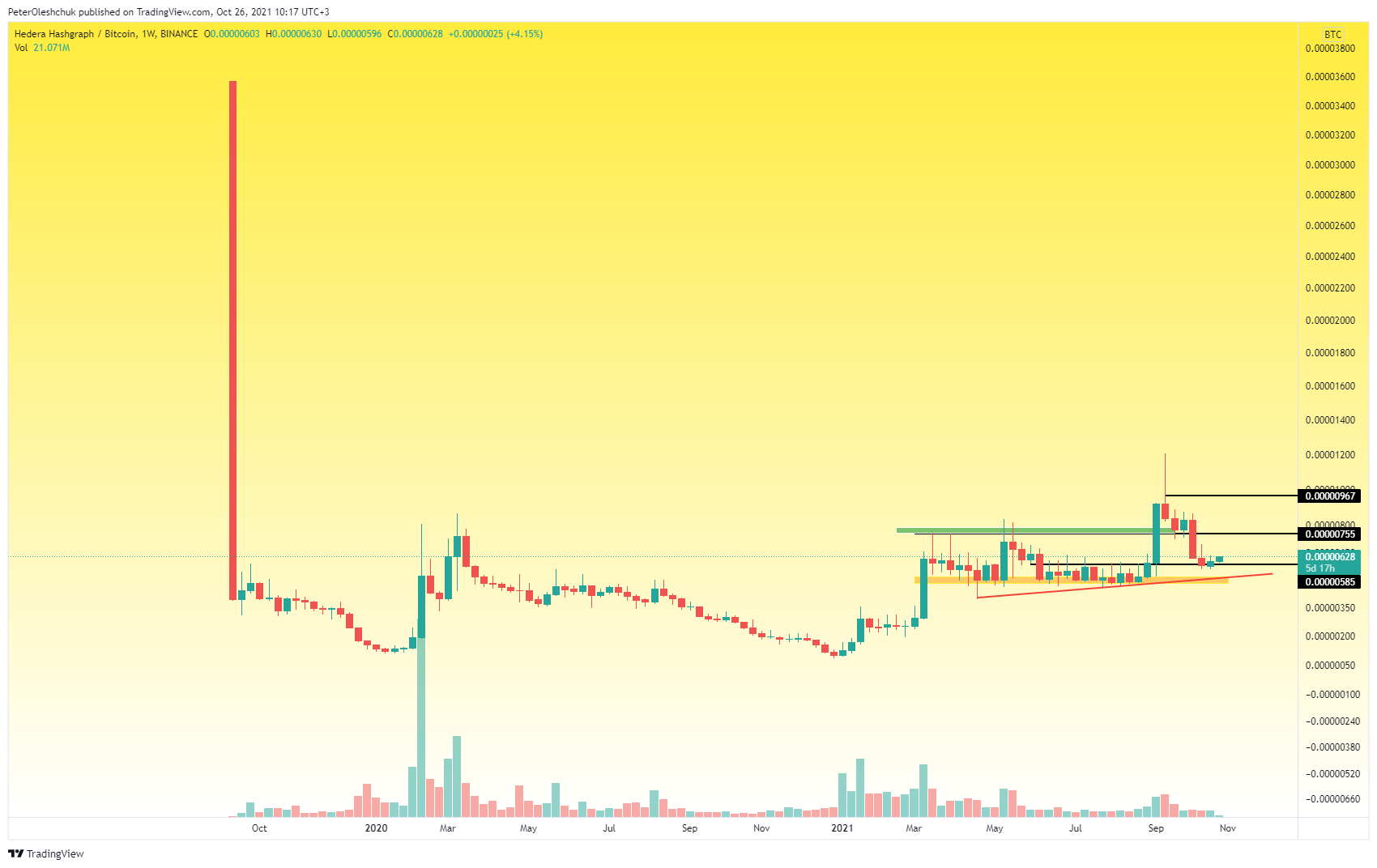 https://www.tradingview.com/x/xXesuCro/
After an aggressive fall wave in mid-September in the HBARBTC market, the price has finally found a decent foothold. From March to August 2021, we see buyers build a strong consolidation zone for a new growth impulse. At the moment, the HBARBTC price has been able to test this range and begins its reversal. The first obstacle to growth will be the mark 0.00000755.