www.thecoinrepublic.com

11 h

Reading time: ~2 m
---
Tezos is attempting to stay on the path of recovery after the recent dip
The token with a market rank of 38 is showing signs of reversal, yet again 
The CMP of XTZ is near its 24-hour low price
Tezos, after a steady climb since October 27, is showing signs of trend reversal during the intraday session. The token with a current market dominance of 0.21% has started to go downhill and may face rejection from the bulls for a shorter period. However, the market cap is on the rise to a total of $5,477,528,291. The volume to market cap ratio stands at 0.0689. The XTZ/ETH pair showed an incremental value of 0.001468 ETH, an increase of 1.66%. While the XTZ/BTC was at 0.000103 BTC, with a minimal intraday gain of 0.44%.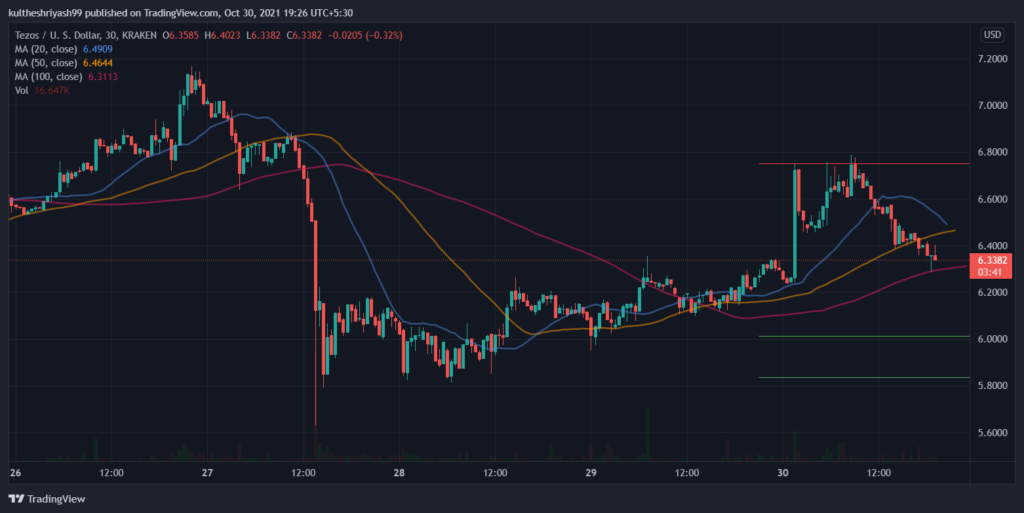 The 30-minute time frame chart here helps for the analysis of Tezos' short-term performance. Only, in this chart, one can observe the possibility of a trend reversal. The sighting of bullish engulfing before the recent minor descent is enough to confirm the chances of a trend reversal. This pattern occurred right after the bullish cup and handle pattern. The current market price is trading in between the major MA lines. The 20-day line indicates a variable descent in the forthcoming time, while the 50 and 100 MA lines are staying consistent with a continuation pattern, for now. It is highly possible that the remaining lines, too change their course to the downward path or the token finds its way to trade back above the lines again. The 30-minute chart indicates a strong sell zone for the intraday session.
Bullish Momentum may be a far fetched thought for XTZ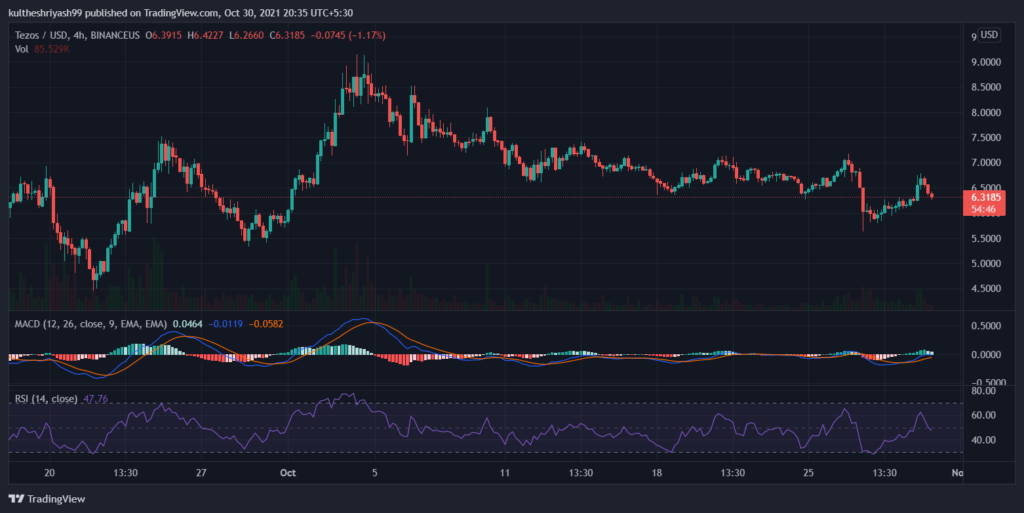 In terms of oscillators, the MACD line was under the zero level for quite too long, as shown in the 4-hour time frame chart above. After taking a look at the past one month's data, one can see the long-term presence of the bull and the gradual descending in the price. Convergence has been observed between the MACD line and the histogram, and that may seem a signal for a bullish breakout but the chances are low. As for the RSI, the levels are staying neutral and suggesting a neutral or holding zone. The resistance made its presence at $6.76 and support levels are at $5.84 and $6.02. 
Conclusion- Tezos may face a trend reversal of variable intensity. After studying the past data, one can say that there is going to be a continuation in the current trend. Buyers and sellers are requested to analyze and draw their conclusions before performing any transaction.
Resistance- $6.76
Support- $5.84 and $6.02
---