---
Kusama KSM/USD has weakened from $277  to $101 since the beginning of January 2022, and the current price stands at $123.
Kusama is currently down more than 80% from its record level, and according to technical analysis, this crypto remains in a bear market.
Build to spark innovation
Kusama is a scalable network of specialized blockchains that offers a high level of interoperability and scalability for blockchain developers who want to push the limits.
Kusama has nearly the same codebase as Polkadot, and it is ideal for startups looking to move swiftly through the governance and upgrade process. Kusama offers the ability to customize your specific needs, build your own app-specific blockchain, and connect it to Kusama.
This network is truly transparent, and it is governed by a community that votes on and controls the network's evolution. In other words, there's no central kill switch, and all changes are made through the protocol's on-chain governance.
Kusama is continuously working on new features and options, which are very important for expanding its ecosystem.
Many projects already collaborate with Kusama, and according to the latest news, Kusama has created a framework that enables any geographically concentrated group of people to create, distribute and use their own digital community tokens. The team of Kusama reported:
In addition, by enabling users to maintain and validate a unique proof of personhood, Encointer could enable existing decision-making mechanisms like coin voting to be complemented by more democratic instruments based on one person, one vote.
Anyone can come along and start using this network, but Kusama is owned by those who hold the Kusama tokens (KSM).
Kusama's price has skyrocketed since January 2021 and reached a record high above $600 on 18th May. Kusama is currently down more than 80% from its record level, but the current price represents a good entry point for investors who are more prone to risk.
KSM remains in a bear market
Technically looking, Kusama (KSM) remains in a bear market, but the current price level represents good value for what you pay, and maybe now could be a good time to buy this cryptocurrency.
The cryptocurrency market is advancing on the last day of February, Bitcoin went above $41000, and if this positive trend continues, Kusama could advance again above $200.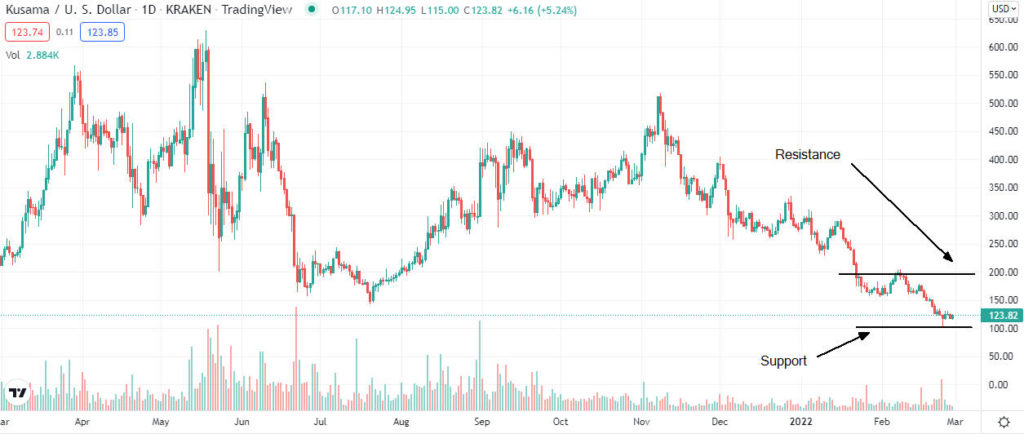 Data source: tradingview.com
If the price jumps above $150, it would be a strong "buy" signal, and we have the open way to a resistance level that stands at $200.
The current support level for KSM stands at $100, and if the price falls below it, the next price target could be around $80 or even below.
Summary
Kusama (KSM) is currently down more than 80% from its peak; still, Kusama is a very interesting project, and the price of KSM could advance again at levels that we saw in May 2021. The cryptocurrency market is advancing on the last day of February, Bitcoin went above $41000, and this situation also supports the price of Kusama
---