---
KDA coin price fails to surpass the sellers at the 200-day EMA and retraces to the $5.75 support. Will the trendline influence bring another fallout? Key technical points:
The KDA price trends lower under the influence of a descending trendline

The RSI slope crosses below the central line.

The 24-hour trading volume in the Kadena token is $46 Million, indicating an 11% fall. 
Past Performance of KDA
KDA coin price shows a reversal from the $5.75 support level and rises higher to the highly bearish resistance trendline. However, the increased selling pressure along the trendline and the 200-day EMA crushes the bullish attempt resulting in a 15% downfall within 48 hours.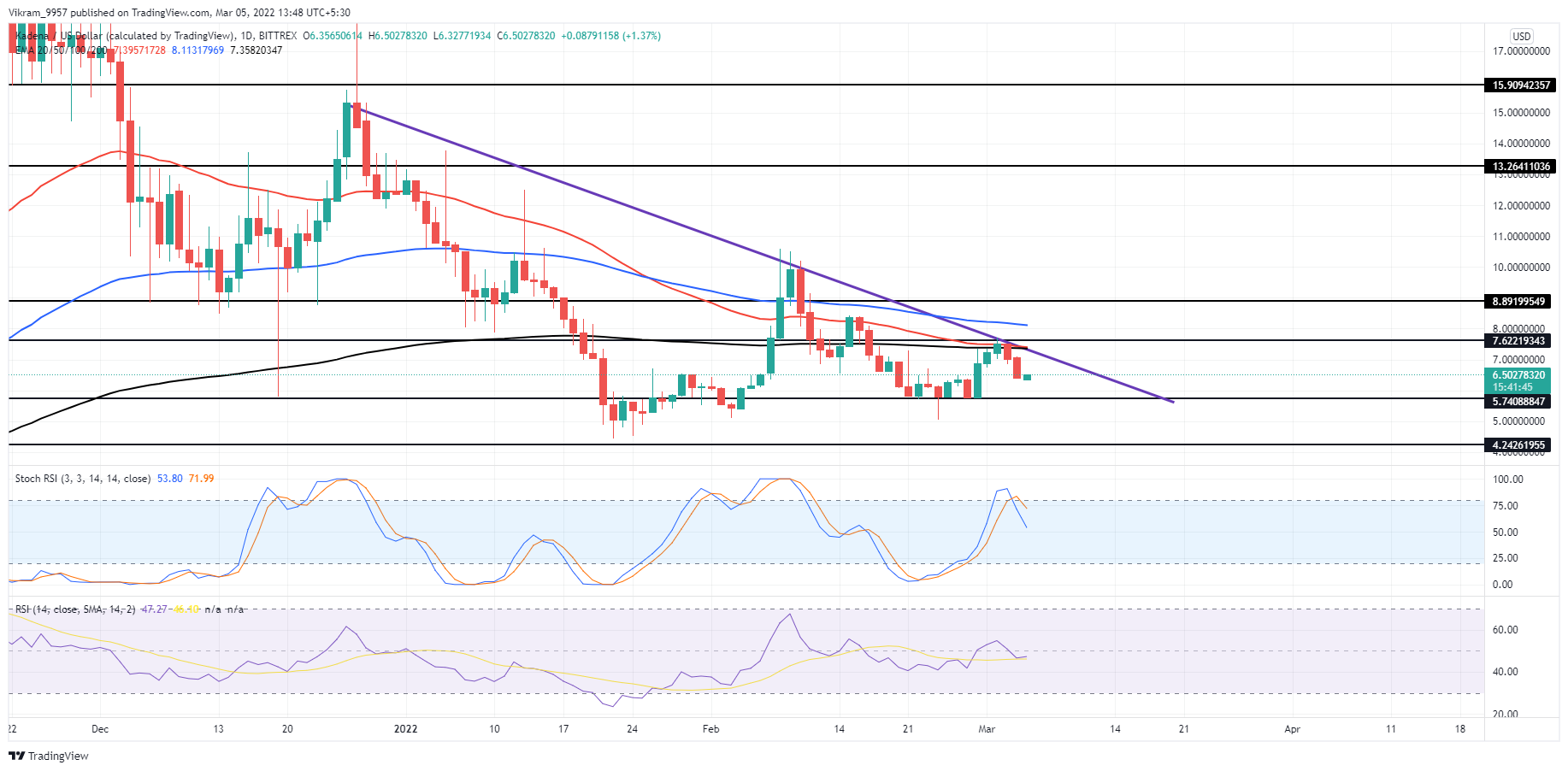 Source-Tradingview
KDA Technical Analysis 
KDA coin price retraces to $5.75 after the rejection from the $7.70 mark as the selling pressure increases. Hence, the altcoin brings a selling opportunity at the current prices.  The falling 50-day EMA crosses below the 200-day EMA as sellers reject another bullish attempt. Moreover, the crossover of 100 and 200-day EMA may shortly follow the death cross in the KDA/USD chart.  The Stochastic RSI indicator shows the end of the bull cycle as the K line crosses below the D line. Hence, the diving lines indicate the increasing chances of downfall below the $5.75 mark. The RSI indicator slope fails to sustain above the 50% mark and returns to the 14-day average. However, the uptrend in the RSI slope continues with the 14-day SMA. Hence, the indicator reflects the possibility of a reversal. In a nutshell, KDA technical analysis projects a bearish bias as the rejection from the 200-day EMA gains momentum.
Upcoming Trend
KDA coin price action brings a selling opportunity with the rejection from the death cross. Hence, a higher price rejection can be seen in the currently making bullish candle. Moreover, the fallout of $5.75 can result in a 25% discount. Conversely, if bulls regain trend control with a reversal from $5.75, the altcoin would rally higher and retest the trendline.  Support Levels: $5.75 and $4.35 Resistance Levels: $7 and $7.75  
---