In the last 4 trading weeks, the YFI market looked as uncertain as possible for buyers. While other cryptocurrencies, including DeFi coins (CRV for example), have been building a steady growth trend for the month, the YFI market has stopped in the global consolidation triangle. The growth wave from 27 September looks as weak as possible. The current weekly candle has every chance to close the pin down and give the prospect of the YFI market fall in November. However, something critical or depressing did not happen in the YFI market.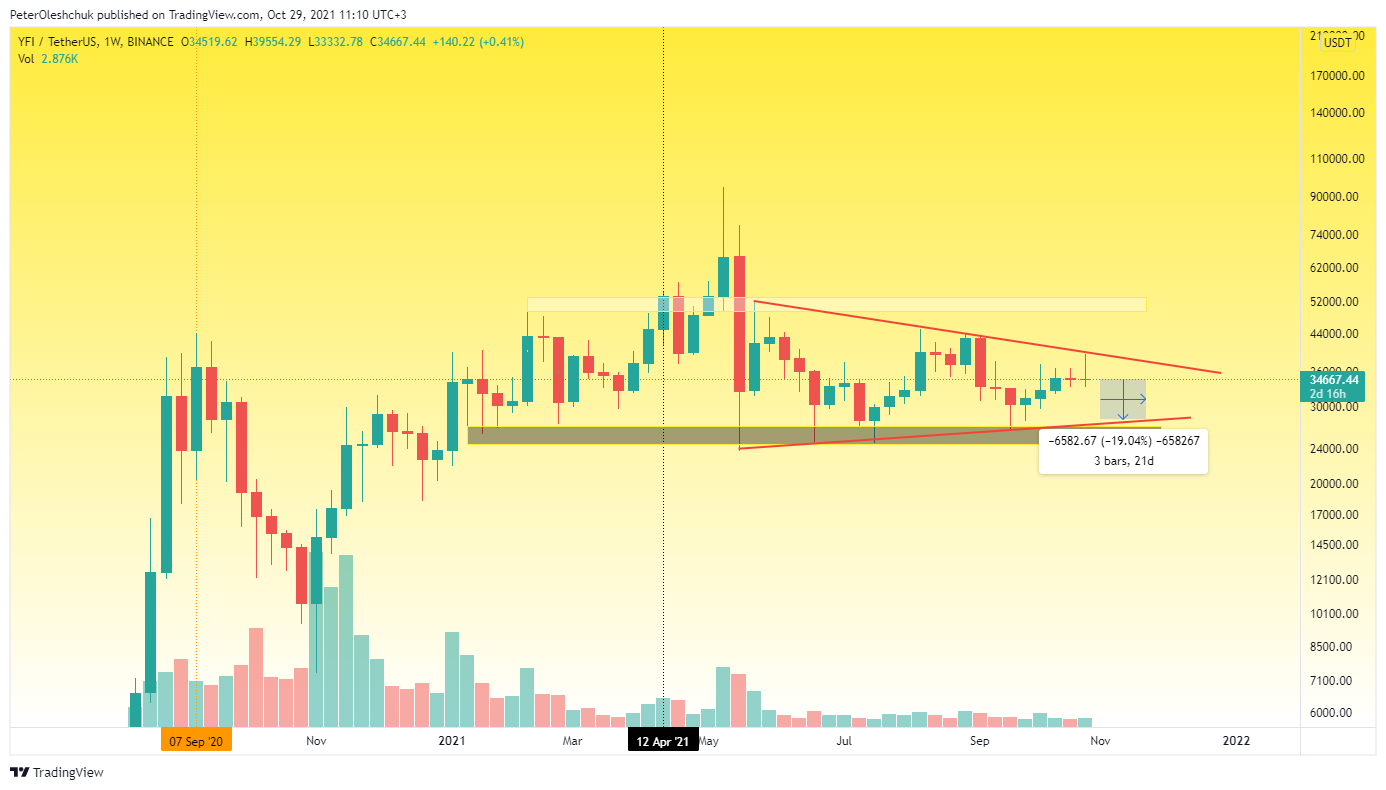 https://www.tradingview.com/x/mknhuJkP/
The main range of $24,800-$26,800 from which buyers plan to build a new growth wave is under their control. Repeated test of this range will allow investors to enter the market with low risks and a probability of 300% profit in the next six months. But, for a positive scenario in the YFI market, buyers need to take control of the $45,270 mark. It is in this range that there is the liquidity zone of sellers, which actively inhibited growth in the period from February to May 2021. Thus, in the near future, YFI market participants can expect to continue global consolidation in the wide range of $24,800-$45,270. Breaking one of these limits of consolidation will lead to a strong trend in the YFI market.
Technical Analysis of YFI in the Daily Timeframe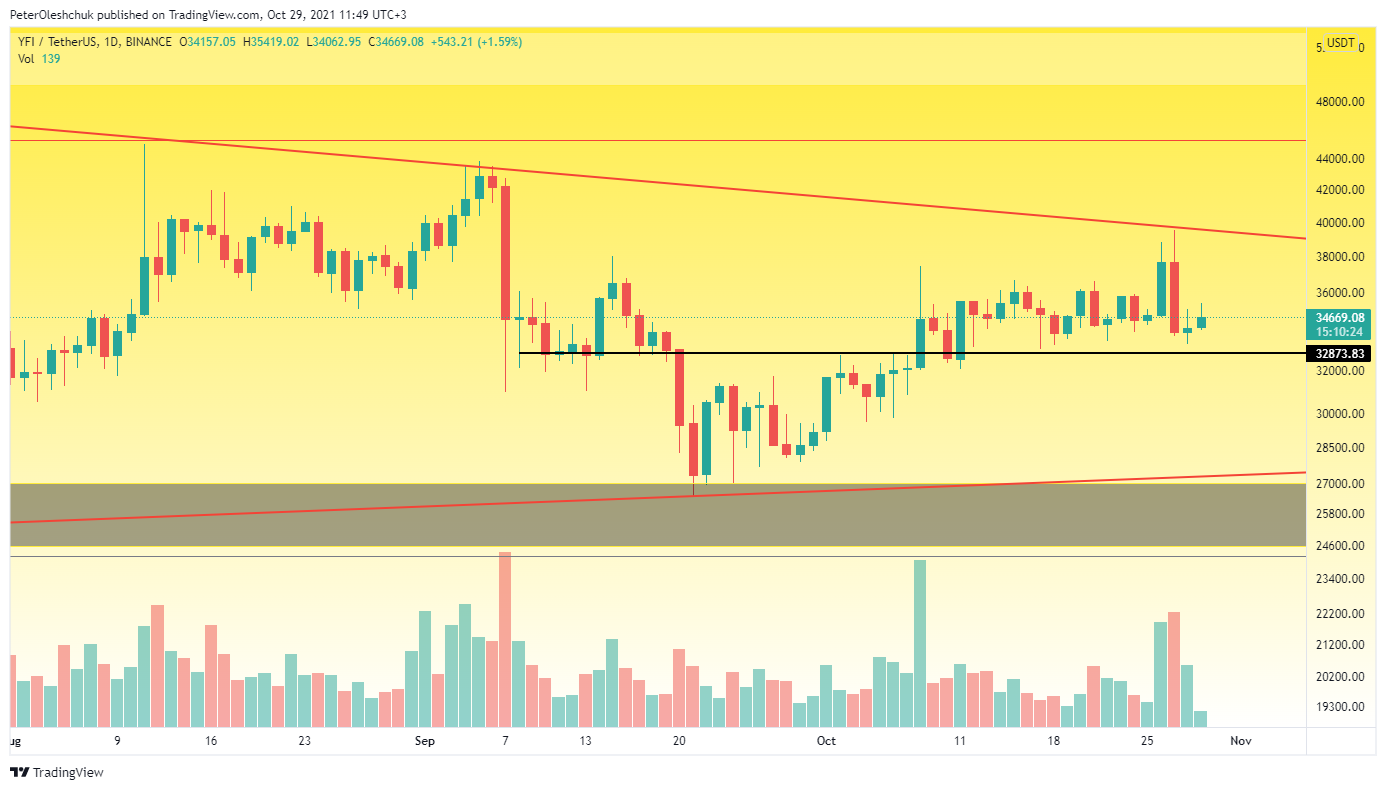 https://www.tradingview.com/x/NBXqRN87/
Analyzing the daily chart of YFI price, you can see how sellers hit the market on 27 October. On that day, the candle closed 10% below the opening price and blocked all buyers' efforts on 26 October. In addition, it should be noted that the efforts of buyers on 26 October were increased. Sellers completely swallowed the daily candle on 26 October but failed to break the critical mark of $32,873.
At the moment, as far as local initiative belongs to sellers, global continued growth in the YFI market is still possible. Though, the loss of control over the $32,873 mark will lead to the collapse of the YFI market with the first target of $27,500.
The Coin Price Tends to Bounce Up by 70%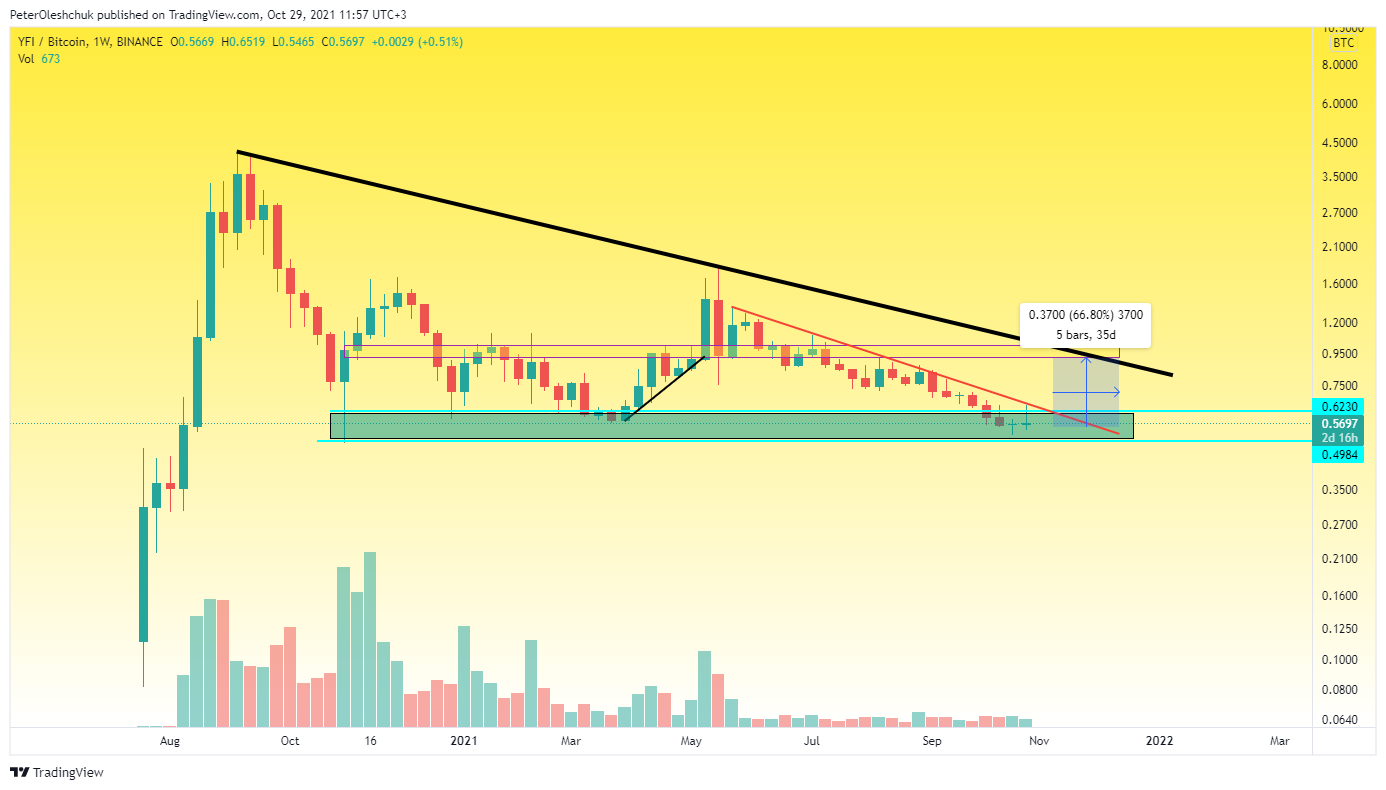 https://www.tradingview.com/x/6o6Vv9x4/
However, the YFIBTC price chart still shows a high probability of a medium-term growth wave with a minimum target of 70%. As we can see in the chart, the YFIBTC price has reached an important liquidity zone, which buyers have been keeping confidently since November 2020. The medium-term downward YFIBTC trend has been going on since May 2021 and has never been corrected. The YFIBTC price is now on the verge of breaking the trend line upwards. If buyers can arrange a price rally – a sharp impulse to the liquidity zone of 0.95 to 1 will begin. At the moment, this is our main scenario.