Revain (REV) is an online platform for Ethereum blockchain-based tokens reviews, designed to allow developers to receive constructive feedback about their projects. The protocol also incentivizes authors to provide high-quality reviews. Revain was the first platform to combine the features of traditional review sites and blockchain technology.
Let us look at the technical analysis of REV.
Past Performance of Revain
The 3-month chart for the REV coin shows a downtrend pattern since September 4, 2021. The downtrend is consistent, deteriorating the market value of REV. However, if we look at the all-time chart, this decline is insignificant.
On November 10, 2021, the opening trade for REV took place at $0.01563. On November 16, 2021, it closed at $0.01492. Thus, this was a decrease of 4.5% across the week.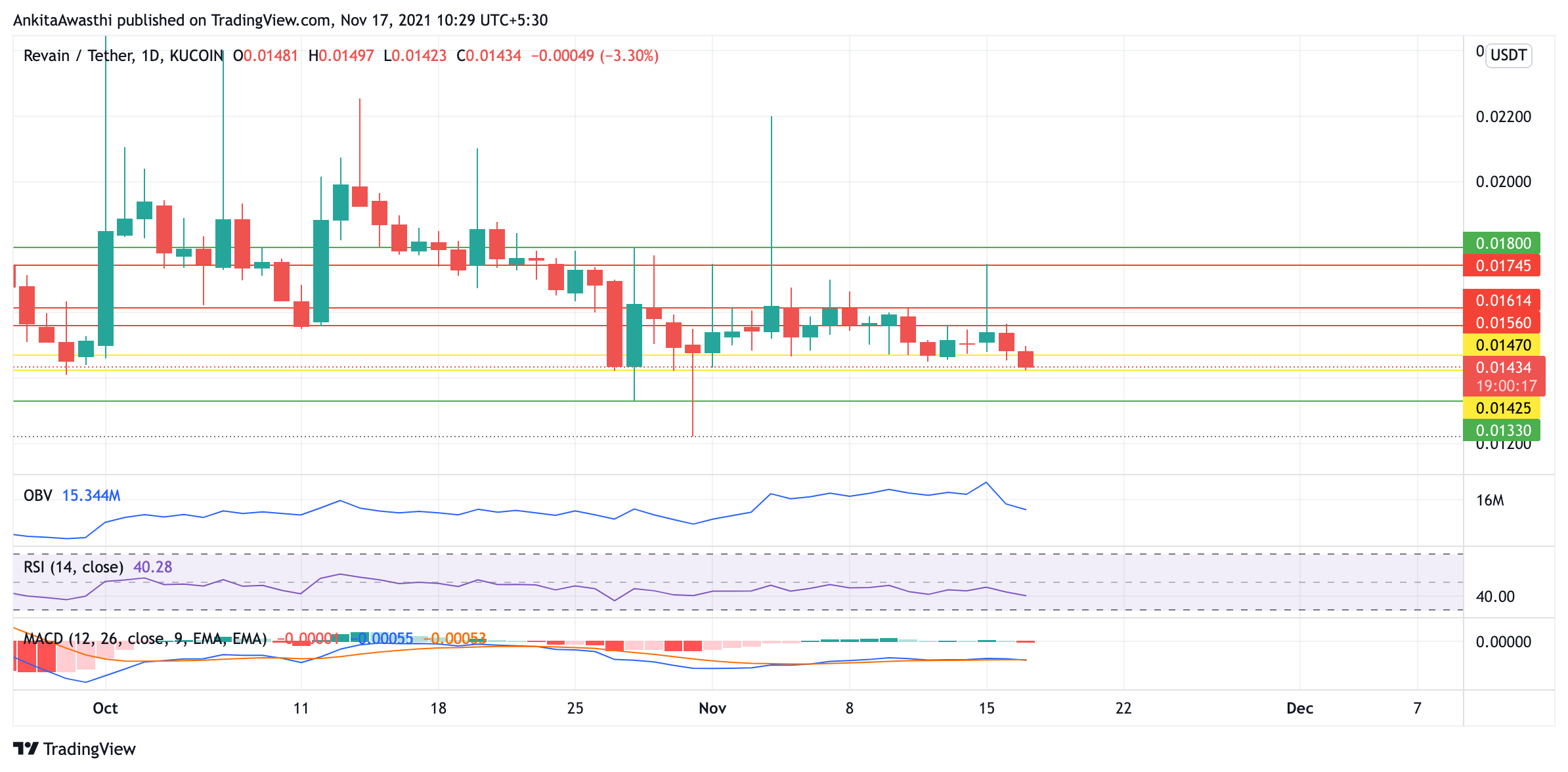 Source: https://www.tradingview.com/x/Ib3b56dW/
REV Technical Analysis
The ongoing downtrend leaves traders with no option but to take a short position. Lower lows can be seen repeatedly, taking the price downwards. The current trading price is $0.01440, which is 2.9% less compared to the previous day's close. This is again a bearish signal.
The OBV indicator is showing a sudden decrease in the buying volumes as compared to the selling volumes, putting more pressure on the price to reduce further.
The RSI is also taking a dip, signaling that the price is losing its strength. This is again a signal that the bears are in control and the price will decline in the coming days.
The MACD graph is moving below the equilibrium for a long time and is again showing a bearish crossover. Thus, further minimizing the chance of the price showing an increase.
Indications of Continuous Decline in the Coming Days
Looking at the ongoing trends and news, the future of the REV coin seems quite skeptical. It is advisable for traders to do their own research before investing. For the short term, the bears may earn profits in the current downtrend.
The Fib numbers are showing that the price has dropped past the fib levels one after the other. Currently, it is touching the second last fib level at $0.0143. If it goes below this level, the price will continue to decline.
The indicators are giving strong negative signals for the REV coin. The traders may take a short position while keeping a stop-loss at $0.0153. The long-term investors may take an exit as soon as possible to avoid losses.