Founded in 2013, Omise is a venture-backed payments company operating in Thailand, Japan, Singapore, and Indonesia and based in Bangkok. Got acquired by a Hong Kong venture firm in 2020. It's a trustless, centralized transaction processing service with decentralized security. As an Ethereum scaling solution, OMG Network is designed to allow users to transfer ETH and ERC20 tokens significantly faster and cheaper than when transacting directly on the Ethereum network.
The network is based on a novel scaling solution called MoreViable Plasma, which uses a sidechain architecture to group several transactions off-chain into a batch, which can then be verified as a single transaction on the Ethereum root chain.
Past Performance
The week started on 6th October 2021 with an open at $15.56. The OMG price chart made a valley across the week and ended at $14.66 on 12th October 2021. This was a negative change of 5.7%.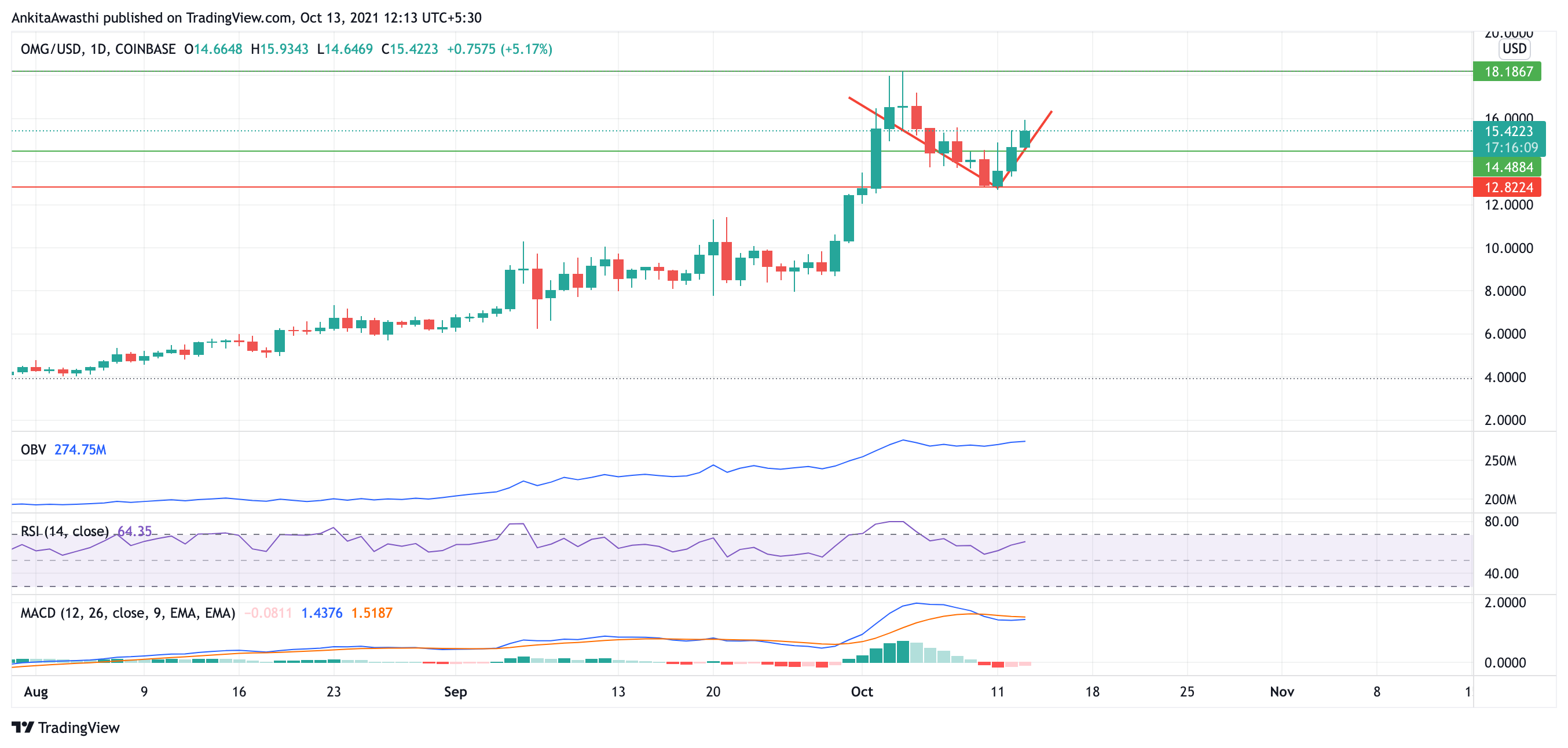 Source: https://www.tradingview.com/x/1vroiqMV/
OMG Technical Analysis
The price first went down till it took crucial support at $12.82. Then the trend reversed itself. A valley can be seen in the chart. It is now expected to reach its last resistance at $18.16.
Currently, OMG is trading 4.88% up at $15.38. It is in an uptrend, and it is expected to test the resistance at $18.18.
OBV is showing an uptrend. The buying pressure is dominating the selling pressure for the last few days.  This is again a bullish signal. Traders may take a long position here.
RSI is also in an uptrend, with the current position at 64.4%. This is again a bullish signal. Traders may take a long position but look for a trend reversal as the RSI is getting close to the overbought region.
MACD is confirming last week's valley as a lagging indicator. The fast line first went down the slow line, but now it is beginning to take over it. This is again a bullish sign, indicating that the traders may take a long position here.
Day-Ahead and Tomorrow
Fib retracement is showing that the OMG price is currently at the fib resistance level of $15.38. The next Fibonacci target is at $18.2.
Thus, the indicators are more towards the bullish side. Traders may take a long position by placing the target at $18.19. The stop-loss can be placed at $14.48