With the increasing underlying bearishness, the EOS coin price can soon break below the consolidation to hit the $3.6 mark.
EOS, a platform designed to enable developers to create a decentralized app (also known as DApps). The project's goal is simple: To make it as easy as possible for programmers to embrace blockchain technology and to make it easier to use the network than its competitors. The project offers tools and a wide range of educational resources to help developers quickly create functional apps.
Let us now look at the detailed analysis of EOS cryptocurrency.
Past Performance of EOS
EOS coin price is under a short-term accumulation zone in the daily chart after the solid uptrend. The coin price found support near the $3.6 mark. Furthermore, the EOS cryptocurrency has increased more than 15% within the last two weeks.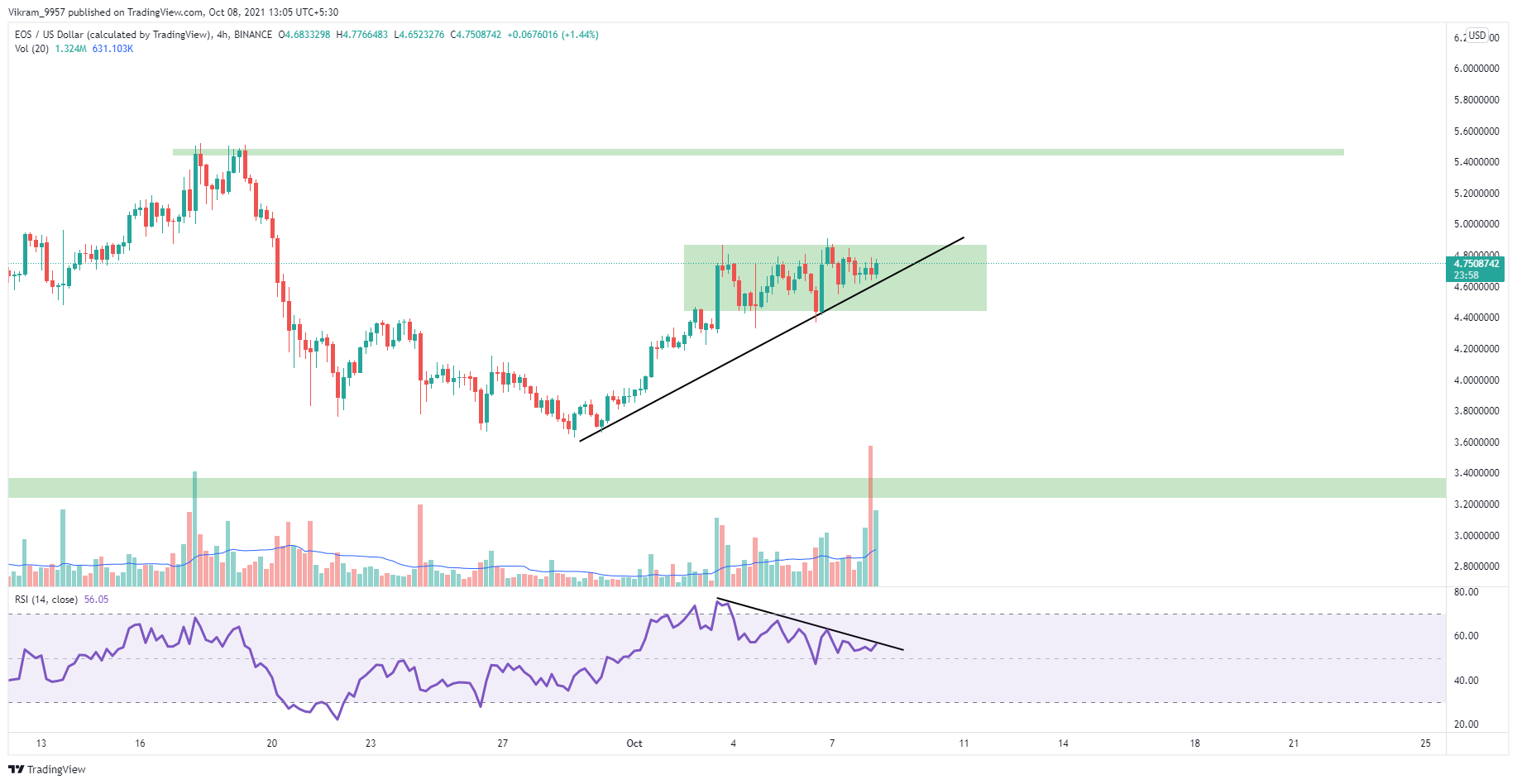 EOS Technical Analysis
EOS crypto is currently at $4.74 as of writing this article. Moreover, it has seen a fall of 0.26% within 24 hours. Thus, indicating a weakness in the short-term uptrend. Furthermore, the fall in intraday trading volume by 25% indicates a fall in the number of buyers. 
The coin price trades within the range in the daily chart. This can shortly result in a bearish fallout as the underlying bearishness increases. Furthermore, the coin price is under extreme selling pressure, evident by the 25% loss in the number of buyers.
The EOS coin price may find support at the $4 or $3.6 mark as per the price action. And in the unlikely event of a bullish breakout, the resistance near $5 and $5.6 can push the price below.
MACD and signallines on the 4-hour chart head lower to the zero level in a bearish alignment due to the recent crossover. Moreover, the increasing intensity of the red candles in the indicator indicates a sell signal. 
The slope of the RSI indicator is falling towards the central line in the daily chart. Furthermore, the slope is generating a bearish divergence. Thus, the RSI indicates a sell signal. 
Upcoming Trend
As per the EOS technical analysis, the short-term view looks bearish, as indicated by the technical indicators. However, in the daily chart, the price action indicates a weak uptrend. Therefore, price action traders can wait for the price to decide a trend.