A bullish breakout of the descending triangle pattern in the 4-hour chart can shortly trigger a rally in the GALA coin to create a new all-time high.
Gala Games isn't one game, but it is a complete range of games that place the fun first, and blockchain as a background. Town Star, it's only currently available to play, is a town-based simulation game that can be played through a browser. The players manage a town that is similar to the game of SimCity. However, with Town Star, they actually have the town to themselves.
Let us read ahead to know more about Gala Games token technical analysis.
Past Performance of GALA
The correction phase after the rejection near the resistance level of $0.75 led to a descending triangle formation in the 4-hour chart. However, the recent 17% jump in the GALA coin price gives a bullish breakout of the psychologically bearish pattern. 
Therefore, a rise to $0.75 is possible before 2021 ends and can start the new year with a new all-time high.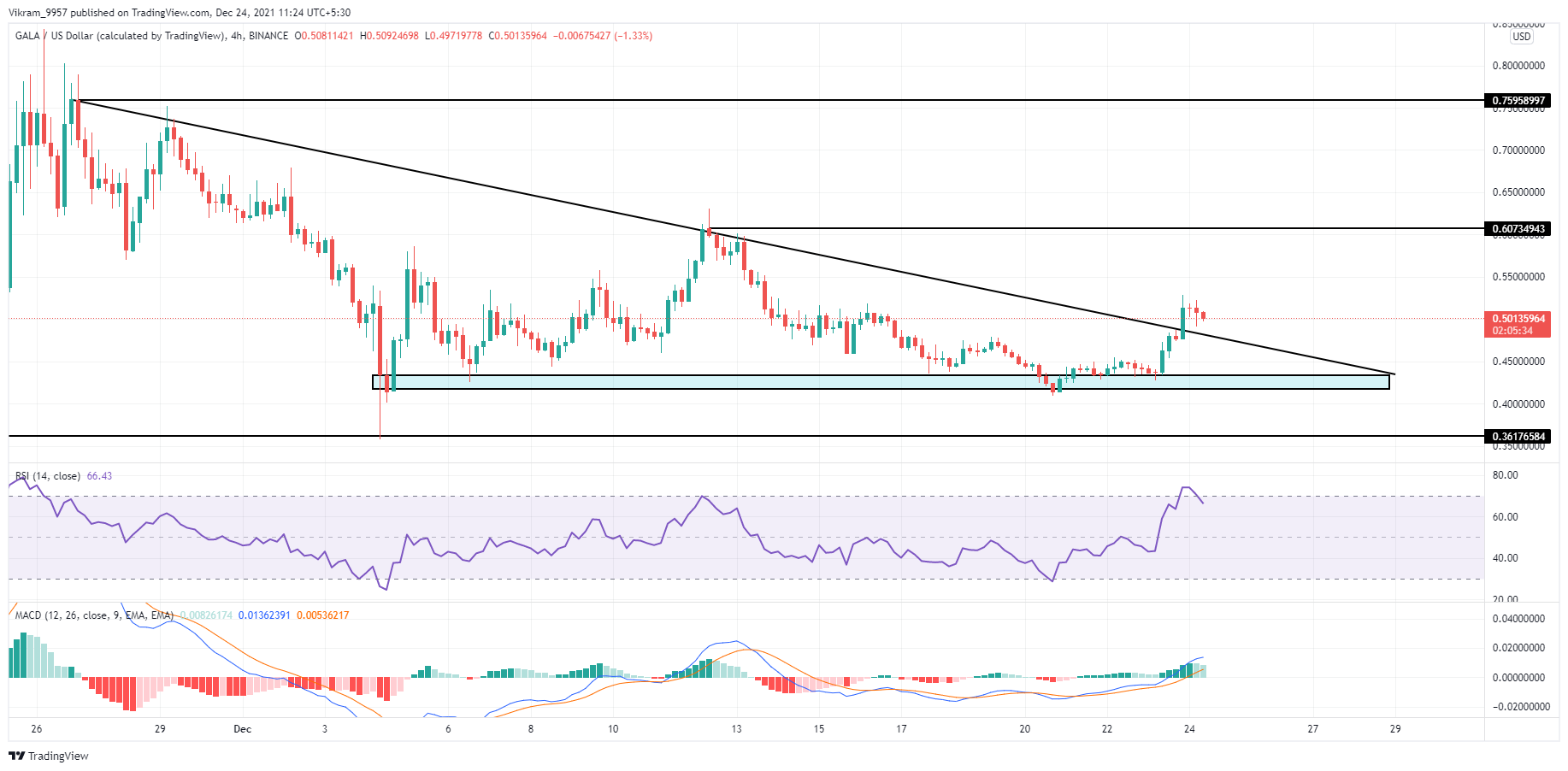 GALA Technical Analysis
The GALA coin price retraces in the 4-hour chart with an evening star pattern to retest the bullish breakout of the bearish influence. Therefore, traders can find excellent entry opportunities at current prices.
The previous failed bullish attempts to rise above the resistance trendline in the 4-hour chart can oppose the bull run. Therefore, traders need to keep an eye on these at $0.60 and $0.75. 
The coin price breaks above the crucial EMAs – 50, 100, 200 in the 4-hour chart. That is why we can observe the exponential moving averages providing dynamic support. Moreover, a bullish crossover between the 50 and 100-day EMAs.
The RSI indicator at 65% in the 4-hour chart shows retracement from the overbought zone as the price retests the breakout. Therefore, a reversal to the 60% level is possible with the completion of the retest.
Moreover, the MACD indicator shows the MACD line and the signal line finally rising above the zero line mark after the bullish crossover.
Upcoming Trend
The upcoming trend in GALA coin price will depend upon the successful retest of the triangle pattern in the 4-hour chart. However, traders entering at current prices will have an excellent risk to reward ratio and one of the best entry opportunities, as per the technical analysis.