XLM coin price retraces back to the support trend line in the daily chart. However, the increasing bearishness increases the chances of fallout. 
Stellar is an open-source network that allows money movement and storage. It was launched in July 2014. One of its initial goals was to increase financial inclusion by reaching the unbanked world. But soon after, it shifted its focus to helping financial institutions connect through blockchain technology.
Let us now learn about the technical analysis of Stellar.
Past Performance of XLM
XLM coin price falls more than 20% in the daily chart as the price faces opposition near the $0.42 mark. Hence, the price retraces to the support trend line. However, the recent evening star pattern increases the chances of a fallout below the support trend line.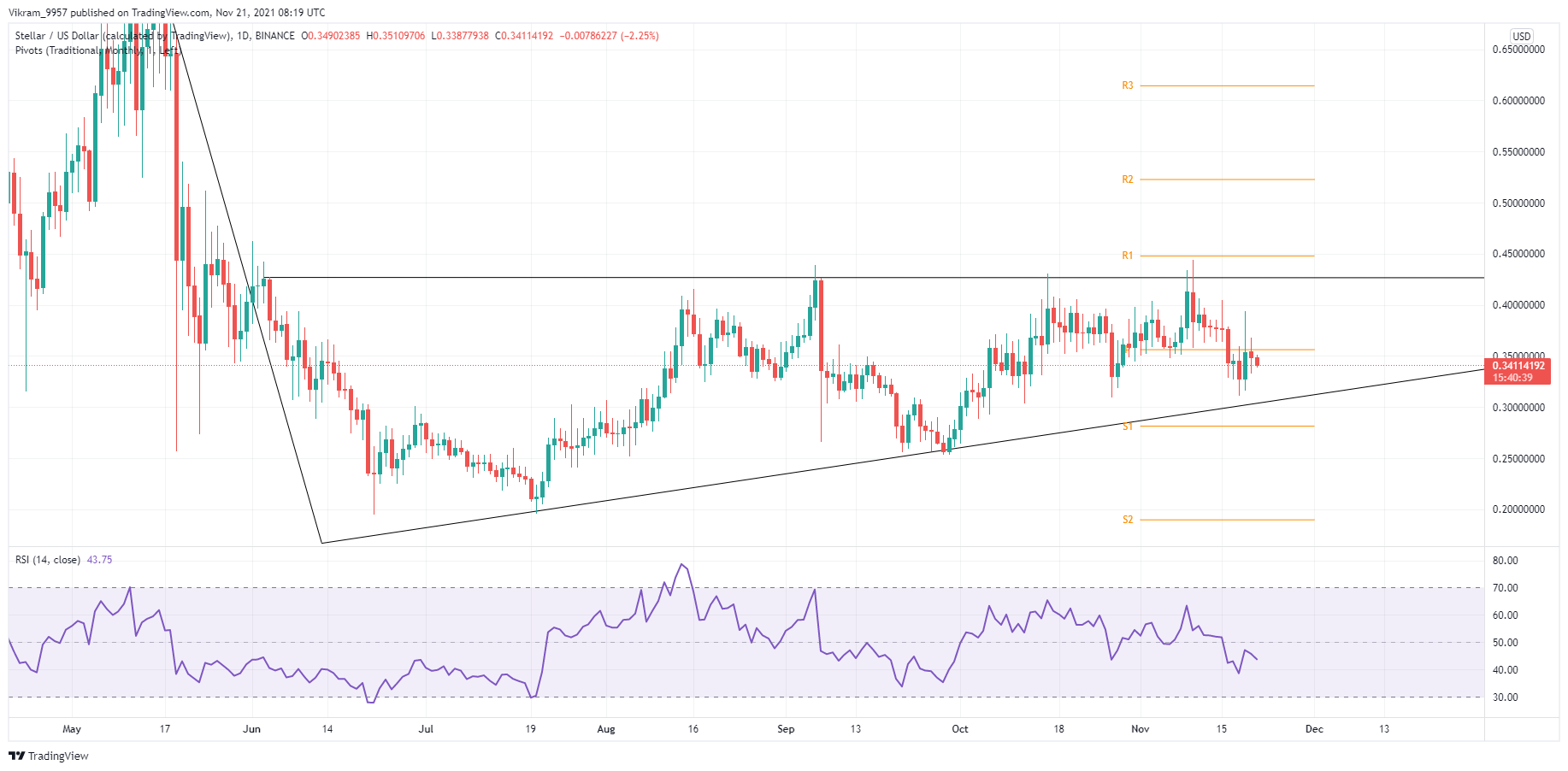 XLM Technical Analysis
The XLM coin price has fallen 2.04% in the past 24 hours as the intraday trading volume has fallen 25%. Moreover, the ascending triangle pattern in the daily chart forms an inverted flag pattern indicating a downfall soon. 
A downfall below the support trend line can face opposition from the Pivot Points level at $0.19 and $0.11 mark. However, an upside breakout can face resistance at $0.44 and $0.52. 
The RSI indicator shows the slope falls below the central line in the daily chart. Moreover, the recent peaks at the $0.42 mark show divergence in the RSI slop. Hence, RSI gives a sell signal for the XLM coin.
The MACD indicator recently gave a bearish crossover resulting in the rise of bearish histograms. Furthermore, the  MACD and seller's line break below the zero mark into the negative territory. Hence, the indicator sides with bears.
Upcoming Trend
Stellar is unique in that every transaction costs only 0.00001 XLM. This allows users to keep more of their money, as one unit of Stellar costs only 0.00001 XLM when this article was written.
The sizeable inverted flag pattern is a bearish continuation pattern indicating a downfall shortly. Moreover, as per the technical indicators, the increased selling pressure means a downfall.
Hence, traders can find selling opportunities upon the support trend line breakout. And, for buying opportunities, the breakout of the $0.42 level is the threshold.