---
With the head and shoulder pattern breakout, the ROSE coin price falls below the crucial trend-setting 200-day EMA. Will the prices reach $0.15? The ROSE coin price depreciated by 45% in the last fortnight resulting in freefall from $0.40 to $0.22. The downtrend breaks below the dynamic support of the 100-days EMA, followed by the failure of the 200-day EMA to push the price higher. Will the downtrend break below the $0.20 mark and reach $0.15, or is a reversal possible?
Key technical points:
ROSE coin price breaks below the 200-day EMA.

The RSI indicator projects the altcoin as oversold.

The 24-hour trading volume in the Oasis Network token is $232 Billion, indicating a 60% rise. 
Past Performance of ROSE
ROSE coin price shows a head and shoulder pattern breakout accounting for a 61% downfall from the peak of the head. The price failed to sustain above the 50-day EMA and broke the dynamic support of 100-day EMA resulting in the head and shoulder fallout. Currently, the ROSE token exchanges hand at $0.2168, reflecting the fallout of the $0.23 support level.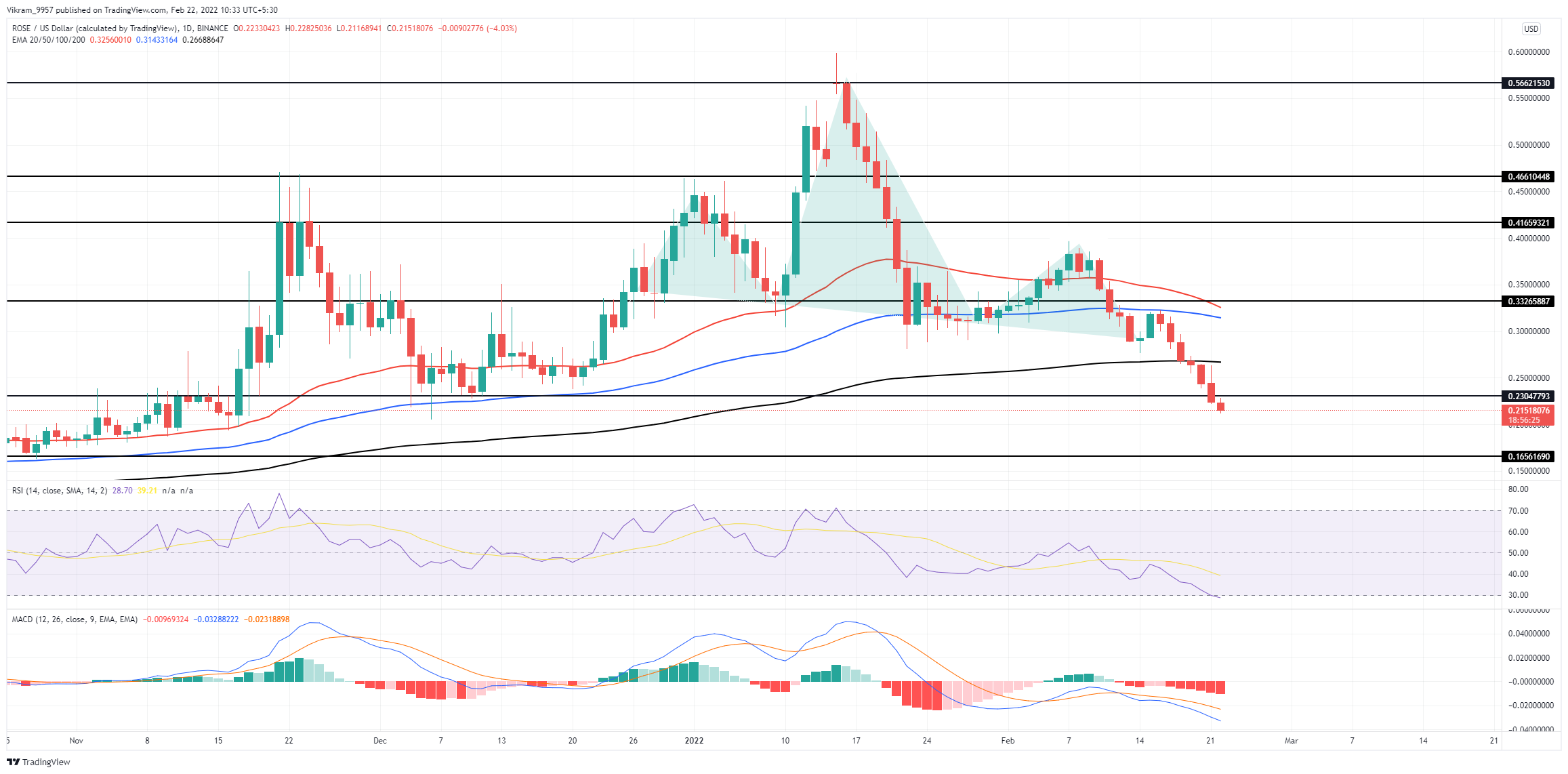 Source-Tradingview
ROSE Technical Analysis 
The fallout of the $0.23 support level marks a bearish milestone in the ROSE/USD price chart, indicating the next stop at $0.16 if the price break the $0.20 mark. A lower price rejection can bring the altcoin price back above the $0.23 mark despite the lack of support levels. The crucial 50 and 100-day EMAs showcase a falling trend and are on the verge of giving a bearish crossover. However, the breakout of the 200-day EMA demands a reversal as a retest.   The RSI Indicator shows a decline below the 50% line, with the 14-days SMA maintaining a downtrend parallel to the slope. The slope may shortly enter the oversold zone as the downtrend continues. The MACD indicator shows a falling trend continuation in the fast and slow lines below zero. Moreover, the rising trend of the bearish histogram indicates a rise in underlying selling pressure.  In conclusion, the ROSE technical analysis projects the possibility of a downtrend to the $0.15 mark. 
Upcoming Trend
The ROSE coin price shows an increase in selling pressure as the downtrend gains momentum after the head and shoulder breakout. Therefore, the chances of a free fall to the $0.15 mark are incredibly higher than a reversal. However, a retracement to retest the 200-day EMA fallout is plausible. Nonetheless, the upcoming trend seems highly bearish. Support Levels: $0.20 and $0.16 Resistance Levels: $0.23 and $0.30
---