ADA is a proof-of-stake blockchain platform that says its goal is to allow "changemakers, innovators, and visionaries" to bring about positive global change.
The native ADA token takes its name from the 19th-century mathematician Ada Lovelace, widely regarded as the world's first computer programmer. The ADA token is designed to ensure that owners can participate in the operation of the network. Because of this, those who hold the cryptocurrency have the right to vote on any proposed changes to the software.
The open-source project also aims to "redistribute power from unaccountable structures to the margins to individuals" — helping create a society that is more secure, transparent, and fair.
Let us look at the technical analysis of ADA.
Past Performance
ADA during the previous week saw a low valley being formed with the lowest point at $1.695 and the highest point at $1.948. The 24-hour price movement was 0.24% only.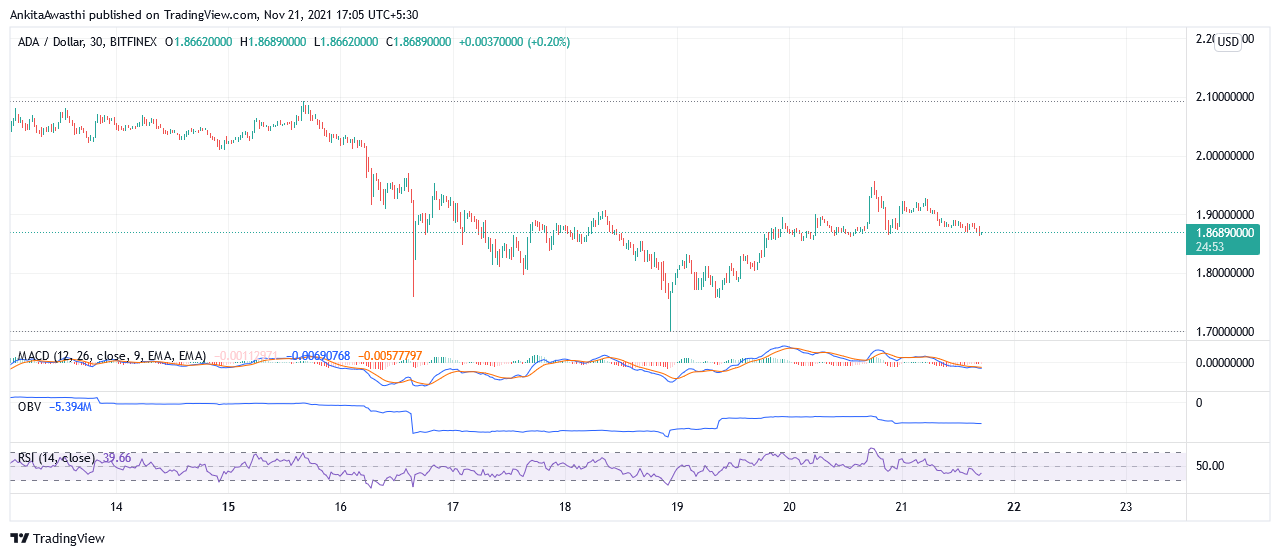 Source: https://www.tradingview.com/x/YtGdy65u/
ADA Technical Analysis
The technicals have been pointing towards a SELL signal for ADA overall for the past few days.
The OBV (On-Balance Volume) is indicated to be flat, indicating that volume on Up days is equal to volume on Down days. Hence, demand from buyers and supply from sellers are in equilibrium
The various  Support Zone is $1.548, $1.50, and $1.453. The nearest Resistance Zone is $2.00 (previous support), then $2.50 and $3.00.
Watch out for these different support pivots to see the directional view for the next two days.
The MACD graph has not recovered from the bearish crossover yet, but both the lines are moving upwards. This is showing a divergence of the MACD graph from the price chart, which is a strong bullish signal. The traders may consider taking a long position if the price increases beyond the current resistance at $1.874.
The price is expected to move out of this resistance zone soon enough if this signal stays strong.
Is ADA a Good Investment?
As per recent news, the average transaction fees on the Cardano network have increased from $0.03 to $0.47 — this represents a 1,466% increase.
The current signals from the oscillators are contrary. This suggests that the traders may hold their positions for now and wait for a clear signal. Meanwhile, they may place a stop-loss at $1.751, if the price breaks the support at $1.842. If the price breaks the current resistance at $1.923, the target should be $2.341.