---
Shiba Inu (SHIB) is one step closer to global adoption as the meme coin has reached Mexico and the Philippines.
SHIB adoption has been on the rise since it was launched on Coins.ph. This exchange is approved by the Philippines Central Bank and has about 16 million users. In other words, SHIB is accessible to 16 million new users almost overnight. SHIB will be added to the 20 crypto assets that are already available on the exchange.
The exchange users have been waiting for SHIB to be launched for a while as the exchange has been hunting for the launch for a while. Originally, SHIB was supposed to be launched on Coins.ph on July 13, 2022, but due to technical issues, the launch was postponed.
When looking at Mexico's use of SHIB, the country announced that the Mexico-based Utel University will be accepting tuition fees in 34 cryptocurrencies, including SHIB.
The university joined forces with a leading crypto exchange Bitso, which allows SHIB to be used to pay tuition fees. This, in turn, widens the meme coin's utility and increases its adoption around the world.
Crypto analysts took all of this into consideration when they predicted that SHIB could reach the price of $0.0000140.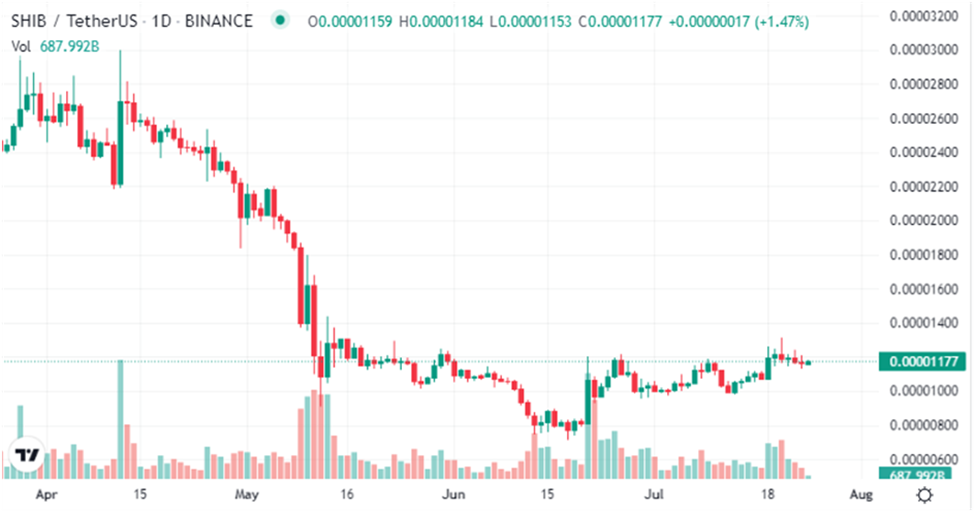 SHIB/TetherUS 1-day Trading Chart (Source: CoinMarketCap)
According to CoinMarketCap, SHIB is currently trading at $0.00001178 after a 1.56% drop in price over the last 24 hours. Over the last week, the meme coin is up about 5.93%.
The 24-hour trading volume of SHIB is currently down by 10.78% and stands at $382,143,312.
Disclaimer: The views and opinions expressed in this article are solely the author's and do not necessarily reflect the views of CQ. No information in this article should be interpreted as investment advice. CQ encourages all users to do their own research before investing in cryptocurrencies.
---