---
Shiba Inu's (SHIB) price has fallen by more than 7% over the last 24 hours as Bitcoin (BTC) has once again dropped below $22K.
Other altcoins like Ethereum (ETH) and Cardano (ADA) are also feeling the heat as they both fell by almost 5% over the last day, according to CoinMarketCap. In addition to this, the rest of the top 20 cryptocurrencies are in the red today.
Developments for SHIB have been looking good as the meme coin was listed on the decentralized swap platform Reflex Swap. SHIB was also launched on the Bittrex exchange earlier in the month, which made it possible to trade SHIB against the U.S. dollar.
SHIB last raised its head in the Philippines as it was listed on Coins.ph, a Philippines-based crypto exchange which is owned by the former Binance Chief Financial Officer, Wei Zhou.
Unfortunately, these new listings had little to no effect on the price of the meme coin as SHIB is still down 86.94% from its all-time high. SHIB is also one of the cryptos that have been caught in the bearish downtrend.
The ongoing burning of SHIB tokens has also reached a hurdle as there is some controversy surrounding the community-endorsed burn portal.
On the bright side, SHIB's new developments are leading to wider adoption of the meme coin around the world as SHIB is still one of the top 20 biggest cryptos.
There is also still hope for a bullish push for SHIB as its metaverse project is still in the works.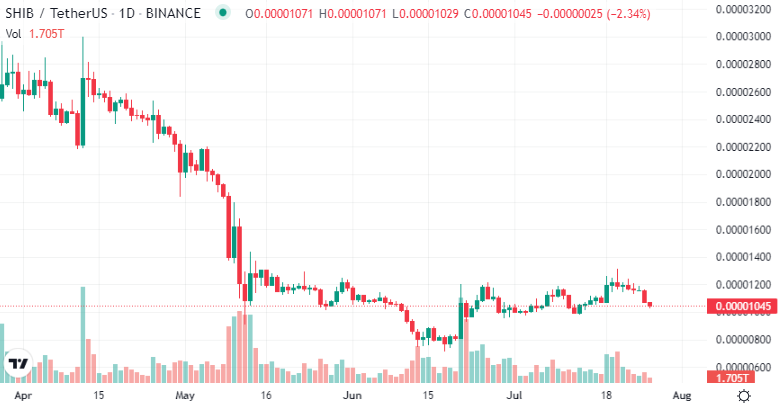 SHIB / TetherUS 1D (Source: CoinMarketCap)
SHIB is currently trading at $0.00001048 after a 7.69% drop in price over the last 24 hours.
Disclaimer: The views and opinions expressed in this article are solely the author's and do not necessarily reflect the views of CQ. No information in this article should be interpreted as investment advice. CQ encourages all users to do their own research before investing in cryptocurrencies.
---