---
Terra LUNA/USD was one of the best performers on the cryptocurrency market in the last several hours, and the price of this cryptocurrency advanced again above $80.
Price stability
The Terra Protocol is an open-source network that uses fiat-pegged stablecoins to power price-stable global payments systems.
Are you looking for fast-news, hot-tips and market analysis? Sign-up for the Invezz newsletter, today.
People don't want to be paid in a currency if its value can significantly decline before the transaction is settled, and the Terra Protocol solves these issues. The team of Terra added:
Price volatility makes smart contracts unusable for most mainstream financial applications, as most users are accustomed to valuing determinate payouts in insurance, credit, mortgage, and payroll.
Terra combines the price stability and wide adoption of fiat currencies, retaining all the censorship resistance of Bitcoin and making it viable for use in everyday transactions.
Its algorithm automatically adjusts stablecoin supply based on its demand which sets this protocol as medium-of-exchange in online payments, allowing people to transact freely at a fraction of the fees charged by other payment methods.
Terra is secured using a proof-of-stake consensus algorithm based on Tendermint, and the potential use of this protocol is huge as the world starts to become more decentralized.
LUNA is the native token of the Terra Protocol, and it is designed to absorb volatility from changing economic cycles. LUNA stabilizes the price of the protocol's stablecoins while holders of this token can vote on governance proposals.
It is important to say that Terra has a supply of 1 billion tokens and if this number is exceeded, LUNA is burned until it returns to the equilibrium supply level. LUNA and UST are mutually dependent, and LUNA  is burned when demand for UST rises.
New LUNA tokens are minted through the protocol's algorithm, as needed, in order to maintain the price of Terra stablecoins.
LUNA has achieved an impressive gain in the third week of December 2021, and it has reached a record high above $103 on December 27.
LUNA is currently down approximately 17% from its peak; still, Terra Protocol is a very interesting project, and the price of LUNA could advance again at levels that we saw in December 2021.
$70 represents a strong support level
LUNA has advanced from $52.39 to $100 since the beginning of February 2022, and the current price stands at $85.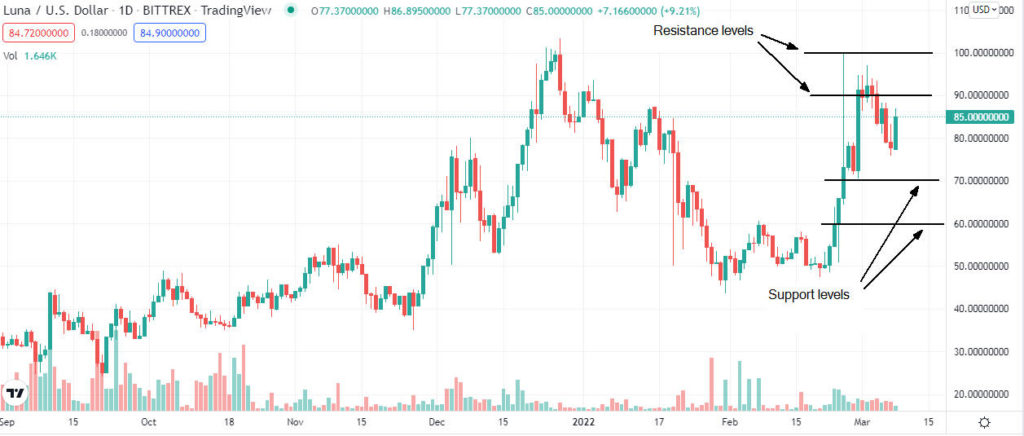 Data source: tradingview.com
The critical support levels are $70 and $60, $90, and $100 represent the current resistance levels. Rising above $90 supports the continuation of the bullish trend, and we have the open way to a $100 resistance level.
On the other side, if the price falls below $70, it would probably be a trend reversal sign, and we have the open way to $60.
Summary
Terra (LUNA) has exploded since February 2022, and this cryptocurrency continues to trade in a buy zone. Rising above $90 supports the continuation of the bullish trend, and we have the open way to a $100 resistance level.
---