The DASH market trading week is passing under pressure from buyers in the important $245-$260 price zone. After a rather sluggish attempt to grow on 27 September, buyers this week were able to make a breakthrough and raise the price by 30%. Although the trading week is not over yet, the trading volume as of 12 November is higher than for any trading week starting from 27 September. However, so far buyers have not been able to take control of the $245-$260 range. This fact means that now the DASH price really hangs between two important ranges, $143-$153 and $245-$260.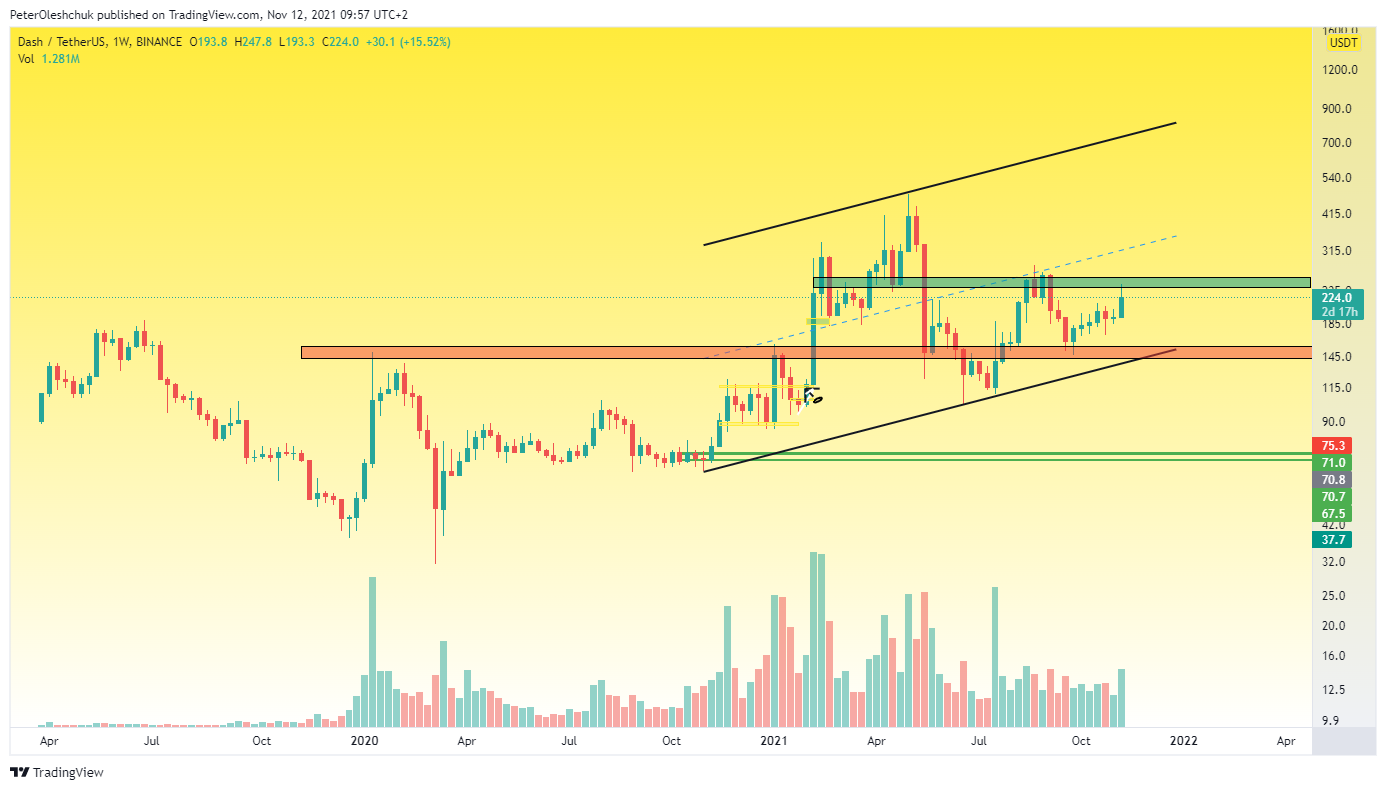 https://www.tradingview.com/x/2rIKDjD6/
If buyers do not complete the case on the weekend and do not close the weekly candle in the range of at least $245-$260, the next few weekly candles have every chance to re-test the range of $143-$153. Such a scenario is quite acceptable for the continuation of price movements in the black growth channel, which buyers control from November 2020. But, the loss of buyers' control over the range of $143-$153 will indicate the beginning of a global correction in the DASH market with the final target of $82-$86.
Technical Analysis of DASH in the Daily Timeframe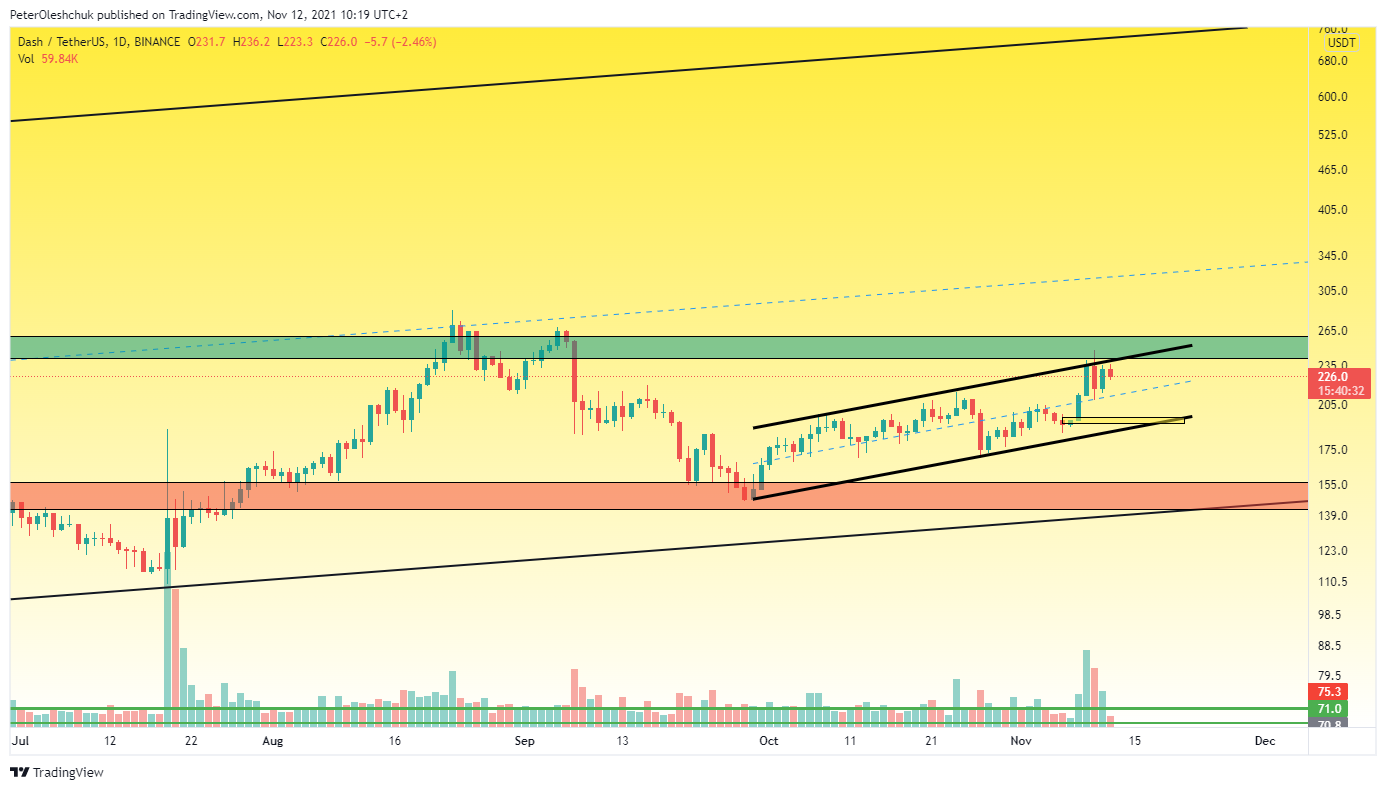 https://www.tradingview.com/x/0QtuxsTy/
Analyzing the daily timeframe of DASH price movements, we can see how buyers formed their local attack in the growth channel. As of 29 September, the DASH price has been clearly moving within the black growth channel and now buyers are trying to break it to accelerate. From 9 November, trading volumes near the upper limit of the channel increased, and the price froze in consolidation.
If buyers lose control of the local $210 mark, we will expect a slight fall wave to the $190 mark. The calm descent of the DASH price to this mark will give a chance to investors who did not have time to buy DASH to enter the market with low risks. The fact is that the $190 mark for buyers was not so easy to take control of in October. Therefore, this mark contains enough liquidity to withstand the average blow of sellers.
The DASHBTC Price Prepares for 80% Growth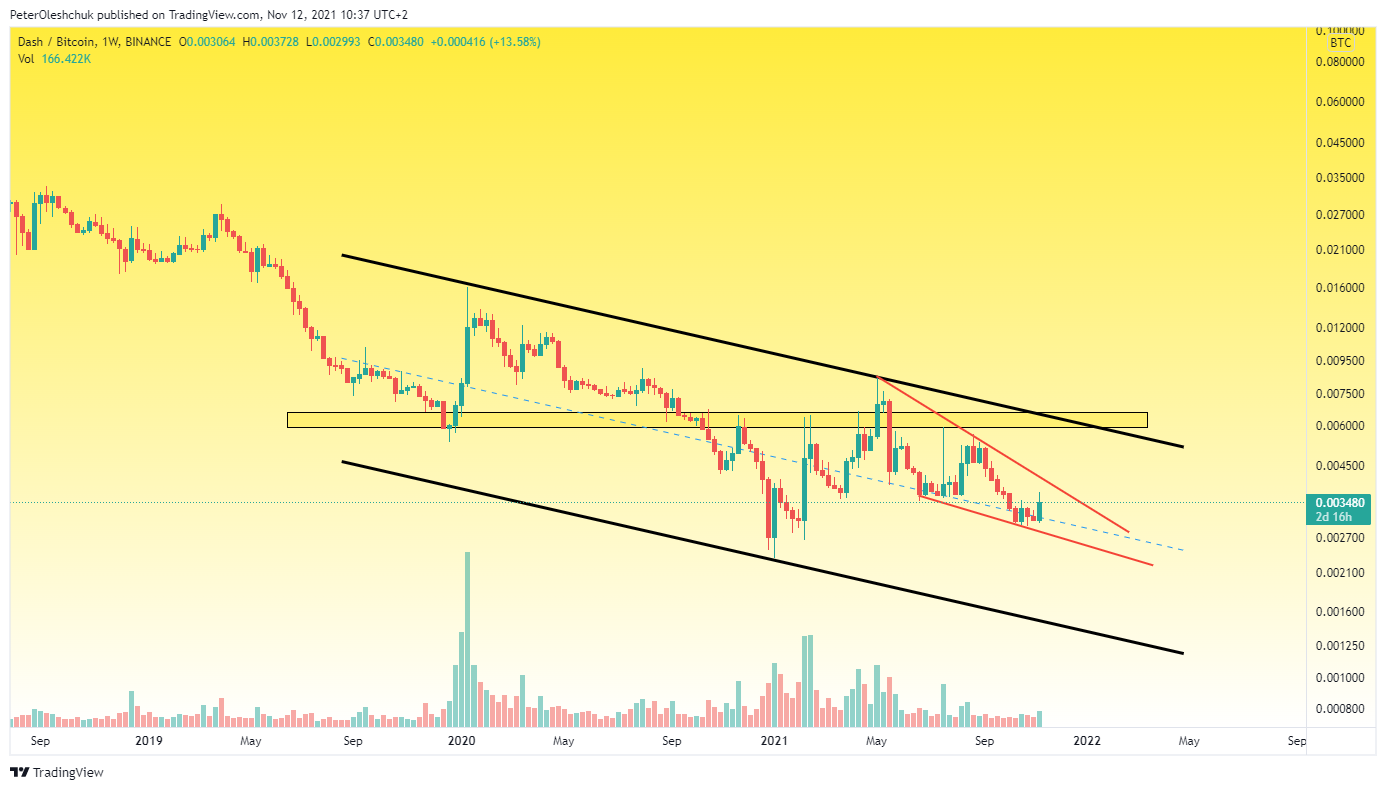 https://www.tradingview.com/x/I5vXCrxg/
At the moment, the DASHBTC price continues to be in a global downward trend. However, in recent weeks, the aggression of sellers has fallen significantly and the DASHBTC price movement has moved into a consolidation wedge. The main problem for changing the global downward trend in the DASHBTC market is the mark 0.006. However, even growth to this mark will give a fresh breath to buyers with a good result of 80%. Given the positive dynamics of the BTC market and the high probability of continued growth, we expect the support of other altcoins, including DASH in the new wave of cryptocurrency growth. The main question is whether there is enough strength to implement it simultaneously?