Bitcoin receives the lion's share of cryptocurrency media attention, and for good reason. Thousands of other cryptocurrencies have emerged in the years since the initial Bitcoin transaction in 2009, creating a complicated landscape for investors. Some cryptocurrencies contain proprietary technology that enhances or distinguishes them from Bitcoin. Others are simply well-known digital currency companies and memes that have gone viral on social media. 
Bitcoin was not only a trendsetter, ushering in a wave of cryptocurrencies built on a decentralized peer-to-peer network, but it has also become the de facto standard for cryptocurrencies, inspiring an ever-growing legion of followers and spinoffs. And this led to an immense rise in the acceptance and trading of Altcoins in the past couple of years. Therefore, this is a good time if you are thinking of putting your money in Altcoins. Investing in Altcoins is a risky business, but given the crypto market's extraordinary volatility, it may also be quite profitable.
Altcoins Know Their Game Well
The global cap of the crypto market today is over $3 trillion. And Altcoins are massively responsible for this. Despite being modeled after the venerable Bitcoin, altcoins strive to be better. They are still in their infancy and therefore, have a small user base in comparison to the enormous behemoth. However, you may not know how beneficial this is to beginning investors. Many new investors are hesitant to engage in Bitcoin since the market appears to be saturated due to its long history. This is where altcoins come in, to provide a new beginning.
It is impossible to deny that Altcoins have outperformed our expectations in terms of returns. Due to the exponential demand, the cryptocurrency market has become a fantastic platform for investors to diversify their investment portfolios. Identifying the finest cryptocurrencies to invest in, on the other hand, could be a time-consuming effort for many. That is no longer the case! This Cryptoknowmics article will assist you in selecting the best of the bunch. Here are the top 10 Altcoins for December 2021. 
Top 10 Altcoins For December 2021
This year has been a rollercoaster ride for the entire crypto industry. From El Salvador becoming the first country to legalize Bitcoin as a legal tender, to China announcing a complete crypto ban all over the nation, the year has been about many bulls and bears. Altcoins like Ethereum, Cardano, Polkadot, Shiba INU, etc. touched highs that no one could have imagined a year ago. And as we come to the last month of the year, if we look at the current scenario of the market, then the industry can be expected to end on a good note. 
Developers build altcoins to enhance the functioning of Bitcoin or to provide capabilities that it lacks. And this feature is what has helped Altcoins to grow. There are over 8,350 Altcoins on the market, according to Coinmarketcap.com. Only a few of these cryptocurrencies, however, have gained public acceptance and popularity. This article lists the top 10 Altcoins for this month. 
Note: Altcoins are not given in any particular order, and the price and market cap of all the tokens are as per the research done for the article.
SandBox (SAND)
This Altcoin is trading at $6.46, with a global market of $5 billion. This coin has grown so much because of the contribution it has given to the gaming industry in the past few months. The Sandbox is a blockchain-based virtual environment created by Pixowl that allows users to create, develop, purchase, and sell digital goods in the manner of a game. It was first launched in 2011. SAND, The Sandbox's native cryptocurrency, is used as the foundation for all kinds of interactions and transactions in the game. It may be won by playing games and participating in contests in The Sandbox, or it can be purchased on crypto exchanges.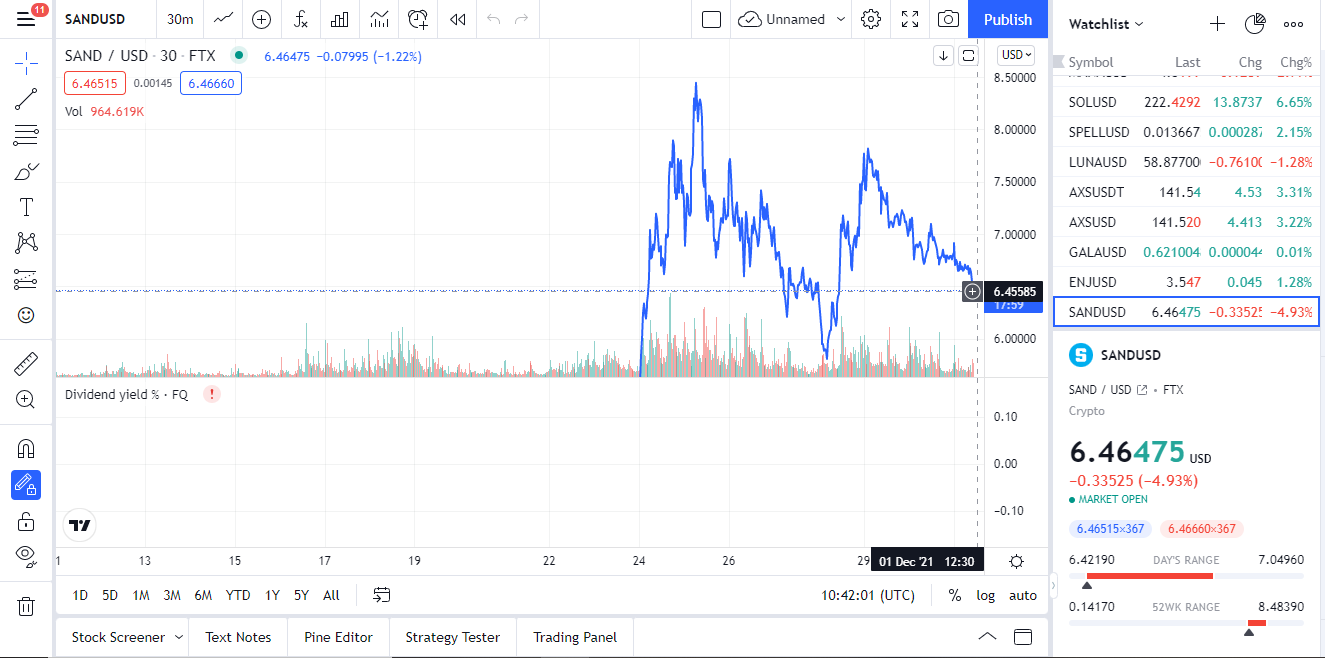 The SAND token began 2021 with a price of less than $0.04 per token and recently reached an all-time high of $8.51, a price rise of more than 24,000%, providing early investors and traders with significant rewards on their purchases. It has increased by more than 1,000% in the last month alone. Sandbox is a user-generated and community-driven platform that allows users to build and contribute to the metaverse, as well as monetize game experiences and digital assets on the blockchain.
The Sandbox, unlike other popular play-to-earn games, does not have a predetermined gaming universe. Instead, it employs a flexible approach that allows users to customize anything with free and simple design tools. Therefore, look out for this token when you are talking about making some crypto investments this month. 
GALA
The token is trading at $0.62, with a global market cap of $4 billion. Gala Games is a blockchain gaming platform that runs on the GALA Ethereum token. Unlike the other tokens on this list, GALA can be shared across many GALA game participants, allowing you to use the token in numerous Gala blockchain-based games. The company intends to create more games that employ the token, which will likely drive up the price of the token in the future. Gala Games was already a popular show in the media before the metaverse boom, and it has remained so. Gala Games offers a diverse range of blockchain projects with a strong focus on gaming.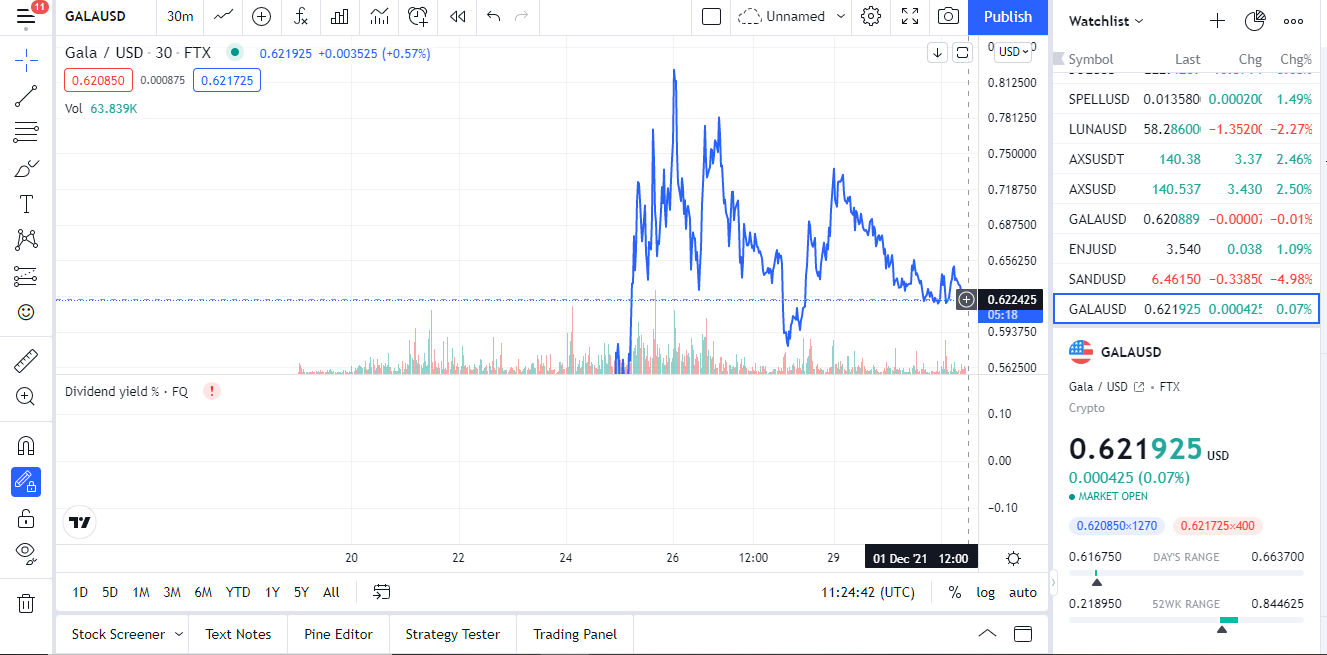 In addition, the developers hope to implement a practically imperceptible crypto economy in each game, giving players the same level of simplicity as regular games. In November, Gala Games' in-house currency, GALA, increased by about 350%, despite declines in the top cryptocurrencies, including Bitcoin. Between November 1 and November 22, the price of GALA increased from $0.088 to $0.42.
The increases in GALA were mostly due to a price rally across a wide range of gaming and metaverse crypto assets. MANA, the native currency of Decentraland — a blockchain-based virtual world where users can create, experience, and monetize content and applications — has risen by more than 30% month to date.
Decentraland (MANA)
The token is trading at $4.54, with a total market cap of $8 billion. MANA comes under the most talked about crypto in the past few months. Decentraland is a virtual environment that you can access through your web browser. In this virtual world, the local cryptocurrency MANA facilitates the purchase and sale of land. Players across the world own, develop, and manage land parcels in the same way that real estate is managed, and investors can purchase these virtual plots for a fee.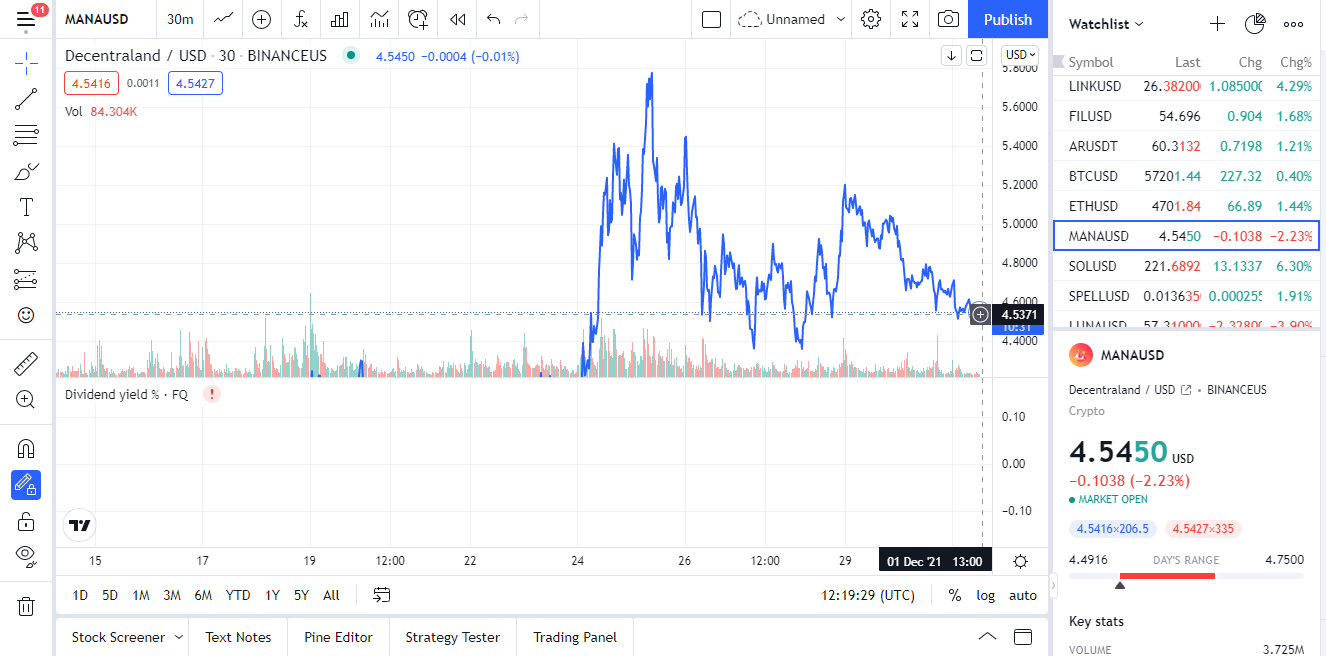 Decentraland has also implemented native support for the Matic network, which allows for lower-cost transactions. Last month, they also hosted one of the first multi-day music events, which featured performers like Deadmau5 and Paris Hilton. The price of Decentraland is currently experiencing a modest pullback. This downward trend is likely to continue until it retests a key reversal zone. However, the move will give halted buyers a chance to stockpile before a new upswing to perhaps new all-time highs begins.
A lower move will put it closer to a reversal zone, extending from $3.40 to $3.94.If the price of Decentraland falls below this level, sidelined purchasers will be able to accumulate and get on the Metaverse bandwagon, causing the price of Decentraland to rise. MANA's initial stumbling block will be $4.32, followed by the range high of $5.9. The removal of these barriers will pave the way for new heights. The Fibonacci extension level of 100% at $6.31 is close to the range high and is expected to be tagged soon.
Dreams Quest (DREAMS)
The coin is trading at $0.3331. Dreams Quest is creating the world's first metaverse-based economy, a self-sustaining DreamsVerse in which individuals can play a decentralized play-to-earn RPG game using dynamic NFTs. Character qualities will be affected by unknown causes in-game, and post-game outcomes will dynamically update NFT card attributes and write them to the blockchain (the ethereal scribes) to show game history for each card. Even though the token is going through some correction at this point, the bulls are going to hit soon.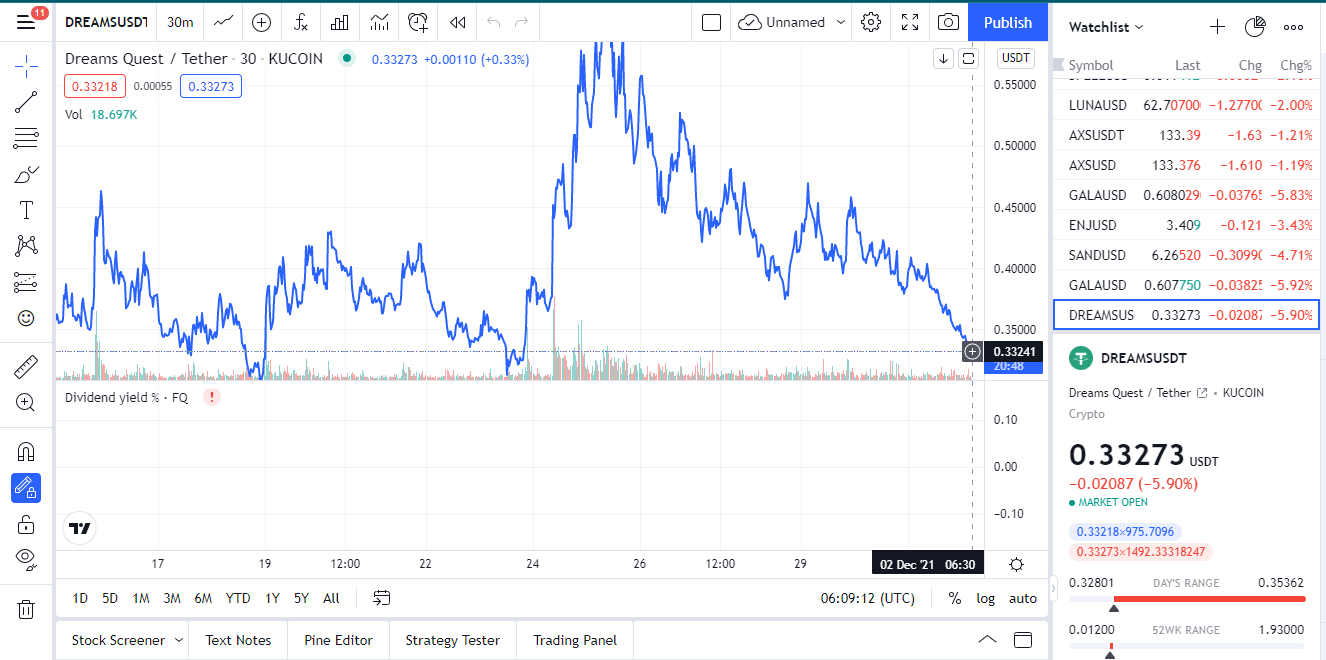 And recently, the team announced the official listing of its utility token DREAMS on KuCoin Exchange on November 1, 2021. Dreams Quest's inaugural DEX offering (IDO) on Redkite (Polka Foundry), GameFi, and Duckstarter was a success, with all tokens sold out in seconds. Many users were able to purchase DREAMS tokens in this public sale, which they can use to gain entry to the Dreams Quest gaming DreamsVerse in the future.
Star Atlas (ATLAS)
The token is trading at $0.17, with a global market cap of $386 million. Star Atlas is an online massively multiplayer game set in a virtual gaming metaverse. It's being made with Unreal Engine 5, which means it'll have cinematic-quality real-time environments. Star Atlas is set in the year 2620, in a futuristic science fiction world where three major factions have developed and are fighting for resources and control: humanity, an alliance of extraterrestrial races, and sentient androids. ATLAS can also be used to gain POLIS, an in-game money that may irritate some players, but it also allows users to virtually live through additional adventures that are made possible by POLIS.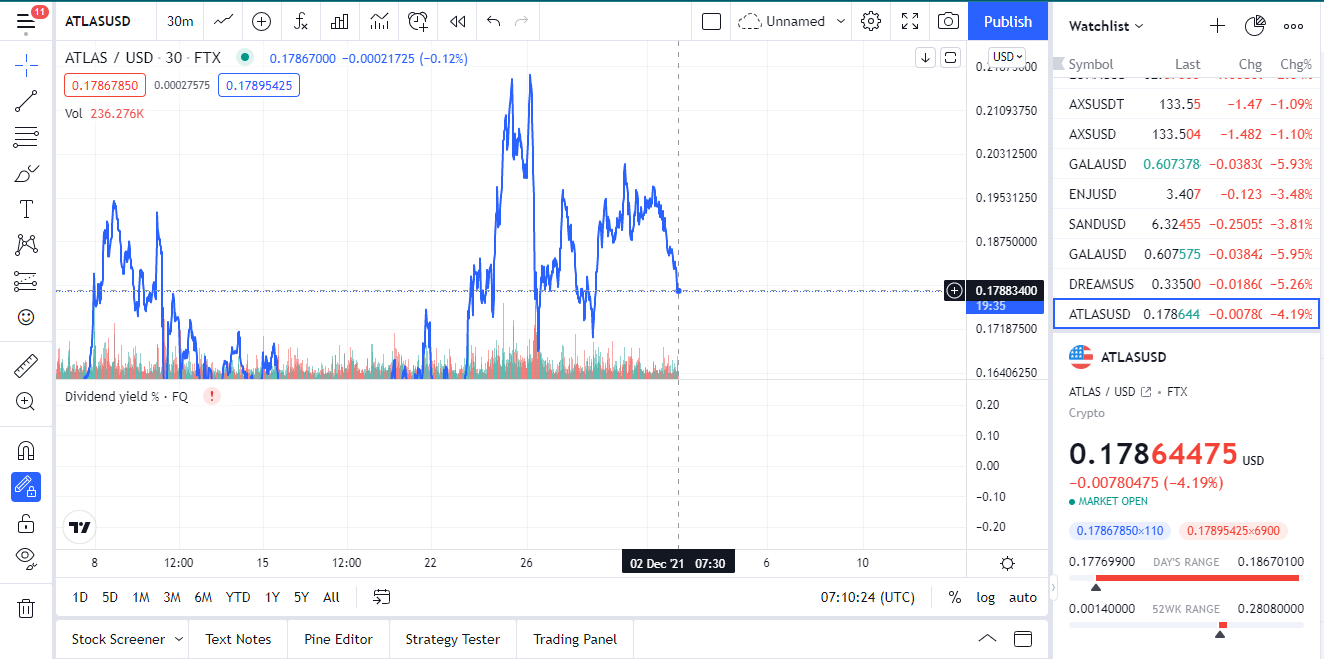 Mainstream cryptos like Solana presently have over 500 projects under construction. Decentralized finance (DeFi) apps, games, non-fungible tokens (NFTs), and Web3 apps are among them. Star Atlas is one project that people are particularly interested in. It's an enormous multiplayer metaverse. "The entire goal for Star Atlas is not viable on any other blockchain," said Star Atlas CEO Michael Wagner.
People can use a customized starship to reach an immensely unique metaverse, construct their virtual universe, and create or join a faction in Star Atlas, which allows them to explore virtual extraterrestrial space. The ATLAS Metaverse token on the Solana blockchain, which is significantly cheaper, faster, more secure, and even more scalable than the Ethereum blockchain, enables these in-game actions.
Thetan Arena (THG)
The token is trading at $15.25, with a global market cap of $440 million. Thetan Arena is a Blockchain-based e-sports game. With only your talents, you can collect your friends, build a team, combat with others, and earn money. Thetan Arena is a much-anticipated game, owing to its status as a forerunner in the blockchain MOBA genre. Of course, the game appears to be more like a mobile game than classic MOBAs like League of Legends or Dota. However, in addition to Android and iOS, a PC version is included in the list of supported systems.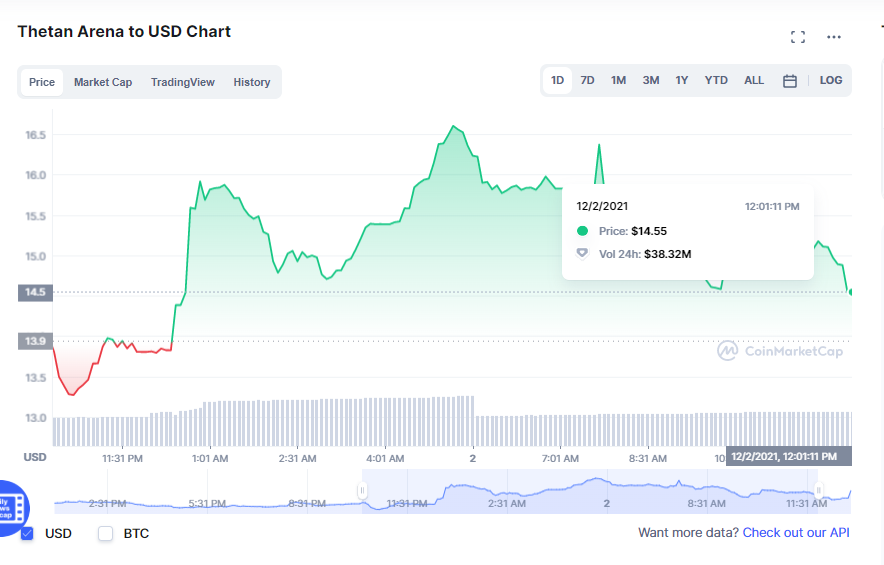 AU21 Capital, Animoca Brands, DFG, and Kardia Ventures are among Thetan Arena's top investors. Staking, Gaming Rewards, and Liquidity, on the other hand, will make up 45% of the entire Supply of THG available to the market. Furthermore, the token emission plan jumps to 16.8 million per month in December, then to 21.2 million in March after three months.
Render (RNDR)
The token is trading at $5.25, with a global market cap of $903 million. RNDR is an ERC-20 utility currency that artists use to exchange for GPU computation capacity from GPU providers on the network (node operators). The token has a lot of projects lined up and hence, we can expect the crypto to boom this month. OTOY's CEO and founder, Jules Urbach, intends to democratize content creation, particularly in the realm of virtual assets. The Render Network – the first decentralized graphics processing unit (GPU) rendering network & 3D marketplace built on OTOY's OctaneRender non-fungible token (NFT) ecosystem — aims to deliver on the promise of an open cloud-based metaverse.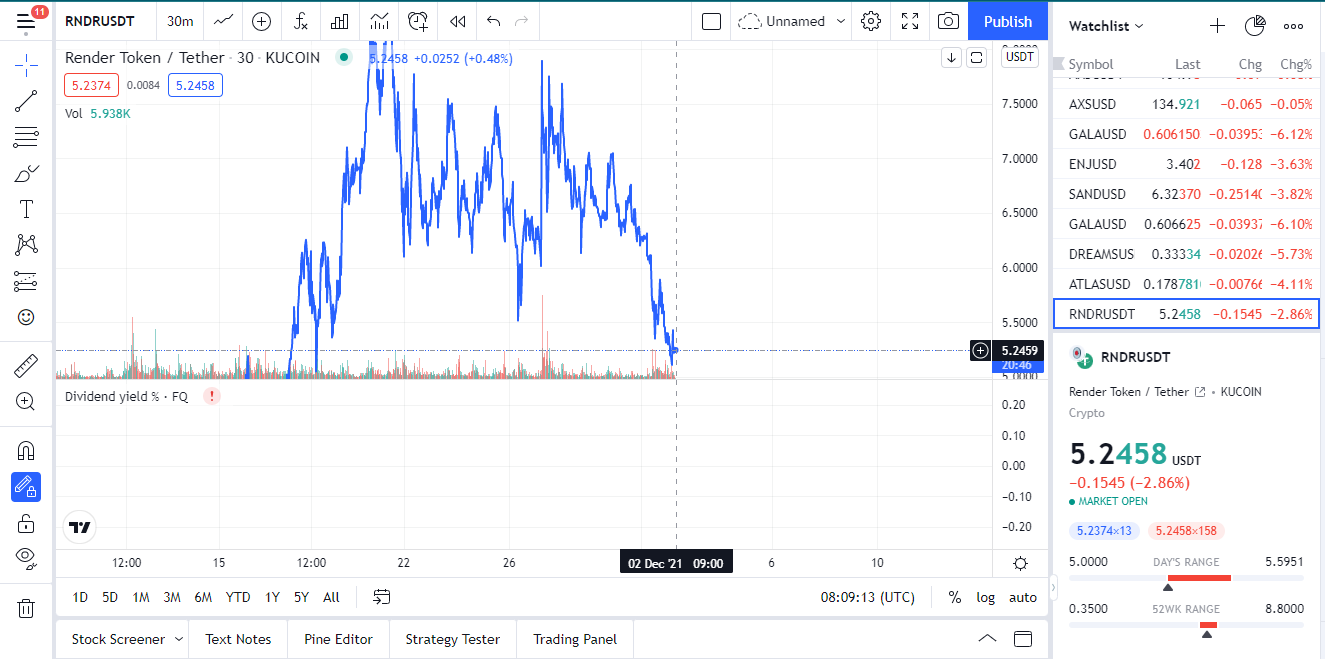 He also stated that the Render Network intends to fund the development of an open-source Rust GPU cross-compiler tool for the RNDR Software Development Kit, or SDK, that will allow developers to write code that targets both the Solana smart contracts virtual machine (VM) and Render Network GPU nodes with the same code. The Render Network, according to Metaplex, will give augmented reality (AR) designers the ability to make real-time updates and live stream renderings of NFTs across all devices, including iPads and iPhones.
Ultra (UOS)
The token is trading at $1.81, with a total market cap of $511 million. Ultra advertises itself as a blockchain-based PC game distribution network that offers new prospects to both fans and game producers. It is an ecosystem in which players may, in addition to purchasing and playing games, resell their used games and accessories and earn money by participating in Ultra. New revenue streams, SDKs, overlay technologies, and blockchain tools will help game developers improve their games with features like item distribution.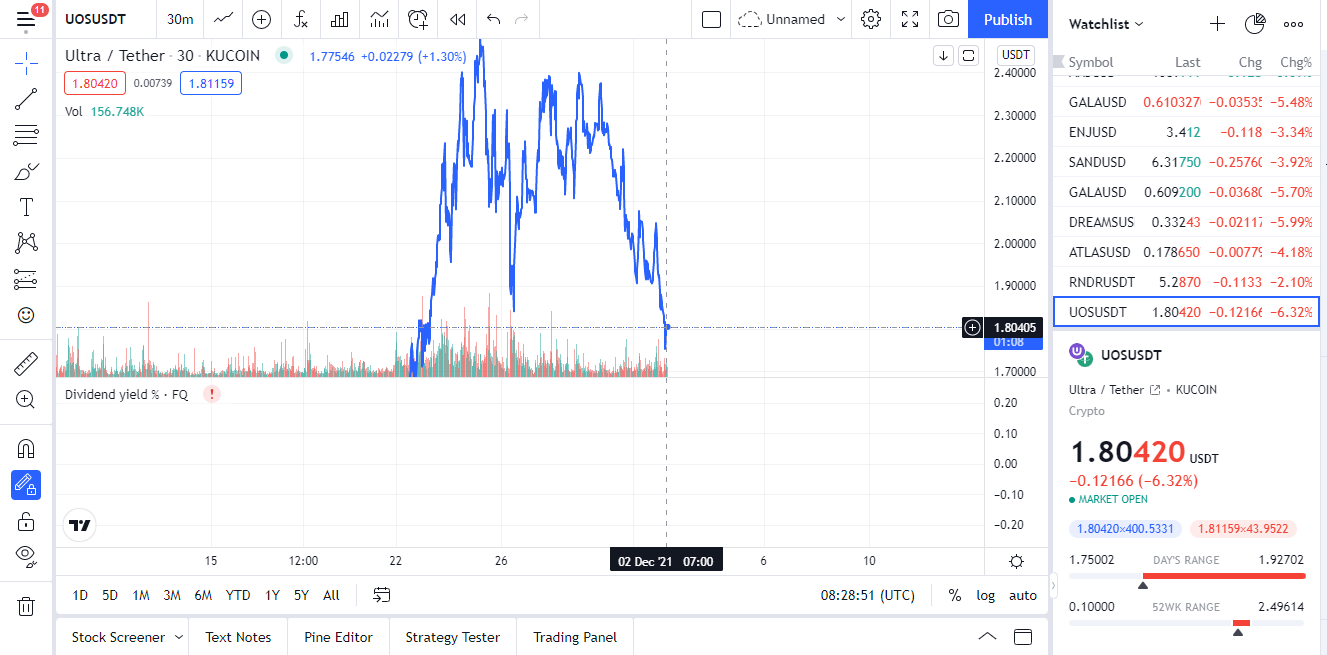 The token has done quite interesting projects. Ultra Protocol is an Australian-based project whose basic product is a multi-chain launchpad for Decentralised Finance (DeFi) that includes anti-money laundering and cybersecurity technology. Ultra Protocol's security-focused platform provides a fantastic foundation for services and projects, to strengthen the security and growth of DeFi. The Ultra Protocol platform, which is currently in construction, will include a unique decentralized exchange (DEX), a multi-chain secure-projects-only launchpad, and Ultra Protocol-exclusive products.
To safeguard the security of their forthcoming multi-chain launchpad, Ultra Protocol has teamed exclusively with Hacken Foundation. All of Ultra Protocol's future goods and services, as well as projects released through their Incubator, will be thoroughly audited by Hacken as part of their relationship. This ensures that their cyber security activities are consistent and reliable.
DeRace (DERC)
The token is trading at $5.95, with a global market cap of $219 million. DeRace bills itself as a "whole NFT horse racing ecosystem" that aims to raise the bar in the betting and gaming industries. DeRace allows you to buy and breed NFT horses with unique features, wager on NFT horse races in real-time, and build your own NFT hippodrome to stage races and profit from.
DeRace delivers a completely fair and transparent customized gaming experience. Players are not limited to being observers; instead, they may practically own the process by purchasing one-of-a-kind NFT horses. This leads to a more tailored gaming and gambling experience devoid of restrictions imposed by authorities and bookies, as well as cheaper and quicker transactions.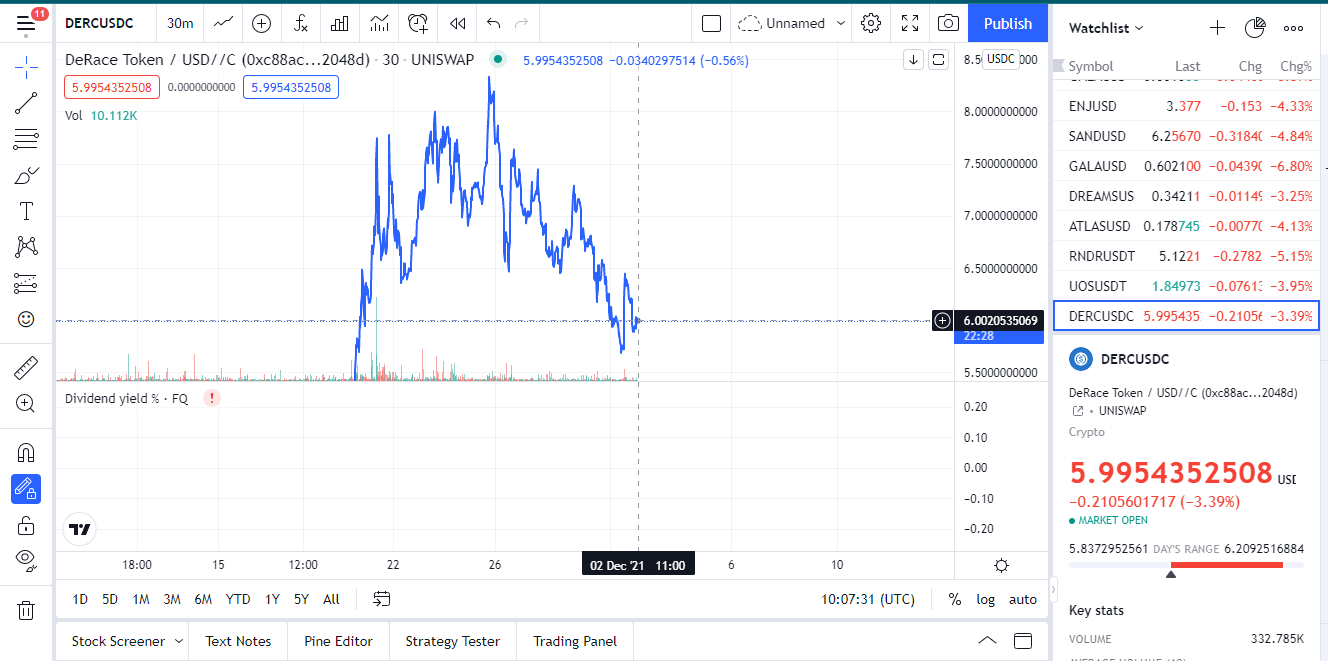 A recent listing on QuickSwap could be one explanation for DeRace's recent price increase. The opportunity to stake your $DERC in a Uniswap Liquidity Pool is one feature that investors may find appealing. To earn an extra $DERC Annual Percentage Yield, simply deposit your $DERC-USDC Uniswap Liquidity Pool tokens. 
NFT Champions (CHAMP)
The token is trading at $0.58, with a global market cap of $16 million. The in-game currency $CHAMP is linked to the Polygon blockchain network. Polygon is based on Ethereum and allows for faster, lower-cost, and more reliable transaction processing. By participating in NFT Champions, players can earn real money as well as unique gifts.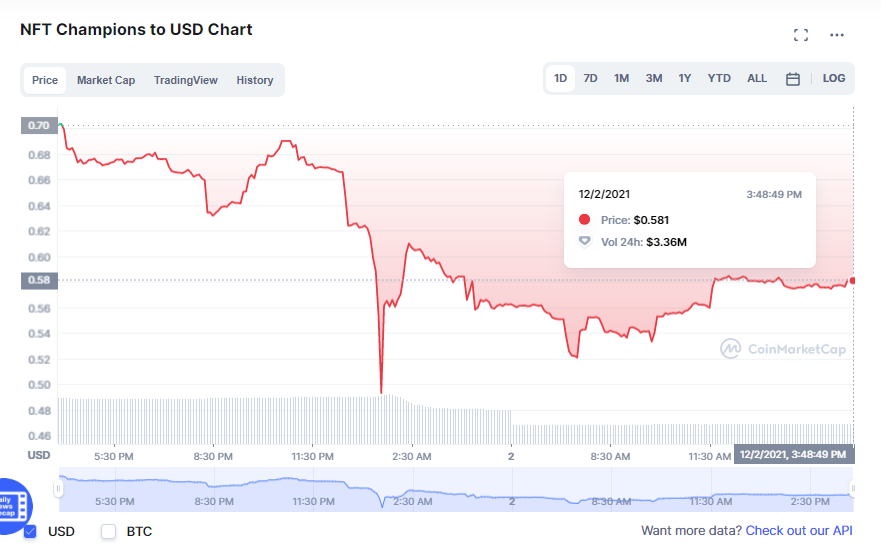 You'll be able to team up with a friend at any point along your journey and work together. It's entirely up to you. Will you travel the world with your buddies or pursue your dreams as a lone explorer? You have the option of carefully training your monsters or taking on a raid boss for a financial reward.
Conclusion
Every altcoin, like any other investment, comes with its own set of risks and drawbacks. And, like any good investor, you must examine the indicators before making a decision. That said, altcoins have a bright future ahead of them, and your investment may be the next big thing to overtake the most popular cryptocurrencies.