---
The crypto market has achieved great heights in terms of popularity and adoption taking a major role in the future financial sector. Additionally, the crypto industry has taken its long bullish trend recently, where the charts of all cryptocurrencies were displaying greenish signals. On the other hand, meme-currencies were equally performing along with leading cryptocurrencies while SHIB outperformed BTC.
Many altcoins have been performing well for the past few days and the entire crypto market looks greenish providing a sweet spot for investors. Significantly, Shiba Inu was the talk of the town as the price value of SHIB skyrocketed to the moon. Meanwhile, Ethereum has set up its new all-time high at $4,673 on Wednesday. Thus, crypto investors were experiencing a great week with the bullish price chart.
According to Coinmarketcap, the top 5 crypto-tokens in the market by volume are Tether (USDT), Bitcoin (BTC), Ethereum (ETH), Binance USD (BUSD), and Shiba Inu (SHIB). These digital assets are holding the top 5 positions in the crypto market in terms of volume.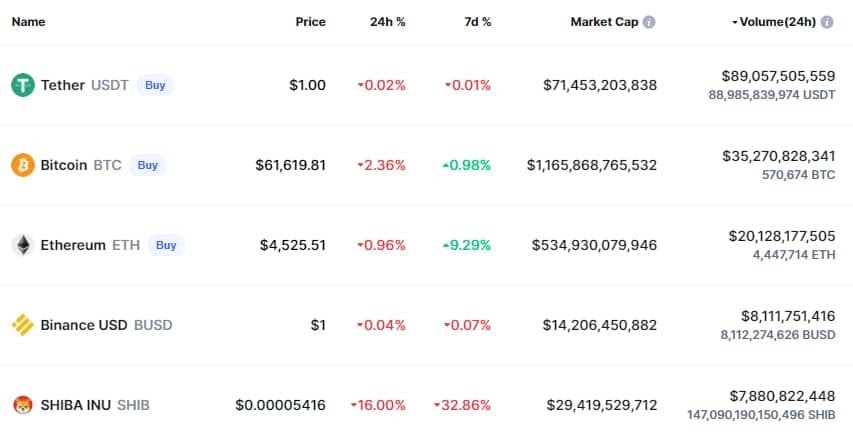 Current Market Status
The first crypto-token on the list is Tether (USDT) which is currently trading in a volume of $87,966,182,315. USDT is 0.01% up in the past week with a market capitalization of $71,451,362,624. Bitcoin (BTC) follows the list as the second top cryptocurrency by volume. The current trading price of BTC is $61,851 with a trading volume of $34,964,987,513.
The next crypto asset is Ethereum which is the world's second-largest cryptocurrency. It is currently trading at $4,526 with a trading volume of $19,952,584,343. Moreover, ETH has surged over 8% in a week and 0.06% up in the last 24-hours. It achieved its new ATH just a few hours back at $4,673. Binance USD (BUSD) takes the fourth position in terms of volume which currently holds the trading volume of $2,508,808,773. At the time of writing, BUSD is trading at $558 which has soared to 15.68% in a week.
The top five crypto-token is a meme-currency which is Shiba Inu. In recent times, SHIB has played a vital role in the crypto market that piqued the interest of investors. SHIB's performance is extraordinary which has kicked all the leading cryptocurrencies down with its trading chart. However, these crypto-tokens rule the crypto market currently with their outstanding performance. If investors are these crypto holders then they have experienced a cakewalk in recent times. Moreover, if the trend continues then the entire crypto market will undergo a long-term bullish rally.
---