---
TRX prices display a recovery rally surpassing the $0.065 mark and form a bullish candle teasing an uptrend continuation to $0.080. 
Key technical points:
The TRX market price has increased by 6.44% over the past 24 hours.
The price action shows a V-shaped reversal rally sustaining above $0.065.
The 24-hour trading volume of Tron is $611 Million, indicating a hike of 52%.
Past Performance of TRX
TRX price action shows supply in June brought the market value close to the $0.055 mark from the heights of $0.085. However, the sharp V-shaped reversal keeps the prices floating above the psychological mark of $0.050 and results in the $0.065 breakout. The reversal rally accounts for a jump of almost 25% in the last two weeks.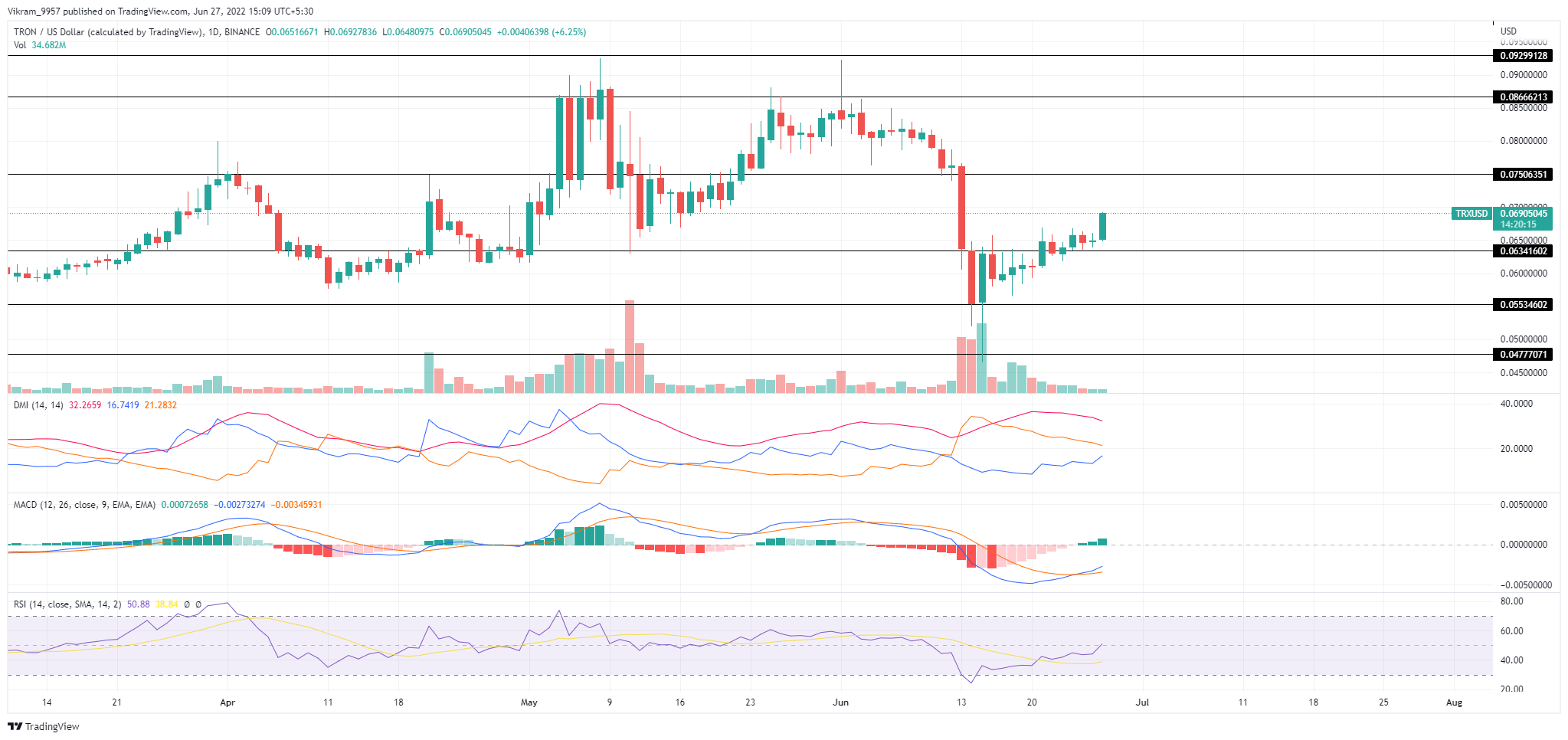 Source- Tradingview
TRX Technical Analysis 
TRX price grows by 6.57% today, forming a bullish engulfing candlestick standing above the $0.065 level. However, the falling trend in trading volume opposes the bullish rally and warns of a bearish turnaround. The DMI indicator shows a sharp decrease in the bearish spread, teasing a potential bullish crossover. However, the inflated ADX line reflects a high trend momentum which may support the breakout rally. The RSI indicator shows a gradual increase in the underlying bullishness as the slope slowly rises above to reach the halfway line. And the lack of bearish divergence goes against the falling trend in the trading volume. After the recent bullish crossover, the MACD indicator shows a positive trend in the fast and slow lines crossing, reaching the zero line. Moreover, the positive trend of the resurfacing bullish MACD histograms displays a rise in buying pressure. In a nutshell, the technical indicators support the TRX price action analysis teasing an uptrend continuation to $0.080.
Upcoming Trend
Considering the uptrend sustains above the $0.065, the TRX prices will continue to rise in the ongoing uptrend to reach the overhead resistance at $0.080. Resistance Levels: $0.080 and $0.10 Support Levels: $0.065 and $0.050
---