www.cryptopolitan.com

10 m

Reading time: ~13 m
---
The advent of the blockchain and cryptocurrencies have ushered in several projects with extreme real-life use cases. Bitcoin and Ethereum are the most renowned and innovative projects on the blockchain, offering unique features. To date, several blockchain-based innovations are still being rolled out, and one of such products is the UBIX.Network – a hybrid blockchain intended to integrate multiple blockchains with varying consensus protocols into a singular network.
The UBIX.Network has garnered such widespread interest since its release that cryptocurrency investors are fascinated and actively looking for answers to questions such as, is UBX a worthwhile option? Is UBX a good investment in 2021? By how much will the price increase between 2021 and 2028? How high is UBX capable of going?
This guide provides you with details about UBIX.Network, its metamorphosis, features, collaborations, and price analysis. Let's go straight into it.
What is UBIX.Network?
UBIX Network – "dubbed a digital universe with limitless possibilities" – is an innovative platform that enables seamless interlinking of decentralized applications (dApps) to create a cohesive system. It was founded by Max Breus, launched in 2019, and built-in NodeJS. The protocol grants developers the ability to build their blockchains and completely integrate them into a singular network without utilizing intermediaries such as beacon chains, gateways, etc. At the Network's basic level, developers can integrate apps. 
UBIX is not only building the platform itself; they're also building a universal interface that allows apps to seamlessly interact with each other, creating a single, unified "super-app" that lets users access all of their favorite services in one place. One of the significant advantages of UBIX's ecosystem is that its applications are designed to generate revenue; hence, making the ecosystem self-sufficient.
In 2017, a project named SilentNotary was launched – a decentralized multi-platform service designed to record various information in various blockchains via several interfaces. A legal study in 2018 highlighted the fundamental issues with the use of public blockchains like SilentNotary. Afterwards, it became necessary to develop particular legal and technical expertise to ascertain the stability of the blockchain over a given period – this birthed the UBIX Network.
Metamorphosis of UBIX.Network
At first, UBIX was intended as a legal tech blockchain; hence, "Chain-in–Law" was the initial name of the Network, and "LAW" was preferred as the platform's coin ticker. However, when the framework was developed further, it became clear that users could create publicly used blockchains with fully anonymous nodes. The Network's name soon got rebranded to "Integrated Distributed Ledgers."
Much later, the name Ubikiri – a Japanese ritual that had to do with swearing on pinky fingers – came up as a better depiction of the super-app interface of the Network. Since the platform combines several developments and products into a cohesive brand, Ubikiri was abbreviated to UBIX.
Features of the UBIX.Network
Since the UBIX.Network is designed to integrate several dApps, the following features ensure that it efficiently surmounts the challenges associated with app integrations and user experiences.
UBIX leverages an alternative to blockchain-oriented protocol known as Directed Acyclic Graph (DAG), which facilitates the efficient exchange of master data or sensitive data between decentralized applications.
The super-app interface of the network is hinged on microservices, and it ensures that data exchange between apps is achieved seamlessly with the aid of an internal API.
The UBIX network, as part of its dApps original license, allows users to determine the legality of the relationship between node holders and users. 
The Ubikiri interface features an online wallet and a launchpad platform for app developments.
The fair-ICO approach utilized by the network ensures that it is self-sufficient and able to finance internal projects such as UBIX.Exchange.
DeFi integration into user accounts.
MakeMeMoney: An integrated crypto staking service embedded into Ubikiri.
A cryptocurrency depositary system that leverages smart contracts to facilitate the transfer of digital assets between ecosystems. 
UBIX.Network and the construction industry 
Early in the year, UBIX.Network announced that they are partnering with the Acceleration Group – an expert in complex construction project management – to utilize the UBIX blockchain to help accelerate the group's projects.
UBIX.Network and Acceleration Group have agreed to establish a joint innovation to develop blockchain-based products for the construction industry. "The digital transformation of the construction industry is already underway, and it will soon take place on a public distributed Network. We are convinced that our solutions are ideal for creating several products using linked blockchains of different architecture", Max Breus said.  
The goal of the following blockchain lab is to bring UBIX.Network technologies into existing business processes and use them in projects carried out by Acceleration group clients.
UBIX tokenomics
To facilitate value exchange within the UBIX ecosystems, the native crypto of the Network, UBX, was released. UBIX utilizes the Proof-of-Stake (PoS) consensus algorithm, and master nodes earn rewards from transaction fees. In addition, UBX cannot be minted, and the Network credits 10% of all generated commissions to the development funds portfolio.
There are a few versions of UBX; first, the wrapped UBX (WUBX), an ETH-based token that matches the value of UBX 1:1. Second, the unwrapped UBX, which is the Network's native asset. Also, there are the Waves and TRON versions of UBX.
With the introduction of the Network's token, its offerings, and potentials for the future, you're probably already asking questions related to price potentials and prospects. This piece provides you with a well-researched UBX price analysis and FAQs. Also, the price analysis segments of this guide will give you a good idea about the UBIX.Network expected growth and its price prediction, while the fundamental past price charts show you the overall state of the cryptocurrency. 
UBIX.Network (UBX) past price Analysis
According to historical data from Coinmarketcap, UBX started with an opening price of $0.00000718 and a trading volume of $23,519 on November 9, 2020. The coin took to an uptrend over the coming days and attained $0.00002077, the highest price in November 2020. In December 2020, the value of UBX experienced a downtrend and bottomed below its starting price to $0.00000621.
In January 2021, the value of UBX regained some momentum in the short term but still managed to dip below its previous low to attain its current all-time-low (ATL) of $0.00000578 on January 11, 2021. In the next three(3) months of 2021, UBX's price rose significantly, especially in April 2021, when it reached its current all-time-high (ATH) of $0.005141, with a daily trading volume of over $21.4 million. 
Over the past 90 days, UBX attained a maximum value of $0.001885 and a minimum price of $0.0003577. For 30 days, the lowest price of UBX was $0.0005013, and it reached a maximum coin price of $0.001885. On a 7-day chart, the coin's lowest price was $0.001021, and it attained a total price of $0.001393.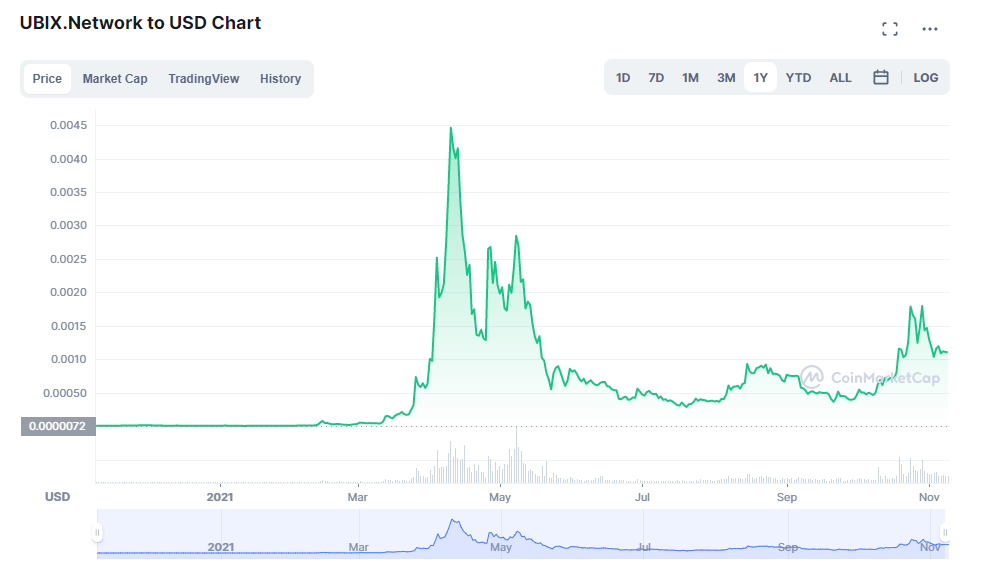 Since its ATL on January 11, 2021, UBX has experienced price growth of about 19,000%. The UBIX. Network's (UBX) price today in USD is $0.001143, and it currently ranks as No.634 in the cryptocurrency market. In the last 24 hours, the value of the cryptocurrency and its market cap has dropped by over 7%; trading volumes also dipped by around 4.5% within the same period. UBX is currently trading below its ATH at over 78%. The circulating supply of this crypto is 45.56 billion UBX, and its maximum token supply is 1,000,000,000,000 UBX. 
Although UBIX may have strong fundamentals, its past price analysis shows that it may not be reasonably profitable in the short term.
UBIX.Network (UBX) technical analysis
Utilizing the Bollinger Band technical analysis tool, it can be seen from the chart below that UBX is currently trading below the 20-day simple moving average. Before settling below the 20-day SMA, the price of UBX reached the upper band and settled back down. The current price action on the 4-hour chart, coupled with the contracting upper and lower bands, indicates further price drop in the short term. In other words, a further fall in price may be expected, and a break out afterwards as the bands may begin to expand again. Investors can start to pay more attention to the price movements for the best entry point for maximum profit.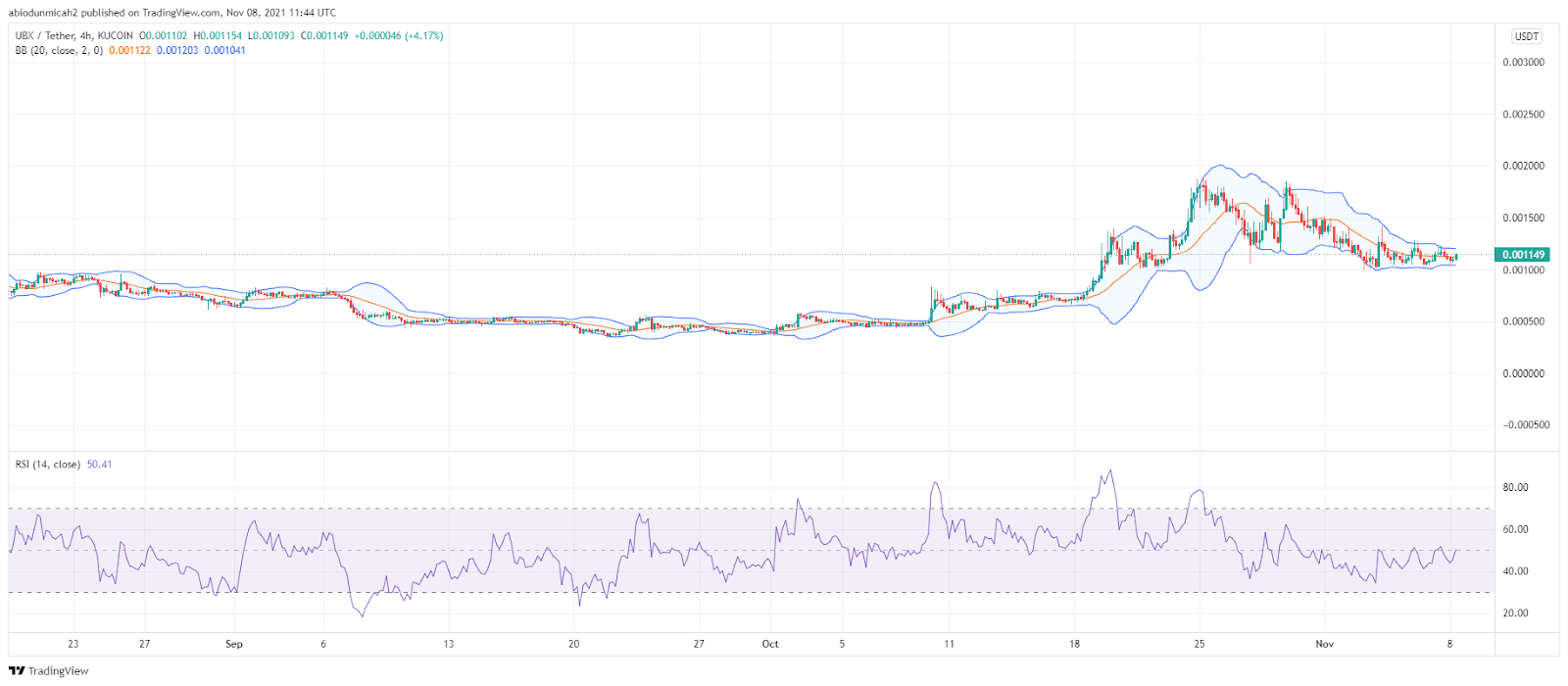 Furthermore, the RSI momentum oscillator is 49.81, which means that the crypto is neither overbought nor oversold. Hence, the price action could go either way, depending on the market sentiments. If investor confidence heightens, the price movement could become bullish; otherwise, prices could drop further.
Here are our UBX price predictions from 2021 to 2028.
UBX price prediction 2021-2028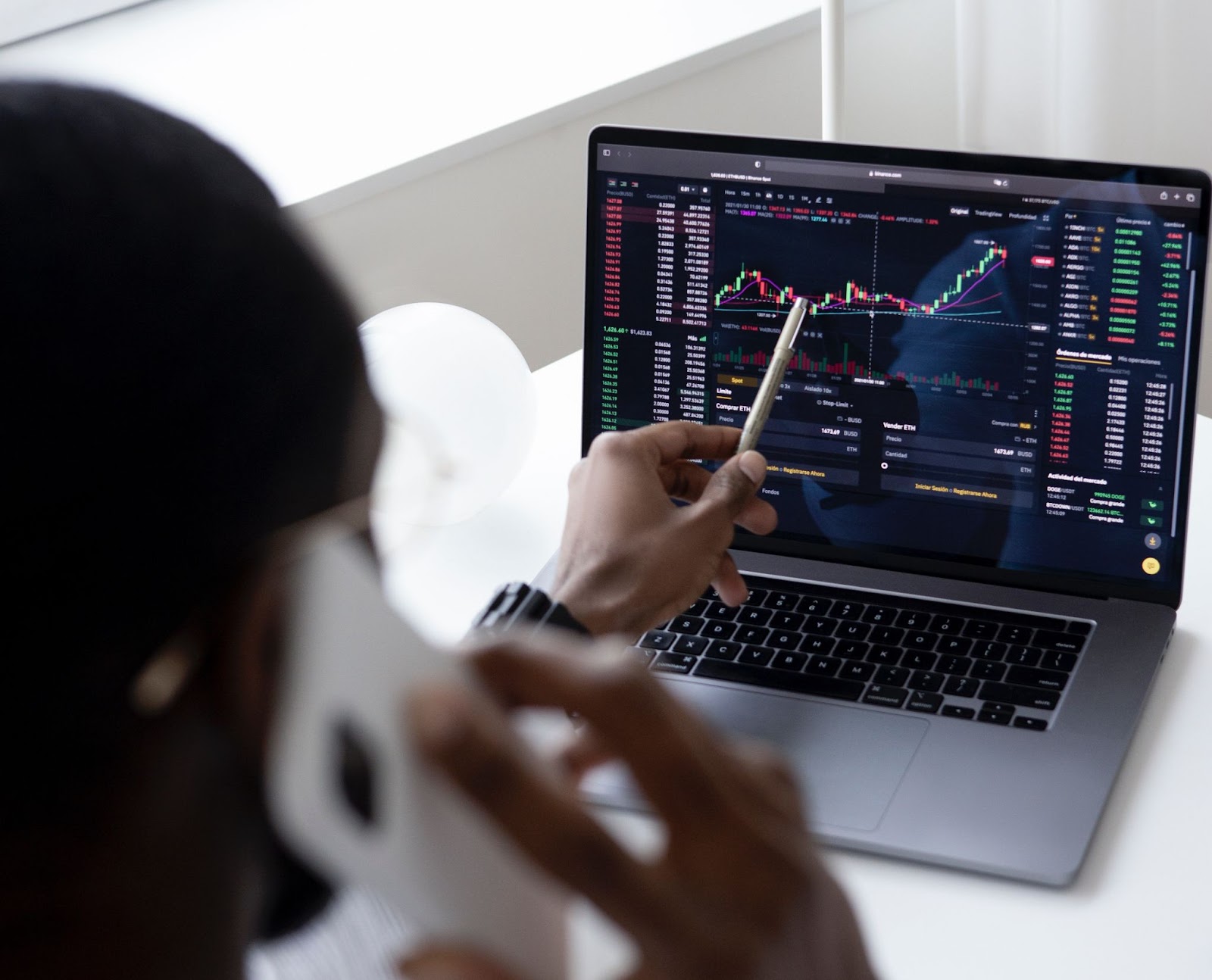 UBX price forecast by Wallet Investors
The short-term UBX/USD price forecast from Wallet Investor over the coming days is bullish, with prices expected to hit $0.00177 by November 22. The price increase is about %54.85 from the current price.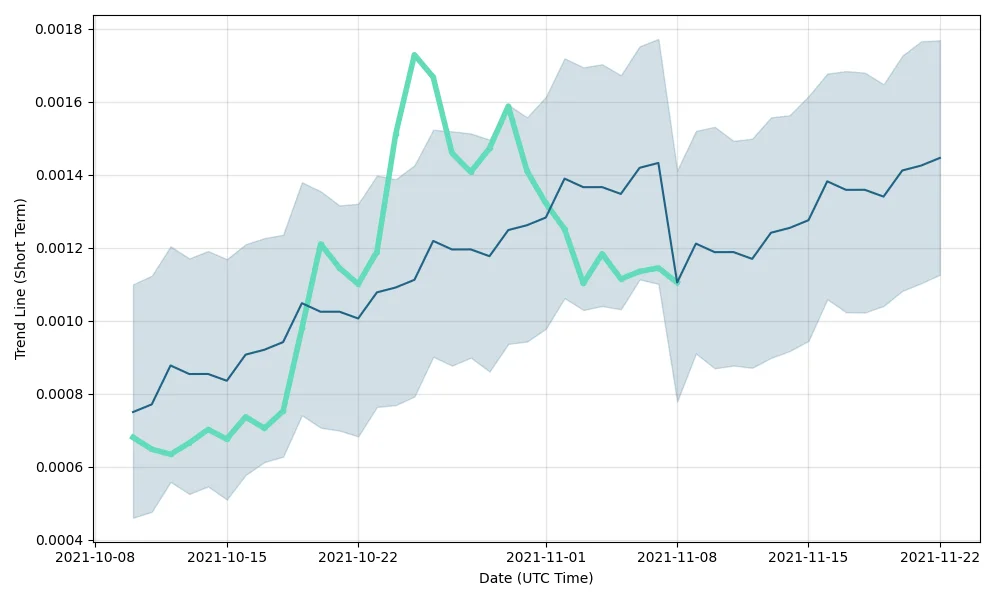 Over one year, UBX is forecasted to trade around $0.002, which is a price increase of about 75%.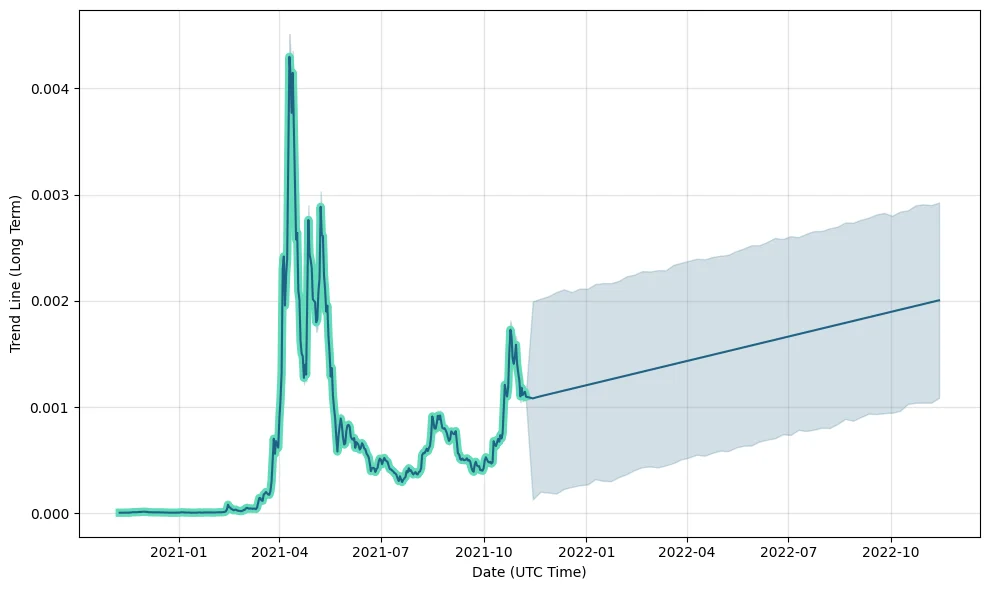 The prediction shows that UBX has the potential for significant returns of investment in the long run.
UBX price forecast by DigitalCoinPrice
According to the UBX price prediction by DigitalCoinPrice, the average price expected for November 2021 is $0.0017942415, and for December 2021, the forecasted average price of the crypto is $0.0018916271. 

DigitalCoinPrice predicts a bullish run for UBX in 2022, with an average price of $0.0023248063 in January, $0.0022366071 in July, and $0.0022656916 by December 2022.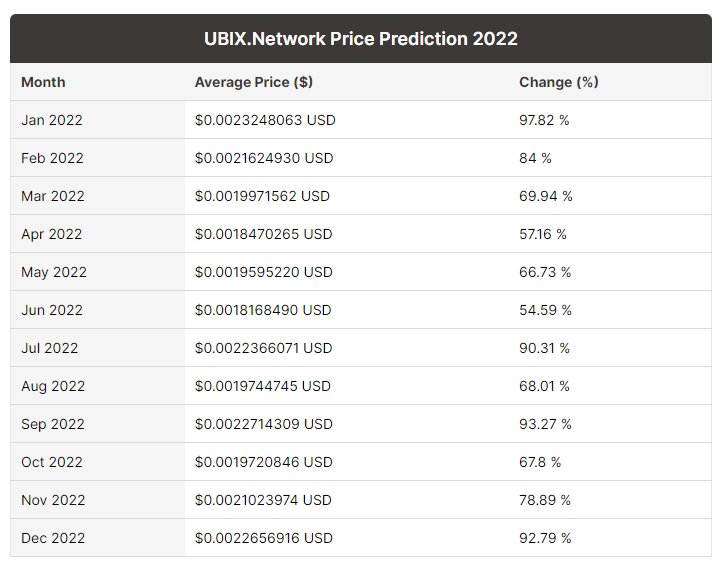 By the end of 2022, UBX is expected to have grown by 98% above its current market price. In the future, experts predict a bullish run that will see UBX attain a maximum price of about $0.004 by 2025. By 2028, the price of the UBX coin is expected to soar above its current ATH to reach approximately $0.006.
UBX price forecast by CoinArbitageBot
CoinArbitageBot utilizes some of the most popular cryptocurrency technical indicators.  Their price forecast points at a UBX price gain of 22.76% by 2022 and 221.37% by 2024.
By 2025, a massive price surge of over 400% is expected. This prediction reiterates the possibility of significant long-term profits for UBX.
Cryptopolitan forecast for 2021-2028
According to our UBIX.Network price forecast, UBX is expected to attain a minimum price of  $0.0009, an average price of $0.0016, and a maximum price of $0.0020 for November. Also, the coin is forecasted to have a total price of $0.0025, a minimum price of $0.0017, and an average price of $0.0020  by December.
UBIX.Network price forecast for 2022
Our price prediction expects the digital asset to reach a minimum price of  $0.00200, an average price of $0.002330, and a maximum price of $0.002650. 
UBIX.Network price forecast for 2023
According to our UBIX.Network price forecast, UBX is expected to reach a minimum market price of  $0.002458, an average price of $0.002520, and a maximum price of $0.003320. 
UBX price prediction for 2024
Over time, more developments are expected in the UBIX ecosystem, which could further increase the coin's price. We hope UBX to attain a maximum value of $0.004000, a minimum value of $0.002698, and an average price of $0.003500.
UBIX.Network price prediction for 2025
If UBX continues its bullish run from 2024, the asset's value could hit a maximum price of $0.004600. Its least price for the year is predicted to be around $0.003619, and its average market price is expected to be $0.004100.
UBIX.Network price forecast for 2026
If market sentiments continue to favor UBX, a further upside is expected in 2026, with the coin's maximum price predicted to trade above the $0.005000 mark. The projected minimum price of this crypto for the year is $0.004104, and its average price is expected to be around $0.004500.
UBIX.Network price prediction for 2027
By 2027, the UBIX.Network is expected to have gained widespread adoption, and its native asset may be set to reach new ATHs. The maximum price of this asset is expected to rise to about $0.006100. Also, its average price is estimated to be around $0.005050, and its minimum expected price is $0.004926.
UBIX.Network price prediction for 2028
The trading range of the UBX cryptocurrency in 2028 is expected to be between USD 0.005360 to USD 0.006578. Its average value is forecasted to be about USD 0.005950.
Conclusion
The UBIX Network is an innovative platform with limitless potentials, and since its inception in 2019, several developments have taken place in the ecosystem. As soon as its native token was introduced into the crypto space, it gained popularity as the entire UBIX ecosystem gained more use cases. Based on the past price actions and forecasts, it can be seen that the crypto has prospects for the future and could entirely turn out to be that must-have crypto in your portfolio. 
However, the future of any cryptocurrency is not entirely sure; it's still very much subject to the impact of various external factors such as legislation and announcements. These factors can make a significant difference in how much value an asset will gain or lose. 
Therefore, cryptocurrency traders must better predict price swings using several indicators to understand the market's fundamental and technical aspects. In addition, it is essential to note that the past performance of any cryptocurrency does not necessarily guarantee its prospects.
FAQs
Is UBX a legit crypto?
Like other cryptocurrencies, including BTC, Ethereum, and Binance Coin, the UBIX system is decentralized, and its UBX tokens are legit and not controlled by any central authority. If you want more information than this, you should visit the official website of the project.
Where and how to buy and sell UBX?
UBX is listed on a few cryptocurrency exchanges; however, it cannot be purchased directly with fiat currency, unlike the significant cryptos. The UBIX.Network markets and available trading pairs are listed below:
KuCoin: UBX/USDT and UBX/ETH
Uniswap (V2): WETH/UBX
ProBit Global: UBX/USDT
ExMarkets: UBX/USDT
XT.COM: UBX/USDT
BitMart: UBX/USDT
Bitrue: UBX/USDT
Hotbit: UBX/USDT
You can easily buy UBIX crypto by first purchasing USDT, BTC, and ETH with fiat currency from any significant digital asset exchange and then transferring the trade collateral to any of the exchanges above or other Altcoin Exchanges trading the cryptocurrency. 
Here are the steps to purchase or sell UBX:
In order to trade UBX altcoin, you will have to look for exchanges that support the market pairs of UBX against major coins. 
Ensure that you're looking out for crypto exchanges with decent 24-hour trading volumes and a massive customer base to ensure that you can sell your assets whenever you want and with lower fees.
When you find an exchange platform, you'll need to deposit money into it using either BTC, ETH, or USDT. You can then use that money to buy or swap for UBX.
To sell UBIX coins, you can also exchange or swap UBX to BTC, ETH, or USDT.
Which wallet can store UBX coins?
UBX is an ERC-20 token so that it can be held on Ethereum-compatible wallets. These wallets could either be made available by cryptocurrency exchanges, usually known as hot or software wallets, or you can utilize hardware wallets that offer better security. Software wallets are known as iOS apps, Desktop apps, or Android apps. Here is a mix of some of the best hardware and software wallets you can consider for storing your UBX coins:
Trust Wallet
Ledger Nano S
Exodus
MetaMask
Trezor One
Trezor Model T
imToken
Ledger Nano X
Coinomi
These wallets support a wide variety of tokens and coins from several blockchains. Ensure that you carefully pick out a secure wallet that works for you before deciding where to store your coins.
Will the UBX price rise?
The UBIX ecosystem has massive potential for the future, and our UBX price prediction is also bullish for the coming months and years. So, yes, the future price of UBX will rise.  
However, remember that this is a price forecast and not financial advice or assurance of returns on investment. Always do your research before initiating any crypto trade or investment.
Is it profitable to invest in UBIX.Network?
Based on the past price actions and our forecasts, UBX is a reasonably profitable investment in the short term, and it looks even more promising in a long time. As seen in the estimates, the coin's future price is expected to attain USD 0.003 in the next two (2) to three (3) years. 
Please be aware that any investment carries a significant level of risk. Before drawing any conclusions, spend as much time doing your best to gather as much information as possible.
Will UBX price hit 1 USD in a year?
According to our UBX price prediction above, it is technically impossible for this crypto to reach USD 1 by 2022. The maximum attainable price of the crypto within the specified time frame is $0.0027.  
What will be UBX's price in 10 years?
Many experts and business analysts predict that the UBIX ecosystem will increase in value; hence, UBX is forecasted to reach the highest possible price target of up to USD 0.09 in 10 years.
However, it would help to do your research before making any investments and not take this piece as investment advice. Don't invest anything you're not willing to lose.
---