---
The NEAR token price sustains above the 50-day SMA and attempts to break above the $4.75 mark. Will the breakout rally exceed $5?
Key Technical Points:
The NEAR prices dropped by 9.25% in the last 24 hours.
The price action showcases the inverted head and shoulder pattern breakout rally sustaining above the $4 mark.
The 24-hour trading volume of Near Protocol is $403 Million, indicating a drop of 10%.
Past Performance of NEAR
NEAR/USD price chart displays the end of the bearish trend with an inverted head and shoulder breakout, formed under the influence of a resistance trendline. The breakout rally exceeds the $4 mark and the 50-day SMA with a 40% jump between July 13th and 20th. However, the supply dump at $4.75 influenced a retracement to retest the bullish breakouts.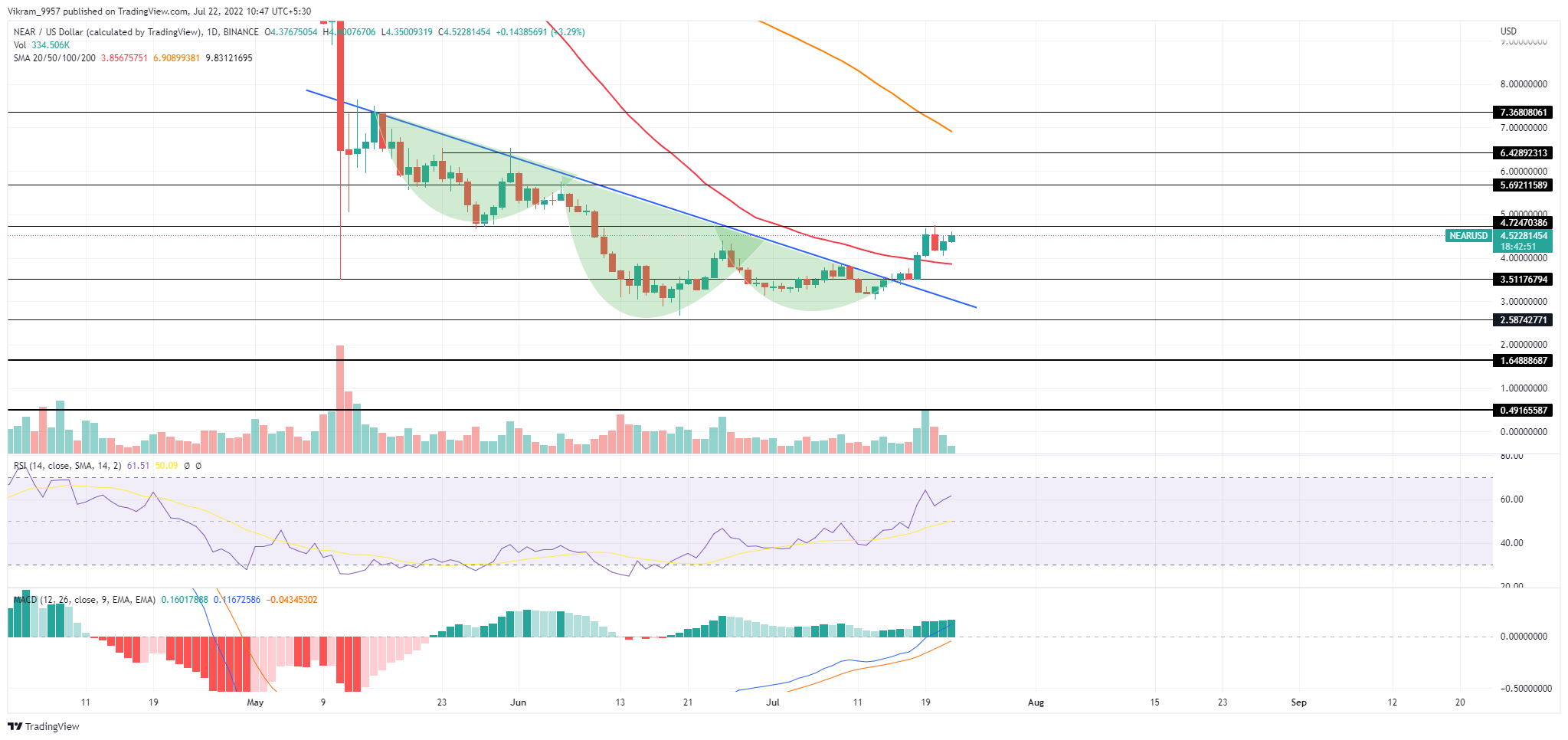 Source – Tradingview
NEAR Technical Analysis
The NEAR token prices sustain above the 50-day SMA and the $4 mark and form a morning star pattern that may shortly break above the $4.75 resistance level. However, a lack of bullish support in the trading volume warns of another supply dump. The RSI indicator maintains an optimistic outlook for the upcoming trend as the RSI slope spikes into the nearly overbought zone. Moreover, the support from the 14-day SMA aims to keep the uptrend moving. Furthermore, the MACD indicator reflects a  remarkable increase in buying pressure as the positive histograms intensify. Hence, the momentum indicators support the price action analysis. In a nutshell, the NEAR technical analysis forecasts a bullish trend continuation above the $4.75 mark.
Upcoming Trend
The upcoming trend in the NEAR price chart has overall bullish anticipation as the market value sustains above the 50-day SMA. Hence, the uptrend may reach the 100-day SMA but the multiple resistance levels at $5.5 and $6.5 might decrease the bullish momentum. Resistance Levels: $4.75 and $5.5 Support Levels: $4 and $3.5
---