---
Digital asset markets enjoyed another bullish week of trading, with Ethereum (ETH), the second largest asset in crypto, hitting a new all-time high of ~US$4450 on October 29th and leading an altcoin rally. Bitcoin (BTC), the largest asset in crypto, ended the week up ~1%, while large caps ETH, and Binance Coin (BNB) were up ~6%, and ~10% respectively.
Two days prior to Eth hitting a new all-time high, the network's Altair upgrade went live on mainnet. This upgrade, unlike previous upgrades earlier this year, was implemented without incident. Leading Ethereum developer Preston van Loon, said the upgrade went ahead with 95% validator participation. This means that the vast majority of key participants upgraded their machines to fit the latest Altair software before connecting them to the Ethereum network.
The Altair upgrade is the first upgrade of the Ethereum beacon chain. The beacon chain introduced ETH staking and will be central to Ethereum's future sharded blockchain architecture. The Beacon Chain will conduct or coordinate the expanded network of shards and stakers. Shards will be individual, novel blockchains that will make up the wider Ethereum blockchain ecosystem.
The Altair upgrade opens the door for the much-anticipated Merge event, where the current Ethereum mainnet will merge with the beacon chain and it will switch from Proof-of-work to Proof-of-stake. This promises to make the network faster, cheaper, and more energy-efficient. The merge edges closer, with the best current estimates stating it will occur in Q1 2022.
The Ethereum jump has also coincided with a sharp rise in the activity of the network in the last fortnight, and more ETH tokens being burnt as transaction fees as a result. Decentralized exchange Uniswap and NFT marketplace OpenSea have been the biggest burners of ETH in the last week, burning 8414.88 ETH, and 5309.67 ETH respectively. A new driver of Ethereum transaction activity is the Shiba Inu (SHIB) memecoin project. The project burnt 1,081.65 ETH last week and contributed to ~1% of all the Ethereum burnt last week.
The pickup in transaction activity may be contributing to a rising price of ETH but for network users, it has meant gas has become excessively expensive. Bitinfocharts estimates that the average price of a transaction is ~US$51.38. At the start of the month, this number stood at ~US$23.79. Transaction fees have more than doubled in a month.
With competitor chains like Solana and Fantom offering products similar to Ethereum for a fraction of the price, the merge cannot come soon enough for the project. Investors are confident, however, that development will play out as expected with legendary investment guru Raoul Pal stating that he is "irresponsibly long" ETH on a 6-9 month time horizon.
Some of the other big winners in the last week were virtual world tokens like Decentraland (up 245%), The Sandbox (up 97%), and Axie Infinity (Up 10%). Their jump appeared to be driven by social media giant Facebook's announcement that it would be changing its name to Meta to have an increased focus on the Metaverse. The metaverse encapsulates the immersive online realms that look and feel like the real world but are digital, allowing humans to expand their capabilities within them.
Speculators are betting Facebook's play will lead to more exposure for Metaverse-type projects and that these crypto tokens will benefit as a result.
Crypto news for the week ahead
__November 1st-4th -__ NFT NYC conference
This week is the largest Non-Fungible Token (NFT) conference ever, in New York City at the iconic Times square. The speaker list includes high profile names like Reddit co-founder Alex Ohanian, entrepreneur Gary Vaynerchuk, and Aave CEO Stani Kulechov. In 2021, the NFT space experienced explosive growth with more and more investors buying into the space.
__November 8th -__ Crypto.com launches the Cronos chain
Cronos, an EVM chain that will run in parallel to Crypto.com's existing blockchain, is set to launch at the end of this week. It aims to massively scale Crypto.com's DeFi ecosystem, by providing developers with the ability to instantly port DApps from Ethereum and EVM-compatible chains. Crypto.com's native token CRO has had an up-and-down last two years but this new release boosts the potential of the project.
Top 10 Crypto Summary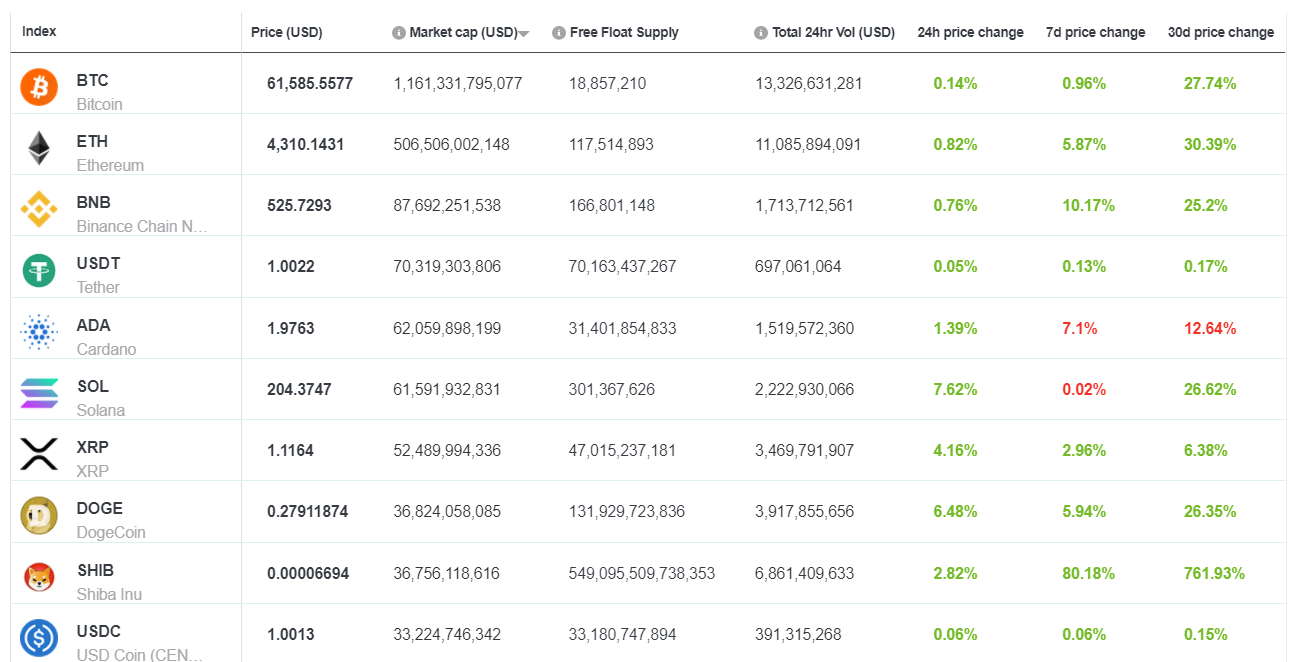 It was a strong week for large-cap assets on the Brave New Coin market cap table with most enjoying healthy grains. Dog-themed memecoin SHIB has burst into the top 10 digital assets after an astronomical rise that has seen its value grow by over 800% in the last month. It is undeniably the hottest altcoin in the market. On October 28th, Worldwide Google trends search data indicates that search interest for 'SHIB' topped searches for 'Ethereum', 'XRP', and 'Cardano'.
BLX 7 days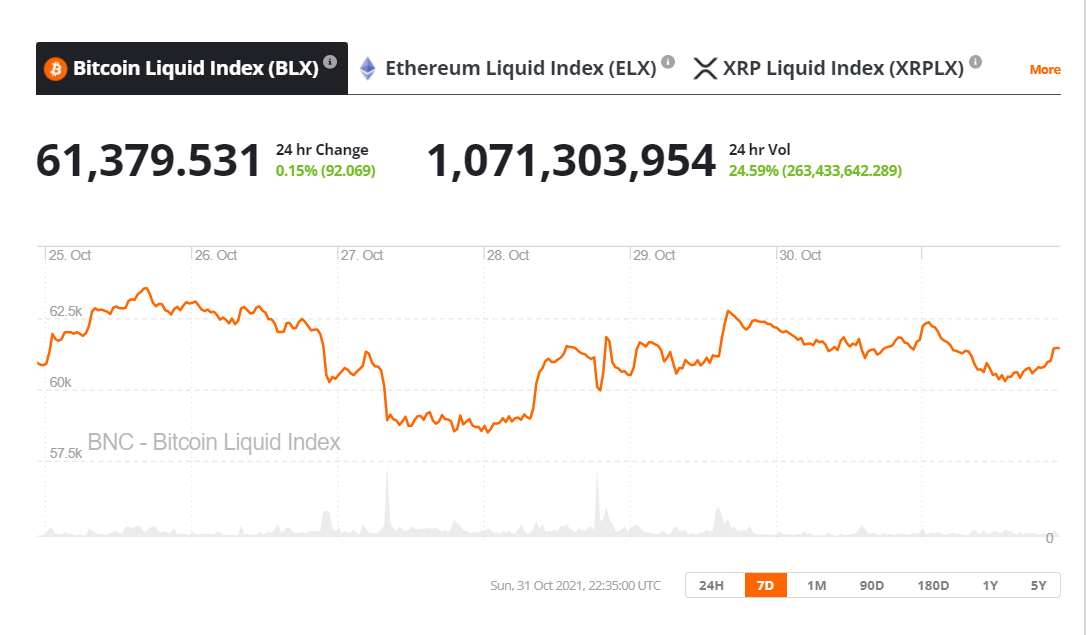 Bitcoin (BTC) had a rollercoaster week of price action with the price of the asset bouncing around between ~US$63,000 and ~US$58,000. On-chain fundamentals indicate that Bitcoin's long-to-medium term prospects remain strong. Glassnode reports that the amount of BTC held by exchanges fell again last week. This indicates strong commitment from Bitcoin holders to hold their coins in personal storage and not sell.
---