Following a 20% rally that led XRP to reach $1.15, the price was quickly rejected back to a critical support line. Ripple will look for another opportunity to break above the crucial resistance of $1.2.
Key Support levels: $1.06, $0.96
Key Resistance level: $1.2
Following the drop that took place on the 27th of October, XRP entered a sustained mini-rally in the following days increasing by 20% and reaching almost $1.20 per coin. The latter acts as a key resistance.
The price briefly managed to break above the marked blue pennant, but was quickly pushed back by the bears inside the apex of the formation. The attempt turned into a false breakout (so far). The support at $1.06 should provide sufficient comfort to keep XRP above $1 with an expectation that another breakout attempt can be made soon.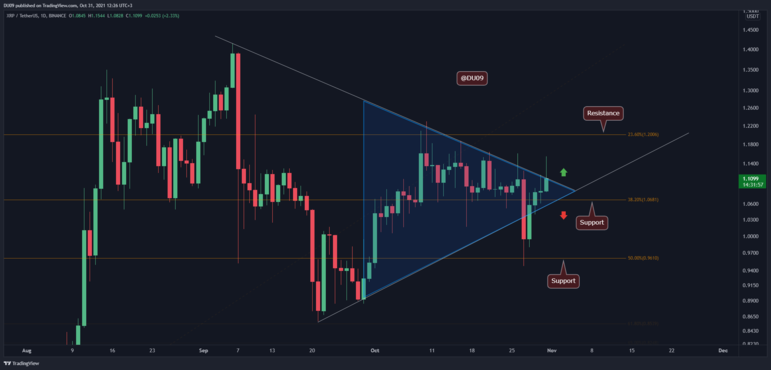 Technical Indicators
Trading Volume: The volume picked recently, as the bulls took control of the price movement, which now hovers above $1. If this momentum continues, the bulls can see another attempt to break above the $1.2 resistance (as mentioned above).
RSI: The RSI recovered the loss from 27th October and is quickly heading up, indicating the trend has changed to bullish again. The RSI made a higher low and if it also manages to do a higher-high, then XRP should confirm the bullish reversal.
MACD: On the daily timeframe, the MACD is still on the bearish side, but it is quickly curving up. MACD is a lagging indicator, therefore it may take a few more days of bullish price action to have MACD flip on the positive side.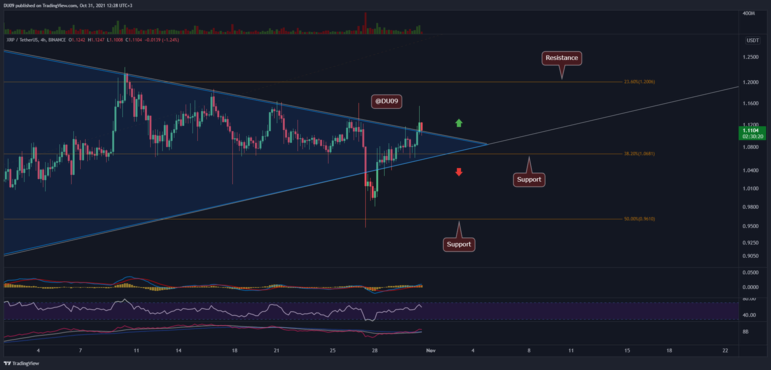 Bias
With this rally, the bias turned bullish on XRP, however, the price has yet to break out of the pennant and confirm by retesting the top of the marked blue pennant as support.
Short-Term Prediction for XRP Price
Expect XRP to attempt at the $1.2 resistance. This can happen in the coming week, depending on the price action. A break above that key level can take XRP back on a rally towards $2. Until then, XRP is likely to remain above the $1 level and consolidate further.